For the Last Time, Neri Oxman Is Not Dating Brad Pitt
The MIT professor finally addressed those pesky rumors.
---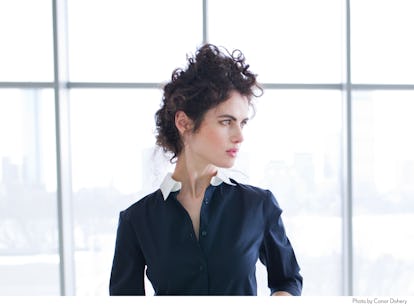 Hasselblad H4D
It's been a while since Brad Pitt's post–Angelina Jolie dating life made headlines. Over the weekend, however, the topic was resurrected after Dr. Neri Oxman—an MIT Media Lab professor, architect, industrial designer, and artist—definitively denied rumors of a romantic relationship with the actor in a throwaway line during an interview with The New York Times.
To recap, after Jolie and Pitt announced their separation in September 2016, a bunch of rumors (some convincing, some…less so) emerged about Pitt's newly single life. Among the wilder claims were rumors that the actor was experimenting with celibacy and studying Kabbalah with Demi Moore (both debunked by E! News). More recently, in April of this year, yet another rumor linked Oxman with Pitt, and the rumor mill has been churning ever since, despite an unnamed source telling Entertainment Tonight in June that Pitt "has gone on dates but [is] not looking to leap into a serious relationship at the moment."
The New York Times's profile on Oxman is a fascinating and frequently delightful long-form piece, opening with one of the multihyphenate's many impeccable one-liners ("I was thinking, as I was devouring my meatball sandwich, about how we could use robotic arms to spit out pheromones guiding bees to template honeycombs in the absence of queens. The robots, you see, could master the hive"). Buried in the middle is a brief mention of Pitt, who visited her lab in spring. But because Oxman "emphatically" said "they are not dating" (her partner is hedge funder William A. Ackman), the tabloids ran with that tidbit as the headline.
Oxman, by the way, seems to find her brief tenure as a tabloid star absolutely hilarious. In the profile, she reveals that she had fun with the paparazzi when Pitt was visiting the Media Lab, making sure to flash a copy of famous physics textbook the Feynman Lectures and the Golden Record, the "audio time capsule" that traveled to Mars in 1977, according to the Times. "The Golden Record beats the Caviar quilted flap bag on any given day," she told the Times. "Toting the ultimate message to moon was my message in a bottle to the paparazzi. The Feynman Lectures followed."
(She also described Pitt as "the last of the Mohicans in post-Netflix Hollywood," and said she'd love to collaborate with him in the future.)
Now that that's over with, you really should read this profile. Highlights include Oxman's "I used to be a Coke enthusiast, but now I'm addicted to E. coli" quote and a Björk cameo, in which the Icelandic pop star reveals that the two once discussed "biological goth" as an aesthetic, "Mexican death masks," but "mostly" love.