Netflix's Everything Sucks Is a Nostalgia Trip for '90s Kids
'Everything Sucks' is to the '90s what 'Stranger Things' is to the '80s.
---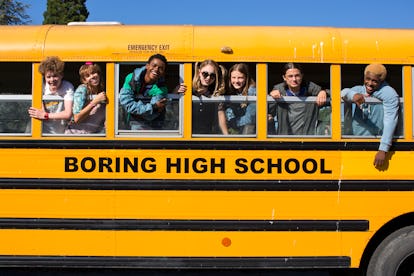 Scott Patrick Green/Netflix
If you're looking for a new Netflix show to binge—while waiting, seemingly infinitely, for the third season of Stranger Things—Everything Sucks might be it. The show doesn't drop on the streaming service until February 16, but the first glimpses of it are encouraging. In the latest trailer, we get a snapshot of the characters, their storylines, and, perhaps most excitingly, the rampant '90s nostalgia, promising to deliver the '90s straight to the head in the same way that Stranger Things does the '80s.
Some of the nostalgic moments in the first trailer include references to Beavis and Butthead, Alanis Morissette, paper fortune tellers, flip-up glasses, and slang like "da bomb," "all that and a bag of chips," and "oh snap." Not to mention, it's soundtracked by the Cranberries and the Mighty Mighty Bosstones. Plot wise, the show weaves in these '90s hallmarks as high school freshmen Kate Messner and Luke O'Neil strike up a relationship. As Netflix describes it, Everything Sucks is a "quirky, funny coming of age story that follows two groups of high school misfits… in 1996 Oregon."
As with Stranger Things, the show may be colored by the decade it's set in, but its themes are timeless. "The '90s aspect is surface," co-creator Ben York Jones told Variety earlier this month. "It's music, Tamagotchis, it's snap bracelets, yes, but ultimately the show is about our characters and their interpersonal relationships," he said. "Human emotions haven't changed over time, emotions are the same."
"We come from the world of independent film, and everything we do, we try to make it as honest as possible. If we're going to make a show about high school, we wanted to set it in the time we were in high school, which was the '90s," co-creator Michael Mohan told Variety. "We knew we could make it the most honest show possible."
In order to prepare, Jones and Mohan apparently taught a crash course in coming-of-age shows and films to the cast, including having them watch things like Freaks and Geeks, 10 Things I Hate About You, and The Breakfast Club and re-educate themselves on the music of the decade as well. "We all memorized and fell in love with (the Oasis single) 'Wonderwall,'" actress Sydney Sweeney, who plays the character Emaline, told Variety. "It was one of those songs that, on our wrap day, we started crying and singing out loud as we were riding on the bus back home."