New Amsterdam, The Resident, The Good Doctor, Chicago Med: How to Tell Fall TV's Hospital Dramas Apart
All of these medical procedurals look kind of the same, so let's see if we can figure out how to tell them apart.
---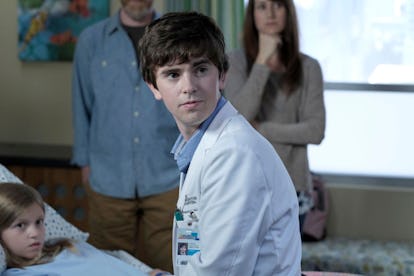 Eike Schroter/Getty Images
If you're a human with a pulse and access to the Internet, then you've seen trailers for NBC's new medical procedural drama, New Amsterdam. Or, wait, maybe that trailer about the hot doctor attempting to save the day was actually for The Resident? Or was it actually a teaser for The Good Doctor? Every network wants a piece of that sweet Grey's Anatomy pie, hence an onslaught of medical procedurals on television this fall.
A 15-season run is historic, and brings Grey's Anatomy into the territory of the other long-reigning medical procedurals that came before it: E.R., which ran from 1994 to 2009, and was, in its own way, an homage to one of the original hospital dramas, St. Elsewhere, which ran from 1982 to 1988. So, to sum up: St. Elsewhere beget E.R., which beget Grey's Anatomy, which has now spawned a copycat medical procedural at each network. But, based on the trailers that have been released for each series, anyway, it can be difficult to tell them apart. Take some attractive men in white lab coats yelling at each other with dramatic dialogue about following a code of ethics, throw in some workplace romance, and suddenly all of these shows start to look and sound very similar to one another.
While Grey's Anatomy has Ellen Pompeo as Meredith Grey at its core (though the actress has admitted she may depart after season 16, per Entertainment Weekly, the new crop of primetime procedurals all appear to focus on a misunderstood young male doctor who must save the day in the nick of time, which is to say, they appear have more in common with a show like House than an award-winning ensemble tour-de-force like Grey's. These new doctors might not hold a candle to Grey's Anatomy's McDreamy and McSteamy, George Clooney's Dr. Doug Ross from E.R., or Denzel Washington's Dr. Philip Chandler from St. Elsewhere, but these are the middling medical procedurals we get, so let's try to figure out which one is which.
New Amsterdam
New Amsterdam, premiering Tuesday, is NBC's answer to House, if Dr. House was actually Dr. Nice Guy. Set in New York (which used to be called New Amsterdam; how novel), this show is the newest addition to the medical procedural batch on primetime network television, in which Ryan Eggold stars as Dr. Max Goodwin, a good doctor (but not the Good Doctor; we'll get to that later) who plans to reform one of America's oldest public hospitals. The United States healthcare system is a broken one, and Dr. Goodwin wants to bring heart to his public organization. The twist? He's so concerned with fighting for the right to healthcare for others that he sometimes forgets to fight for himself. A real hero, this one.
The Resident
It may surprise you to learn that The Resident is actually beginning its second season on Fox this Tuesday night; it entered the lineup as a mid-season replacement in January 2018 with 14 episodes. Emily VanCamp, a former ABC primetime drama darling (she starred in both Brothers & Sisters and Revenge) has jumped networks to join Matt Czuchry (you know him as the polarizing Logan from Gilmore Girls and Cary on The Good Wife on The Resident, where they play a nurse practitioner and a senior resident internist who fall in love at a shady hospital in Atlanta. If you like the romantic entanglements on House and Grey's, that will likely be the driving force to convince you to watch The Resident, which is really all about—gasp!—unethical medical coverups and malpractice.
The Good Doctor
Your grandmother probably loves The Good Doctor, which was shopped around from CBS to ABC after the Lost star Daniel Dae Kim bought the rights to the show. Freddie Highmore stars as Dr. Shaun Murphy, a surgical resident with autism, in this adaptation of a South Korean series of the same name. Highmore went from prestige primetime cable drama (The Bates Motel) to network medical procedural (The Good Doctor), but ratings for this show were good enough to land it a second season this fall (it premieres Monday night). The Good Doctor also costars Antonia Thomas, from the underrated British series Lovesick (formerly known as Scrotal Recall).
Chicago Med
As part of NBC's "Chicago Wednesdays" lineup, Chicago Med is the third installment in Law & Order creator Dick Wolf's franchise of Chicago-related dramas. Just as Private Practice was spun off from Grey's Anatomy, Chicago Med was spun off from Chicago Fire and Chicago P.D. (the franchise's fourth sibling, Chicago Justice, was canceled after just one season, in 2017). While Chicago Med features the former America's Next Top Model frontrunner Yaya DaCosta, Law & Order veteran S. Epatha Merkerson, and award-winning character actor Oliver Platt in leading roles, it may have the most in common with E.R., as the story follows a group of emergency department doctors week after week.