Meet Nick Sagar, the Hot Chef From Netflix's The Princess Switch
In The Princess Switch, Netflix's sugary sweet Christmas rom-com, midwestern pastry chefs reign supreme over European aristocracy.
---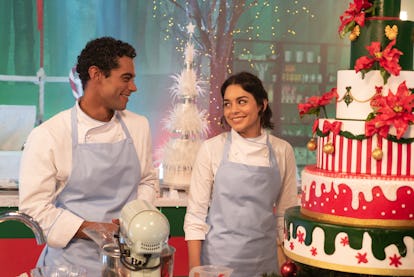 Gabriel Hennessey/Netflix
Last year, Netflix gave us A Christmas Prince, a sleeper holiday hit on the streaming platform that garnered enough views to warrant a sequel titled A Christmas Prince: The Royal Wedding. This year, we have The Princess Switch to fill that same void.
The streaming platform has been quite eager this year to amp up their Christmas content with a holiday package called "It's Beginning To Look a Lot Like Netflix," and in this new entry to the canon of streaming holiday movies that rival the annual spirited subject matter from The Hallmark Channel, Freeform, and Lifetime, Vanessa Hudgens plays Stacy De Novo, a baker from Chicago, who lands a spot in a baking competition in the fictional European country of Belgravia after her best friend and pastry sous chef, Kevin Richards, submits her name to compete.
When Stacy goes to Belgravia, she runs into Lady Margaret, a duchess from the fictional country of Montenaro (none of these fictional royal nations have anything on The Princess Diaries's Genovia, but that is a digression), who suspiciously looks exactly like her (and is also played by Hudgens for the Parent Trap-lite twin situation). The look-alikes strike a deal where Stacy gets to be a princess for a day, and Margaret gets to be normal, only Stacy predictably falls for Edward, the posh prince Margaret is set to marry on New Year's Day, and Margaret falls for Kevin, the hottie sous chef played by Nick Sagar. Obviously, the chaos borne from this switcheroo becomes the real marrow of the movie.
While The Princess Switch is essentially a ripoff of the Disney Channel original movie Model Behavior, which starred Maggie Lawson, Justin Timberlake, and Kathie Lee Gifford (if you have not watched this movie at least once in the last 18 years since it premiered, get it together), and it is kind of a mess accent-wise (where exactly on the map are Belgravia and Montenaro, and why do their residents speak with a soft British lilt?, it does hit a sweet spot of corny-but-cute. It's goofy but it gives us a spoof of royal life, a magical "twin" situation, and a bake-off. The movie has—almost predictably—also evolved to become meme fodder for the Internet. For example, very early in the film, Hudgens delivers the line "I gotta go and start packing my big ol' suitcase right now" in such a strange manner that comedians on Instagram are sharing their parodies of the line delivery (all thanks to Search Party writer Jordan Firstman, who noticed the affectation and started the #bigolsuitcasechallenge on Instagram).
But Sagar, who plays the supportive best friend role with enough liveliness that can be expected from a Netflix Christmas rom-com, proves himself to be one of the more delightful aspects of the film. Not much of the movie and its assumption that makes a whole lot of sense—and it's not really supposed to, it is a lighthearted Christmas comedy, after all—but Sagar's performance is kind of one of the redeeming qualities of this film. The Princess Switch is all about the switch between the normal girl and the royal girl, but of course he gets caught in the crossfire, and the any rom-com fan watching this movie cannot help but feel bad for this single dad with unrequited feelings for his best friend.
He also fits perfectly into the Netflix master plan of plucking actors out of semi-obscurity and launching their social status so that they obtain a lot more star power, and thousands more followers on Instagram (see: Noah Centineo, Lana Condor, Joey King—all of whom were working actors for many years before their appearances in To All the Boys I've Loved Before and The Kissing Booth, but there is an argument to be made that it was their alignment with those Netflix movies that really catapulted their star power to the extreme).
Sagar has also already established himself as a fixture of niche television shows with cult followings. The British actor previously starred in the Hulu series Shadowhunters: The Mortal Instruments, OWN's soap opera The Haves and Have Nots, and USA's Queen of the South. As Kevin in The Princess Switch Sagar operates with more than just a dash of humility about his attractiveness, and really there is no competition between a hot chef and a boring royal, but on the actor's Instagram (which has surely garnered more followers since the romantic comedy premiered in November), it is thirst trap central. Martial arts videos, gym selfies, photos of himself flexing with his soccer skills fill his feed.
Nick Sagar is definitely not the same person as Kevin Richards, the sweet and unassuming pastry sous chef, but the one thing the actor and the character have in common is the abs on display in one scene of The Princess Switch and in countless photos on Sagar's Instagram.
Related: The 7 New Netflix Original Movies and Shows to Stream