The 7 New Netflix Original Movies and Shows to Stream Over Thanksgiving Weekend
From the avant-garde to the unpretentious, there's a little something for everyone to watch over the long weekend.
---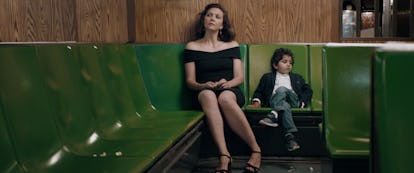 Netflix
Ah Thanksgiving, that national holiday involving many hours of lying prostrate on the couch after eating and drinking too much. Really, what better time to watch the over 200 original films or nearly 700 original TV series distributed by Netflix than after your Thanksgiving meal, and while everyone else is mauling each other during Black Friday? The sheer volume of content produced by the streaming giant might seem overwhelming, but there are a handful of original shows and movies on Netflix that were released this year that you should watch if you have a few spare hours over the long weekend. Take solace in the fact that there is a little bit of something for everyone.
Cam
A psychological thriller about a cam girl might not be the most family friendly movie to put on the living room television, but if that isn't something you're worried about, then go ahead and watch Cam. Netflix partnered with Blumhouse to tell a nightmarish story that lives at the intersection of technology and terror starring The Handmaid's Tale's Madeline Brewer, who plays a cam girl who gets locked out of her account and discovers a doppelgänger has taken her place.
Alex Strangelove
2018 was the year Netflix leaned very hard into the rom-com game. If you liked To All the Boys I've Loved Before, Set It Up, or The Kissing Booth, then you'll probably enjoy Alex Strangelove. The movie stars Daniel Doheny as Alex Truelove, a high school senior who realizes he might be gay and must come to terms with his sexuality. It's no Love, Simon, but it's not half bad, and it's a welcome addition to the canon of romantic comedies for teens on the streaming platform.
Wanderlust
Wanderlust technically premiered across the pond on BBC One, but Netflix brought Toni Collette to the states in this six-episode series about a therapist (Collette) and her husband (played by Steven Mackintosh) and their lackluster sex life. Baby boomers attempt an open marriage and chaos ensues. It's a pretty good recipe for a day-long binge if you don't have the whole weekend to spare.
The Kindergarten Teacher
Maggie Gyllenhaal gives an aching performance as the titular kindergarten teacher who takes a gifted student under her wing, and maybe crosses the line. Sara Colangelo's film premiered at the Sundance Film Festival and won an award for best director.
The Princess Switch
If you have younger siblings or cousins around during the holidays, and they happen to be fans of Vanessa Hudgens, then you're in luck: The Princess Switch not one but two Hudgnes. No matter how derivative, who wouldn't love a story involving a twin switcheroo, a fictional royal from a fictional country, and romance? If The Princess Switch doesn't hit the spot, you only have one more week to wait before the release of A Christmas Prince: The Royal Wedding, the followup to Netflix's sleeper holiday hit from 2017.
Salt Fat Acid Heat
If you're not too full from dinner, watch Samin Nosrat teach you all about the basic elements you need to know in order to cook a good meal—salt, fat, acid, and heat. It's part travel series, part cooking show, and it's based on the chef's best-selling book. Better yet, maybe watch this one before you cook that Thanksgiving dinner, just to see if you can pick up any tips and tricks to impress the family.
The Other Side of the Wind
Orson Welles began filming The Other Side of the Wind, a mockumentary of sorts about tensions between aging classic Hollywood filmmakers and the New Hollywood filmmakers of the late 20th century, in 1970. Welles died in 1985, however, and the film remained unfinished until Peter Bogdanovich and Frank Marshall stepped in and Netflix released the final product this month. Listen, Filmstruck is dead. Criterion Collection movies are expensive to purchase. The highbrow classic film snob needs more sustenance over the long Thanksgiving weekend than just turkey.
Related: Netflix's Cam Trailer: Madeline Brewer Plays a Cam Girl Caught in a Deadly Case of ID Theft