Nicole Kidman Explains Why Keith Urban Won't Be Joining Big Little Lies Any Time Soon
Don't expect the country singer to make an appearance.
---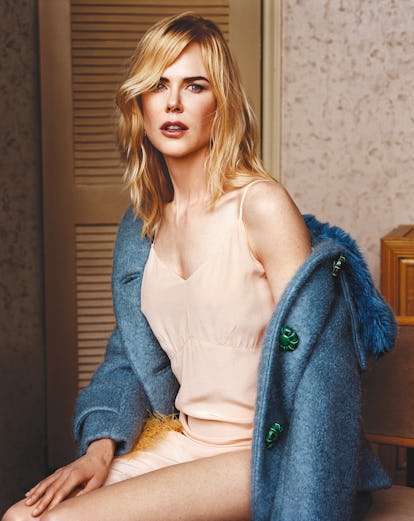 ALASDAIR MCLELLAN
After Nicole Kidman took home her first Screen Actors Guild Award for Outstanding Performance by a Female Actor, there were rumblings that she may want to partner up with husband Keith Urban for an on-screen project, but Kidman says getting her husband to make a cameo on screen is not something she has in the works. Even though Urban is well familiarized with the television game at this point, having been an American Idol judge in the past, he apparently has no interest in appearing in Big Little Lies with Kidman.
"I don't think that having a cameo on one of my projects would interest him, to be honest," Kidman said after the SAG Awards, and called Urban her "biggest supporter." In an earlier interview with W, Kidman remarked on her husband's reaction to Big Little Lies and some of her other intense on screen performances. "When he watched Big Little Lies he was disturbed; he says that when he hears me scream or cry from a certain place in my soul it's almost like it goes straight into him and he has a visceral reaction immediately. Because his brain and his heart doesn't discern between acting and real life," Kidman said.
So, even though it's been reported that Big Little Lies is going to introduce a completely new character in its highly anticipated upcoming season, we probably shouldn't expect any country musicians with Australian accents to show up in Monterey during season two of the HBO series. But maybe if we keep our fingers crossed, we'll at least get a collaboration between Kidman and Urban on an upcoming album of his. Some backing vocals, perhaps? It's not like she's never done it before.
During her acceptance speech, Kidman thanked Urban and their two young daughters, as well as acknowledging and thanking her opponents—some of whom were her costars—in the same category. To Reese Witherspoon, Laura Dern, Jessica Lange and Susan Sarandon, Kidman said, "I want to thank you all for your trail blazing performances you have given over your career and how wonderful it is that our careers today can go beyond 40 years old."
Related: Nicole Kidman Calls Her First SAG Award Win at 50 "Extraordinary"