Nicole Kidman, an Actress Who Never Rests, Is Developing Yet Another Book-to-Screen Adaptation
The Big Little Lies producer and star is bringing Janice Y.K. Lee's The Expatriates to a laptop screen near you.
---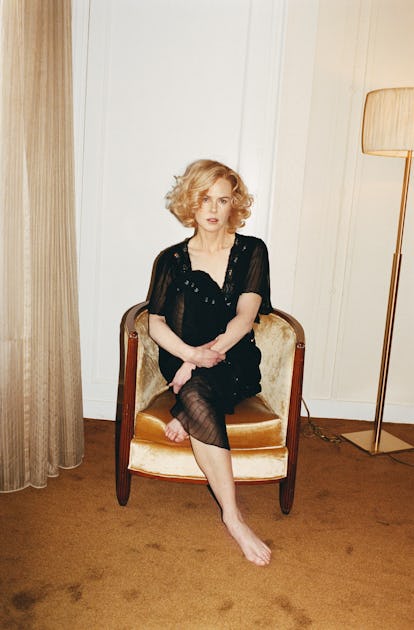 Photographer: Juergen Teller Stylist: Zoe Bedeaux
On a quiet summer Friday, the actress Nicole Kidman announced a new project, Nine Perfect Strangers, based on Liane Moriarty's forthcoming novel. The next day, she filmed scenes for the second season of Big Little Lies, this one with Meryl Streep sharing the billing. And then, the following day—a Sunday, a day of rest—Nicole Kidman revealed that she would also be producing an adaptation of Janice Y.K. Lee's novel The Expatriates, which was picked up by Amazon. (Last month, her production company announced a first-look deal with the streaming platform.) Oh, and she'll tentatively be starring in both of them.
In the upcoming season of Big Little Lies, which will expand beyond the scope of Moriarty's source novel, Streep plays Kidman's mother-in-law, Mary-Louise (which is, in fact, Streep's birth name; Meryl is a nickname)—making her the mother of Celeste Wright's (spoiler alert) late husband, Perry. The role was actually devised by Moriarty herself when the possibility of a second season of the then limited series arose; she conceptualized the character with Streep in mind. ("We didn't think we'd get her," Kidman admitted in an interview shortly after the announcement.)
So between the entire Big Little Lies saga and Nine Perfect Strangers, Moriarty and Kidman, fellow Aussies, have cultivated a strong partnership. And with The Expatriates, the Janice Y.K. Lee adaptation, Kidman will again turn to a novel for inspiration in developing a project. The Expatriates, which was first released in 2016, centers on a trio of women navigating motherhood and social spheres in contemporary Hong Kong—a New York Times review at the time explained that the novel explores "the nuance and clash of culture, class, race and sex."
Kidman began her production company, Blossom Entertainment, nearly a decade ago, developing Rabbit Hole, a film based on the Pulitzer Prize–winning play of the same title, under its auspices. Since then, she has made an effort to create the kinds of roles she wants to play and wants to put out in the world—including those in Big Little Lies, which features an ensemble cast comprising almost exclusively women.
"The Expatriates is just the beginning of our shared goal in making delicious stories with something meaningful to say about the world," Kidman said in a statement announcing the Amazon collaboration. Just the beginning! Tomorrow is Monday. Nicole Kidman never rests.
Related: The Year Nicole Kidman, Hollywood Enigma, Really Spoke to Us