It's Time to Retire the DMs and Take Your Crushes to the Comments, Just Like Noah Centineo
Let Noah Centineo and Liam Payne show you how.
---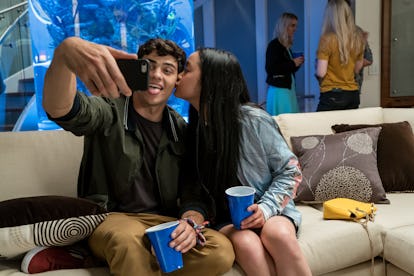 Awesomeness Films/Netflix
Thirsty romantics, you may now emerge from the dark depths of the DMs and into the light, because the comments are now where you should strike up flirtations. That's right: There's no better place to shoot your shot than before the eyes of millions—that is, if you're the noted Internet boyfriend Noah Centineo or Liam Payne.
Let's elaborate. On Thursday, Kourtney Kardashian posted a series of behind-the-scenes images from her recent GQ Mexico cover shoot. Her friends swiftly chimed in in the comments: French Montana wrote, "Ratataaaaaa" (to which Kardashian replied "ratattoosh," love an inside joke); Jordyn Woods wrote, "Soo baddddd"; Joan Smalls wrote, "Woman Stop! Out here snatching souls." And then, there's Liam Payne, who simply commented, "Wow."
Payne, the former One Direction member, recently split from the singer Cheryl Cole, who—wait for it—has reportedly sought advice from none other than Kourtney Kardashian about coping with a breakup. "Kourtney and Cheryl were introduced by Kim and Khloé and they stayed in touch via Whatsapp," an anonymous source told Heat, according to the New Zealand edition of People. "She wanted to reassure Cheryl that she's there for her if she needs anything." So perhaps Payne's comment would actually be better suited to a DM, away from the prying public eye.
On to Centineo. The To All the Boys I've Loved Before star has gone on the record about his crush on Selena Gomez—he told Seventeen that she, "seems like one of the coolest people ever." The only logical next step is to take that crush to the comments. Gomez embarked on yet another social media hiatus just a few weeks after Centineo put his crush out into the universe, but on Thursday he dropped in on the feed belonging to Gomez's onetime talent manager Nick Styne, who had just posted a throwback photo of himself with the pop star. "Bahhhhh she's gorgeous," Centineo wrote.
And let's not forget Justin Bieber's prolific comments on his wife Hailey Bieber née Baldwin's posts, one of which prompted the actor and noted mom Gwyneth Paltrow to respond, "TMI."
Forget a DM; a simple thirsty comment will suffice.