Olivia Wilde on Motherhood and Why It's Important to Stay Woke About Beauty
The actress turned activist sounds off on her collaboration with eco-beauty brand True Botanicals.
---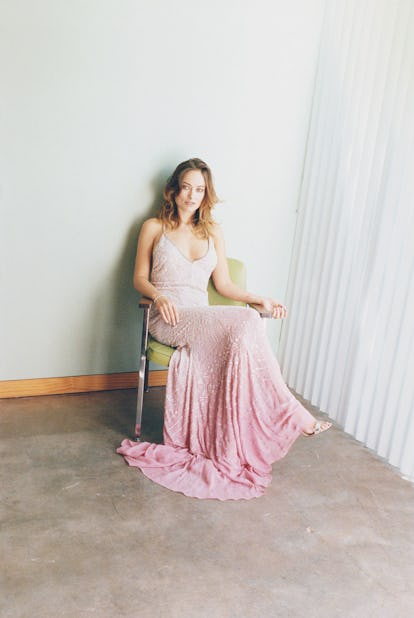 Google actress Olivia Wilde's name and you'll find an impressive reel that includes credits like Her and Vinyl, which is, of course, not surprising. What may be surprising, however, is that Wilde quietly teamed up with eco-beauty brand True Botanicals earlier this summer. "I feel lucky to be their chief brand activist, because I have the chance to introduce people to a safer way to feel beautiful," says Wilde. Here, she sounds off on adventures at Whole Foods, set life on the show House, and which products she trusts for her ethereal glow.
Was motherhood the big wake up call in cleaning up your beauty routine?
Yes, absolutely. We often don't consider what we're putting on our skin until we're responsible for growing another human. Why can't we be that thoughtful on behalf of just ourselves? I was struck by how serious the warnings were about the dangers of skincare while pregnant. Why is it okay to expose ourselves to such harmful chemicals at any point in our lives?
How did you find out about the lack of regulation in the beauty industry?
I was not aware of the complete and utter lack of regulation in the American beauty industry until I met Hillary [Peterson] and Christina [Mace-Turner] from True Botanicals. I knew the US was behind in terms of regulation, but I was not aware of just how far behind. The EU has banned more than 1300 ingredients. The US has banned 20. It is beyond shocking. It's sad.
What upset you the most about it?
Why are we allowing ourselves to be used and abused by corporations who profit from our consumption of dangerous chemicals? Not to mention the fact that the skyrocketing rates of cancer are only creating more profit for some of those same corporations. It is appalling.
Going clean, or cleaner, can be confusing. Did you end up going the Whole Foods route at first?
Yes, years ago I dove head first into the organic skincare aisle, knowing I should cut out my toxic skincare routine, but ultimately not finding the results I was looking for. Unfortunately, many people give up after a bad experience with one or two organic skincare brands, without researching the alternatives, and end up going back to their trusted toxic products that may work in the short run, but are definitely not the best for your health, not to mention the planet.
Hillary is pretty rad. How did you two connect?
I was a fan of TB before we met, and once I sat down with her, I felt an even deeper connection to their mission. I have such deep respect for her journey from cancer survivor to skincare revolutionary. She has a real love for the products themselves, their ingredients, and the farmers producing them. She is approaching this business from a truly organic place. Pun intended!
Can you tell me what you like most about True Botanicals? The efficacy? The independent clinicals?
The efficacy is what blows me away, to be honest. I am a sucker for the incredible luxury of the products themselves, and the experience of using them (my bathroom smells like a northern Cali woodsy spa) but I was skeptical that using face oils could actually clear acne, for example. I can swear to you that they absolutely deliver on that promise, and so much more. I feel so much more comfortable in my skin. I glow. I smell amazing. My skin is clear and dewy. And I don't need to worry about kissing my kids and getting toxic creams on their precious virgin skin. I actually use TB on their skin too! The entire household uses the shampoo, conditioner, and body moisturizer.
What are some of your favorite products?
The Renew Pure Radiance Oil ($110, barneys.com) is my absolutely #1 favorite must have product, and I use it twice a day. It is not greasy, it absorbs directly into the skin, it makes my makeup actually look better, and it outperformed La Mer in a blind clinical trial for anti ageing so count me in. The Cellular Repair Serum ($140, barneys.com) is the best serum I've found. I mix it with the Vitamin C ($95, barneys.com) powder three times a week, and wear it on its own the other nights. It makes my skin feel younger, without burning off 5 layers of skin. I also LOVE the Nutrient Mist ($48, barneys.com).
Has this interest in safety and sustainability impacted how you approach your home or your closet?
I do try and remain conscious of everything I bring into our home, and do my best to keep it free of the insane chemicals found in most household cleaners. Ever since I was on House and we started every episode searching the patient's house for cleaners, because most horrendous health problems can be traced to exposure to toxic chemicals, I stopped bringing any of that crap into my home. Here's the real point to all this: there are effective alternatives to the garbage now! We don't need to compromise our health to get results. Hallelujah.
What do you wish more people knew about conscious beauty?
That it works, if you find the right products. Most organic skincare lines are not put together with the extensive research, and the investment into whole, high quality ingredients, as True Botanicals.
Related: Jennifer Lawrence Vomited During A Performance of 1984, But Don't Blame Olivia Wilde
Olivia Wilde Is on the Road for "Meadowland"
Wilde stepped out in early April in a fringed white dress from the Marchesa Fall 2015 collection for the opening night of "Finding Neverland" in New York. 1920s-inspired diamond drop earrings and a mirrored Rauwolf clutch had a retro feel, while white Stuart Weitzman "Nudist" sandals added a modern touch.
Photo by Getty Images.
The actress caught our eye the next day in a Michael Kors Fall 2015 dress at the Tribeca Talks series. With a sleek leather belt, golden bracelets, and nude Mary Janes, Wilde gave a fall dress a spring twist—and became our best dressed of the day.
Photo by Getty Images.
It was impossible to miss Wilde at the Tribeca Film Festival premiere of her new film, "Meadowland." The star dressed up a pair of black men's wear inspired trousers with a sultry smoky eye and a Dior Pre-Fall 2015 pale pink sequined blouse.
Photo by Getty Images.
Wilde donned a striped calf-length dress from the Tory Burch Fall 2015 collection and knee-high crocodile boots for another flawless Film Festival ensemble.
Photo by Getty Images.
A dramatic cat-eye is becoming something of a signature look for Wilde. Pairing it with a silk Dsquared2 maxi dress at the Tribeca Film Festival, the actress was the picture of retro perfection.
Photo by Getty Images.
Supporting another of her husband, Jason Sudeikis', new films, "Sleeping with Other People," at the festival, Wilde wore a Dior black sequined turtleneck and navy floor-length dress, expertly accessorized by sleek black sandals and a messy fishtail braid.
Photo by Getty Images.
See What's Trending in W Video: