No, Oprah Is Not Running for President in 2020
"That's not for me," she said, confirming in an interview that she will not be running for office.
---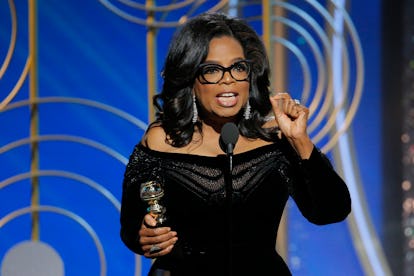 Getty Images
Ever since Oprah's Cecil B. DeMille Award acceptance speech at the 2018 Golden Globes, the rallying cry from the masses has been one insisting that she take her powerful rhetoric to the campaign trail and run for President of the United States in the next election. Throughout the speech, Oprah mentioned her support of the Time's Up and #MeToo movements, resonating with the actresses in the audience and the viewers at home. The acceptance speech was not just a simple, humble pep talk—it was naturally very poised and did feel somewhat presidential, and left many in tears as they stood to congratulate her for the award.
"Oprah 2020" has become a slogan hoisted upon Oprah, with friends like Meryl Streep endorsing a presidential run from the queen of all media. In a cover interview with InStyle, Oprah has finally addressed the subject of "Oprah 2020," insisting that she is by no means interested in running for President of the United States. "I've always felt very secure and confident with myself in knowing what I could do and what I could not. And so it's not something that interests me. I don't have the DNA for it," she said. Even Gayle has sided with Oprah, telling her best friend, "I know, I know, I know! It wouldn't be good for you—it would be good for everyone else."
"That's not for me," Oprah told InStyle, after revealing that someone had offered to help start her campaign. Even if there was a chance that having Oprah in office could be even mildly medicinal for all of us, we have to trust that Oprah knows herself better than anyone else. And she already has enough on her plate: Oprah is scheduled to return to 60 Minutes on CBS, getting back to her roots as a journalist on assignment, and she recently volunteered her time and efforts towards cleaning up in the Santa Barbara fires and Montecito mudslides.
Related: Behold Oprah's Glorious Backstage Golden Globes 2018 Speech, Which Rivaled Her Showstopper on TV