Oprah, the People's 2020 Candidate, Also Widely Rumored to Be America's Greatest Mixologist
Apparently Oprah makes the best margarita you could ever taste, according to her A Wrinkle in Time co-stars.
---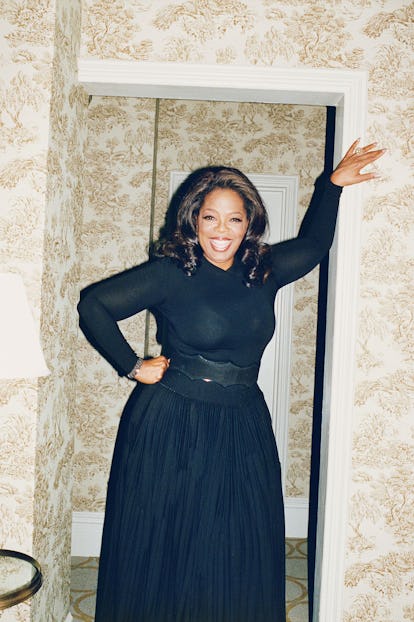 Juergen Teller
Just when you think you know everything about Oprah Winfrey, she always manages to hit you with a surprise. According to an interview with actress Storm Reid in Vulture, there is one A Wrinkle in Time cast member who knows how to make a good cocktail. "She is just like party, party," said Reid about her mentor and co-star Oprah Winfrey. Yes, it turns out that Oprah could serve up some incredible cocktails and then drink us all under the table.
Her poison of choice? That would be tequila, and not just any tequila—Oprah has been known to stand by Casa Dragones' tequila blanco, placing the spirit at number 24 on her anticipated list of favorite things last year. She also once took over as bartender at the Wrinkle wrap party, where both Ava DuVernay and Reese Witherspoon insisted that Oprah has unbeatable margarita game.
Oprah once appeared on Live with Kelly and Ryan in October 2017 to reveal some of her trade secrets (apparently, the trick to an Oprah-approved margarita is to squeeze your own limes, and never add any mix). "I am a stone good margarita maker," she proudly stated to Kelly Ripa. She also revealed that she once coached her friends through their tequila shots at Santa Barbara's annual tequila fiesta. "It's a part of me you don't know!" Oprah admitted. The queen of all media could find herself in good company, too, because Martha Stewart, the queen of living well, has long been a huge fan of the same tequila, as is Ryan Seacrest.
Listen, when Oprah tells you she can make a good margarita, you have no choice but to believe her, and if we can't have Oprah as our president, at least we know that those of us who are lucky enough to experience her presence might be able to ask her to be our First Bartender. In any case, we should have all seen this coming. Everybody knows Oprah loves a harvest day moment, so why should tequila—a spirit derived from green plants—be any different?