Oscars 2019: Lady Gaga's Priceless 128.54 Carat "Tiffany Diamond" Necklace Was Last Worn by Audrey Hepburn in 1961
The priceless "Tiffany Diamond," last seen in 'Breakfast at Tiffany's', is a whopping 128.54 carats.
---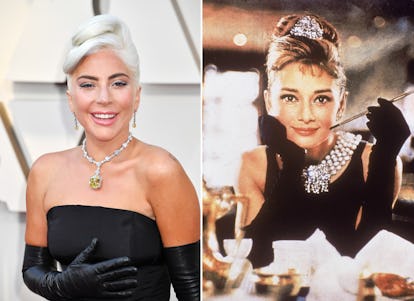 Jeff Kravitz
Lady Gaga's powder blue look at the 2019 Golden Globes may have unwittingly channeled Judy Garland (not to mention, spurned a meme in the process), but at the 2019 Oscars, the Best Actress nominee is taking inspiration from another legend of the silver screen: Audrey Hepburn.
Tonight, Gaga hit the red carpet wearing Alexander McQueen, but the real pièce de résistance was her 128.54-carat Tiffany & Co diamond, aptly named "the Tiffany diamond." For any movie buffs out there—and this is the Academy Awards, so there's more than a few tuning in this evening—the diamond may have looked familiar, and for good reason: it was last worn by Audrey Hepburn in 1962 for publicity posters for Breakfast At Tiffany's. In fact, tonight marks only the third time in history that the Tiffany diamond was worn (not to mention it's first red carpet appearance); before Hepburn's spin, the diamond was first worn by Mrs. Sheldon Whitehouse at the 1957 Tiffany Ball held in Newport, Rhode Island.
The yellow diamond was first discovered in South Africa in 1877 and acquired by Charles Lewis Tiffany a year later for a reasonable $18,000. From there, the stone was brought to the jewelry house's chief gemologist who supervised as the stone was cut into a cushion-cut with 82 facets (by comparison, a typical cut has 58). Since then, the diamond has traveled the world at various jewelry fairs and museum exhibitions—and now, the neck of Gaga. Unfortunately, if you want a chance to wear the stone for yourself, you may have missed your shot: back in 1972, an ad was placed for the stone in the New York Times, announcing it could be purchased for $5 million (about $30 million today). There were no bidders.
Related: Oscars 2019: See What Everyone Wore on the Red Carpet