6 Over-the-Top Celebrity-Approved Facials That You Need to Know Exist
Diamonds, caviar, gold, and blood are actual ingredients.
---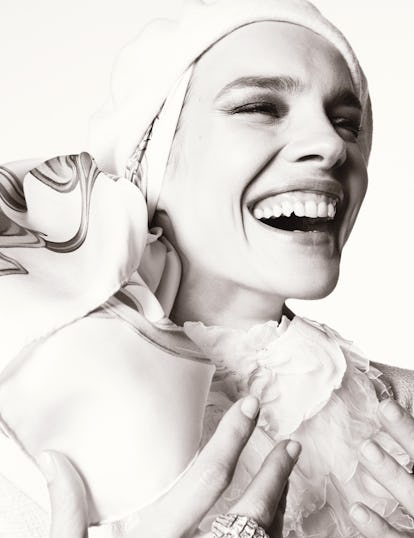 Photographs by Steven Meisel; Styled by Edward Enninful
When it comes to skincare, celebrities seem willing to try just about anything–Caviar? Sure. Stem cells? Why not!–and, of course, price is no object. Here, a closer look at the most lavish and outrageous facials that the stars swear by, from how they're done to what they cost.
CAVIAR & GOLD FACIAL
When Khloe and Kourtney Kardashian want an extravagant face refresh they call up Nurse Jamie. Her Santa Monica, California, spa is the go-to spot for science-meets-beauty skincare. And one of her top treatments is her signature caviar facial. "It is an expensive, yet amazing ingredient for brightening the face," she explains. Caviar, which is rich in Omega 3 fatty acids, vitamins and amino acids activates skin cells to produce collagen, while the antioxidants present in it helps to reduce fine lines.
How it's done: After a deep cleansing and pore-opening treatment, fresh, chilled caviar is mixed with Nurse Jamie's proprietary nutrient-rich blend of plant extracts, platinum and 24 karat gold. The mixture is applied to skin like a mask to help reduce the appearance of facial lines, age spots and to help smooth out the any rough texture.
What it costs: $1,200
Where to do it: Beauty Park Medical Spa, Santa Monica, California
FLAWLESS DIAMOND FACIAL
Skin treatments using precious metals and stones like diamond and platinum top Spa Finder's latest list of buzzy beauty trends — and for good reason. "It is useful in people who have dull skin, as it helps improve skin radiance," says dermatologist Josh Zeichner.
How it's done: Older versions of the service use a diamond-coated handpiece to exfoliate skin, almost like a really fancy ultra fine grit sandpaper. Newer methods involve powdered diamond dust, adenosine and orchid extract that is massaged into skin to help brighten and activate skin cell renewal. Warm pink quartz stones and pointed pieces of jade are also incorporated into the treatments. They are rolled and kneaded into the contours of the face and across any fine lines to help stimulate collagen production.
What it costs: $282
Where to find it: The Iridium Spa inside the St. Regis Macao hotel
24K GOLD FACIAL
Pre-Victoria's Secret fashion shows, celebrity aesthetician Mimi Luzon uses this 24K magic treatment to get models' skin looking glowy. The gold is said to help remove toxins, repair any damage from pollution, and improve the appearance of age spots. "Gold has long been used in medicine for its anti-inflammatory properties. There is data to suggest that gold also has skin calming and brightening properties," Zeichner explains.
How it's done: Essentially, it's like a next level sheet mask. The treatment combines the 24K Pure Gold mask, which are strips of real gold, with radio frequency technology. Instead of peeling the mask off, the gold is massaged into the skin to allow the nutrients to absorb.
What it costs: $400-$500
Where to find it: Mimi Luzon, Petach Tikva, Israel
STEM CELL FACIAL
If you're looking for serious skincare that focuses deeply on warding off wrinkles, try a stem cell facial. "In a nutshell, stem cells have the potential to change any cell in the body, and they can regenerate and multiply," says Betsy Isroelit of SpaFinder.
How it's done: A stem cell serum is applied to skin and is said to replace damaged cells with younger cells. If you want something a bit more advanced, there's the stem cell "facelift." It requires a surgeon to remove fat cells from elsewhere in the body, reactivate the stem cells, and then re-inject them into the face to add volume and generate new skin cells.
What it costs: The serum-based version starts at $650. The full "facelift" costs between $5,000 to $15,000.
Where to find it: Lancer Dermatology Clinic, Beverly Hills
THE GEISHA FACIAL
If you're suffering from sunspots, need a bit of brightening, and can get over the idea of having bird dung smeared across your face, book a geisha facial appointment. "Japanese nightingales droppings are rich in urea, found in moisturizers, and the amino acid guanine, found in fish scales and thought to give them their shine," say Zeichner.
How it's done: Powdered nightingale droppings are sanitized under a UV light before being milled into a powder. They are then mixed with Japanese rice bran and applied to the skin for several minutes before being wiped off.
What it costs: $180
Where to find it: Shizuka New York Day Spa
DRACULA THERAPY
Kim Kardashian recently said that she regrets getting a Vampire Facial–but plenty of other stars are huge fans of the treatment, which is also called a Blood Facial or Dracula Therapy.
How it's done: The process is similar to stem cell facials which involves needles, so if you're squeamish, proceed with caution. Blood is drawn from your own vain, spun in a centrifuge to separate the red blood cells from the platelet plasma, and then the platelet plasma is then activated and injected into areas of the face that need plumping and filling.
What it costs: $1,400
Where to find it: The London Cosmetic Clinic, Knightsbridge London
The Best Facials in New York City
"Deep cleansing facials are extremely helpful for my acne. This all-natural one is my favorite because it keeps me completely breakout-free for two weeks." – Katie Becker, Beauty Editor
Try this treatment: Biologique Recherche Purifying Anti-Acne Facial, $190
Locations: 171 E 65th St., New York, NY; 66 East 55th St., New York, NY; 60 Chelsea Piers, New York, NY
Phone: 212.988.7816
Hours: vary by location
"Given that facials are part of my job (sorry, haters), I tend to be rather unfaithful in this arena. But if I had to pick one place to recharge my complexion, it would be Dangene, with her trusty team of exfoliators, spot sizzlers and skin brighteners. If you don't have time for a vacation, fake it by spending a morning with Dangene." – Jane Larkworthy, Beauty Director
Initial consultation and treatment: $1,500 (consultation alone is $250)
Location: 66 East 55th St., 6th Floor, New York, NY
Phone: 212.249.8172
Hours: Monday through Friday, 7 a.m. to 6 p.m.
"After an hour and a half of being infused with chi energy and enduring extractions, my skin has never felt so refreshed, and I have never felt so relaxed." – Sarah Leon, Web Editor
Try this treatment: Wow Signature Triple Peel Energy Lift Facial with with Body Wellness, $410
Locations: 12 East 16th St., New York, NY; 105 West 77th St., New York, NY
Phone: 212.989.8833 (16th St.) and 212.877.2883 (77th St.)
Hours: vary by location
"I rarely get facials, but when I do I choose the excellent microdermabrasion facial at The Peninsula." – Karla Martinez de Salas, Fashion Market and Accessories Director
Try this treatment: Microdermabrasion Facial, starting at $275
Location: 700 5th Ave, New York, NY
Phone: 212.903.3910
Hours: 9 a.m. to 9 p.m. daily
"Though I try to take care of my skin, my arsenal of products is still no match for my blackhead-prone skin. But with deep cleansing, extractions, and a massage, this does the trick." – Sue Williamson, Digital Editorial Associate
Try this treatment: The Fully Loaded Facial, $250
Locations: 12 West 57th St. New York, NY; 541 Lexington Ave., New York, NY; 568 Broadway, New York, NY
Phone: 877.862.5477
Hours: vary by location
"A friend with absurdly amazing skin turned me on to this place, which uses all Biologique Recherché products. I've since joined the cult. In my opinion, it's the best money you could spend on yourself." – Karin Nelson, Features Editor
Try this treatment: Deep Cleansing Facial, $305
Location: 30 East 67th Street, 5th Floor, New York, NY
Phone: 212.879.5257
Hours: Monday through Friday 11 a.m. to 4 p.m.; Saturday and Sunday 10 a.m. to 6 p.m.
"When my skin needs a complete reboot, I rely on this all-encompassing treatment that uses three different micro current techniques—and of course Joanna's magic touch. She's the best facialist in NYC." – Kat Herriman, Digital Editorial Assistant
Try this treatment: Triple Crown Facial, beginning at $250
Location: 501 5th Ave., New York, NY
Phone: 212.949.2350
Hours: Monday through Friday 8 a.m. to 8 p.m.; Saturday 9 a.m. to 6 p.m.; Sunday 10 a.m. to 6 p.m.
"I have never, ever been a facial girl—until I tried Pratima. Located in the heart of Soho, this eco-friendly spa uses all organic minerals, flowers, roots, and herbs for an utterly relaxing (I fell asleep!) and genuinely transforming experience. The next day I actually SAW the difference! My complexion was smooth and my skin was crystal clear." – Gillian Sagansky, Assistant to the Editor in Chief
Try this treatment: Uddhata Ayurvedic Facial, $147
Location: 110 Greene Street, #701, New York, NY
Phone: 212.581.8136
Hours: Monday 11 a.m. to 6 p.m.; Monday through Friday 10 a.m. to 8 p.m.; Sunday 10 a.m. to 5 p.m.