Paris Hilton Donated $350,000 and a Bunch of Merch to Earthquake Victims in Mexico
On her second visit to a town hit by one of Mexico's deadliest natural disasters.
---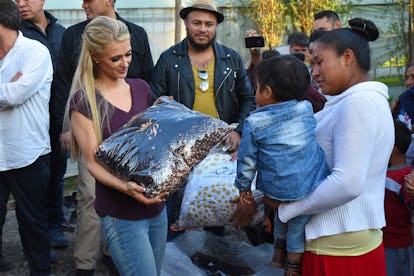 Carlos Tischler/Getty Images
While in Mexico City to launch Paris Hilton Footwear and sign autographs, Paris Hilton took the opportunity to venture outside of the country's capital—and understandably didn't pack light. Rather than bringing along a variety of looks for photo shoots with her fiancé, Chris Zylka, though, Hilton packed up some of her wealth of merch, which she gamely personally doled out to the residents of San Gregorio, a town in Xochimilco that's still reeling from the 7.1 magnitude Puebla earthquake in September 2017, which was one of the deadliest in Mexico's history, killing 370 people, injuring 6,000, and destroying an estimated 200,000 homes.
This wasn't Hilton's first time in town: She first visited San Gregorio two months after the earthquake, in November of last year to support those affected, sharing that her "heart broke" when she first heard the news. She also donated funds to help reconstruct homes, as well as hundreds of shoes, clothing, food, toys, blankets, and pillows for those that the natural disaster affected. Adding that she's been coming to Mexico all of her life, and feels as thought it's her "second home," she also suggested that her work there wasn't done: "I know there are people who are suffering and going through hard times, so every time I return, I will do something to give back," she said.
A year later, Hilton kept her word, donating $350,000 to assist with rebuilding, and again hand out some goodies to the locals. In between her involvement with Un Kilo de Ayuda, a group whose mission is to give aid to children, she also threw in some of the 20-plus fragrances she's released under her name for good measure, as well as some more immediately useful items, like pillows stamped with a crowned "P." (Hilton also spread positivity by kissing a pregnant woman's baby bump and flashing peace signs.)
As flippant as her glittery Instagrams hugging locals may at times seen, Hilton's made some very real charitable contributions throughout her career, including to the Make-A-Wish Foundation and groups researching and supporting those affected by cancer, multiple sclerosis, and AIDS. According to her mom, Kathy Hilton, Paris and her sister, Nicky, have been doing charity work ever since they were 5 or 6 years old, though the family has shied from allowing press and cameras to witness their efforts in recent years. Kathy also went on to offer some rather unfortunately phrased praise: "Whatever country Paris is in, she will go to an orphanage, she will go visit children because that's her thing."
Related: Miley Cyrus and Liam Hemsworth Donate $500,000 to the Malibu Foundation in the Wake of Woolsey Wildfire