Paris Hilton Might Return to Reality TV
She may be busy, but she knows what her fans want.
---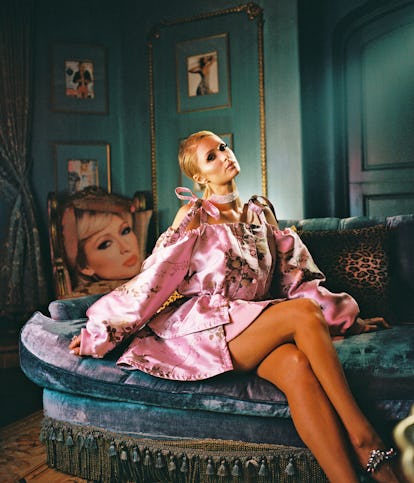 Mayan Toledano
Paris Hilton knows that even with her impending wedding to Chris Zylka, DJ sets in Ibiza, and new clothing lines, we all just want one simple thing—for the heiress to return to reality television.
Right now, her life is filled to the brim with planning for her wedding, which will reportedly occur sometime later this year. "It's the best feeling in the world just to find the one person who is your best friend," Hilton said about Zylka, in an interview with E! News. "I trust him so much. He's so supportive and loving and like an angel. I feel like he saved me. I can't imagine my life with anyone else," she continued.
Details of the wedding are still in the process of being ironed out between the couple, but Hilton also admitted to E! that she may have a tough time keeping the guest list slim. "It's going to be a hard choice or else I'll have, like, a million people there," she said. As for post-wedding plans, Hilton revealed that she felt it is the "next step in life" to have kids. "I definitely want to have some cousins for Nicky's babies to play with, and I can't wait to have kids," she went on.
Since Hilton knows what her fans want, she has discussed a possible reality series that documents her life now that she is engaged to be married to Zylka and has all of those other projects on her hands (DJing, designing, and just generally being one of the relevant pop culture queens of the early aughts, to name a few). "We've been getting a lot of calls and a lot of offers from different networks, pitching that show, so maybe," Hilton told E! News.
A "maybe" is not a "no," so there's still a chance this really could happen, but it's understandable if the mogul finds herself too busy for another round of Simple Life–level antics. A Paris Hilton reality show that features Chris Zylka as the artist dad, Paris as the world-traveling business mogul mom, their kids, the rest of the Hilton crew, and their A-list family friends? Sign us up.
Related: Paris Hilton DJ'd Her Brother Barron Hilton's Wedding to Tessa Gräfin von Walderdorff