Paris Hilton Is Taking Lots of "Me Time" After Calling Off Engagement to Chris Zylka
"I thought it was going to be my happy ending."
---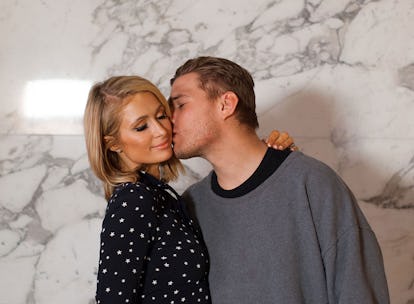 Michael Beckert
In the weeks following her breakup from former fiancé Chris Zylka, Paris Hilton is returning to a simpler life. Though she's posted several cryptic posts on her Instagram—some with quotes misattributed to Marilyn Monroe as their captions—since the split, it wasn't until Wednesday, while serving as a guest cohost of The Talk, that the heiress directly addressed the called-off engagement for the first time. "I'm doing really good. I'm just really having my 'me time,'" she said.
"I just feel that, when I fall in love, I fall in love fast and hard, and it was this whirlwind romance. And I've always been obsessed with Disney stories and love stories, and I thought it was going to be my happy ending. I just realized after time that it wasn't the right decision," Hilton continued. "But I wish him the best. You know, one day I would love to get married and have children, but for right now, I'm just focusing on myself and my work."
Though Hilton and Zylka reportedly ended their engagement at the beginning of this month, it wasn't until last week that the breakup news broke. "Their relationship started to become off-kilter after about two years together," a source told Just Jared at the time. "Paris will be focusing on her brand, like deejaying and fragrances, while Chris will get back into acting and art, like his gallery pop-ups with Banksy during Art Basel."
Shortly after announcing their engagement, which took place on the ski slopes in Aspen in early January, the pair spoke to W about their relationship, which didn't kick off until several years after they first met, at an Oscars party in Los Angeles in 2010. "I was with my sister at one of the villas at the Chateau Marmont when he walked in," Hilton recalled. "And I just looked at Nicky and said, 'I have to meet him. This is the most beautiful man I've ever seen in my life.'" Though they chatted at the party, their first date wasn't until February 2017: "I saw her, and that was it," Zylka said of the auspicious occasion, during which they watched The Secret Life of Pets and talked for hours. "You know, being in Hollywood, you're always around so many people taking pictures and talking," Hilton said. "I was just looking into his eyes and seeing how kind and sweet he was."
Related: Paris Hilton and Chris Zylka Present: A Completely True Guide to Their Relationship