Paris Hilton and Chris Zylka Have Reportedly Called Off Their Engagement
Zylka popped the question during a ski trip in January.
---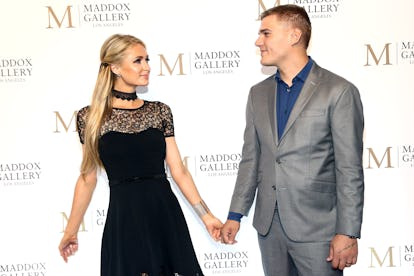 Tommaso Boddi/Getty Images
Sadly, after spending the last year planning her multiple, globe-spanning weddings and waving around her engagement ring so enthusiastically that it once flew off her hand at a nightclub, prompting a full search-and-rescue mission for the $2 million diamond, Paris Hilton has reportedly called off her wedding and broken up with Chris Zylka. An unnamed source close to the couple told Just Jared this week that Hilton and Zylka had backtracked on their engagement earlier this month. "Their relationship started to become off-kilter after about two years together," the insider added. "Paris will be focusing on her brand, like deejaying and fragrances, while Chris will get back into acting and art, like his gallery pop-ups with Banksy during Art Basel."
Though, throughout the last year, Hilton revealed in various interviews that she'd picked out her wedding dress, chosen the cake, and secured a venue, there were hints that it wasn't all smooth sailing for her and Zylka. Most tellingly, in August, mom Kathy Hilton confirmed that Hilton and Zylka had decided to push back their wedding. "She's got the new skin-care [line], so she's basically been traveling," Kathy said. "She's really been busy. … She has contracts and you have to fulfill all [of] them, you know?"
Neither Hilton nor Zylka has publicly commented on the alleged breakup, but the last photo Hilton shared with Zylka on Instagram was a group shot in late October; their most recent one-on-one photo dates back to the end of September. Additionally, on Sunday evening, Hilton posted a bedazzled photo of herself with a somewhat cryptic caption that sounds a lot like a post-breakup inspirational quote. "What made her strong was despite the million things that hurt her. She spoke of nothing but happiness…" the heiress wrote.
The pair first started dating at the beginning of February 2017 before making their relationship social-media-official later that month. Zylka popped the question at the beginning of this year, while they were ringing in 2018 with a ski trip to Aspen. At the time, Hilton told People, "I am so excited to be engaged to the love of my life and my best friend. I have never felt so happy, safe, and loved. He is perfect for me in every way and showed me that fairytales really do exist!"
In a joint interview with W a few months after announcing their engagement, Hilton and Zylka shared the story of their first date—on which Zylka initially bailed. "I got so nervous that I cancelled and said I was sick," the actor and artist said. Luckily, he regained his confidence and rescheduled for the next day. When he arrived at her house, "all time stopped—I saw her and that was it," he said. The pair spent their first date talking for hours and watching The Secret Life of Pets, and the rest was history. "Literally, since then, we haven't spent more than three or four hours apart," Zylka said at the time.
Related: For Paris Hilton and Her Fiancé Chris Zylka, the Simple Life Is All About Art