Amy Poehler Says a Parks and Recreation Reboot Could Happen 'Any Time'
With Beyoncé as the mayor.
---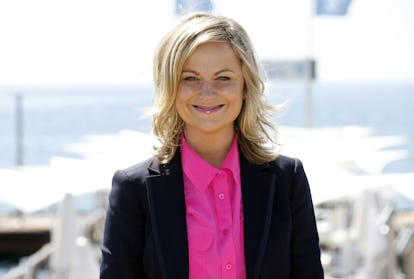 VALERY HACHE/AFP/Getty Images
Given Hollywood's tendency to remake any and every beloved show, ever — cast-willing — it's a miracle that Parks and Recreation hasn't had its comeback yet. But, according to star Amy Poehler, it could happen at "any time."
The actress revealed that she's more than down to revive her role as Pawnee politician Leslie Knope in a recent interview with Ellen DeGeneres and Nick Offerman, her former TV boss turned reality show co-host for their upcoming competition show Making It. "I'll speak for everybody and say we would all do it. I think we'd all do it someday, it'd be amazing," Poehler said when DeGeneres asked if Parks and Recreation would ever get the Will and Grace treatment — a show that Offerman's wife (and TV ex-wife) Megan Mullally is on.
"We just had a fitting earlier," Offerman joked, adding that he has one condition for doing a reunion: "We said that if Beyoncé would play the mayor, we'll bring the show back." "This is Beyoncé Knowles, the singer, the entertainer," Offerman clarified, as if it was necessary.
Joking aside, Beyoncé obviously has a lot going on, including her upcoming On the Run II tour with her husband Jay Z. Not to mention, she hasn't acted in anything since 2008's Cadillac Records. She is, however, currently at work on a film: the live-action remake of The Lion King, which will play Nala in as well as contribute to the soundtrack with Elton John.
If Beyoncé isn't available to single-handedly reunite the Parks and Recreation cast, however, then perhaps another person who's immediately known without mentioning their last name can: specifically, Oprah Winfrey, as DeGeneres suggested. "She could be the mayor too," Poehler said, with Offerman echoing her, "Yeah, she could too."
Offerman ultimately left the chance of a reboot up to Poehler, though, explaining "Amy's the boss of the show so…" If the show did pick back up, it could be more timely than ever. When it left off — spoiler alert — Knope was shown in a flash forward to have become Indiana's governor by the year 2025. In that scenario, she'd be picking up for vice president Mike Pence's replacement. In that scenario, there'd be no shortage of real-life political drama to draw from.