Pat McGrath Is Bringing Rihanna's Bold, Glittery Lips to the Masses
With Lust 004, a new collection of lip kits.
---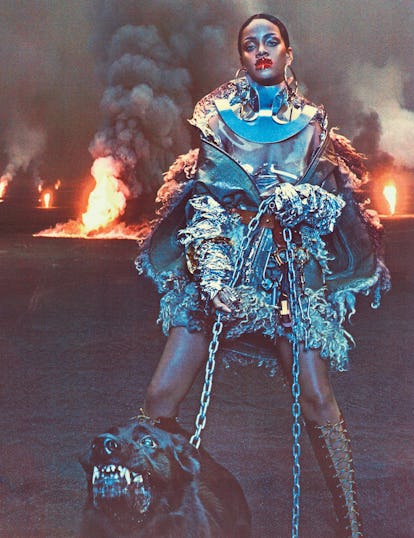 Photographs by Steven Klein, Styled by Edward Enninful
Every time Pat McGrath Labs launches a new product, hysteria ensues. The master makeup artist's first collection, Gold 001, sold out in a mere six minutes. On August 30th, McGrath will release Lust 004, a collection of lip kits that includes intense matte lipsticks, shiny glosses and extras, like glitter and shimmer. (There's even a powder that can recreate those gold tears that Rihanna sheds on W's September cover.) Here, McGrath explains why she loves when people experiment with makeup on Instagram, why she loves a bold lip and more.
So, Lust 004 is all about lips. It is all about lips right now, isn't it? I'm always asked, "How did you do that?" "How does that work?" With Skin Fetish [003], I showed how I created such luminous skin. Lust 004 is for everyone who's mad for any kind of lip shade, any kind of lip fun, any kind of lip obsession.
How did you decide on the three shades? They're based on every lipcolor I've done in my career. The burgundy is called Blood Wine, Vermillion Venom is a pure red, and a nude called Flesh. They're really comfortable. Even though they're matte, they weigh and feel like a balm. But at the same time, highly pigmented.
There's two of each shade? Yes, each of the shades come in two variations so you can be as creative as you want to be. And that's the way we work editorially; we always work with two lipsticks, never one. You very rarely take one lipstick and just go. A lot of time we mix it according to lighting, for instance.
But the mattes are just the foundation, right? Exactly. We also have a super shiny gloss as well as glitter for every shade. Each of the three shade kits come with the two lipsticks, two glitters and lip gloss. But this time, you can buy everything individually, too.
This red lip with glitter looks familiar… I made the glittery red lip at Versace Couture with Vermillion Venom and glitter. It's also what was used on W's Rihanna cover, with the jewel on the lip and the gold eye. And on W's other cover, my team used the darker shade of Blood Wine. What I love is that the extremes of makeup are now actually the norm. These are things I've been doing for 20 years. It's all about encouraging experimentation. This is for girls who are not only models, and not only girls. Everyone. Everyone LOVES to experiment with makeup and everyone wants to achieve the impossible. And they always want to know exactly how I did a look.
Which could be very complicated. A lot of times we couldn't really explain because we were doing really amazing theatrical tricks and techniques, using advanced levels of pigment, advanced levels of glitter. And these products are not regular pigment, this is not regular lipstick. This lipstick lasts, it's a staining on the lips. It's beautiful. And then again, the pigment is so lightweight, it would literally fly. It's not that heavy crystallized glitter that requires tons of glue. It's the technology as well that allows such intense pigment to feel so lightweight.
It must feel so cathartic to finally share all of your secrets to makeup lovers. It's good to be sharing. Also, for the labs it's something so new to be releasing all those secrets to the public, teaching them how to do it from scratch rather than making it up. Giving them the real tools, the real colors, the real textures. It's all fun.
How does it feel to know you're responsible for this whole generation of makeup experimenters? It's amazing! And, of course, I was inspired, too, when I was a kid–by punk, by Blitz kids, and now this generation comes to me wearing my stuff. When we had the Sephora event and all the crazy kids were there, [they said] "I look like this because of you!"
You're so great about supporting them when they create looks on Instagram. It's great to see a resurgence into those looks. And now I'm in the position to bring the tools to them through using the web, through doing selfies, through the dotcom.
What is the length of time between you saying to the labs "I need you to make this" and actually having it in your hands? I'd say two months.
Whoa! So you have nothing holding you back?. No, absolutely. The buck stops here. But it is amazing that I can say, "This is what I want and I'd love this effect to happen," and to be able to bring it in the most incredible way.
Do you test formulas on yourself when you're creating them? Not anymore. I did when I was seven.
Seven? From seven until, like my mid-twenties. [It was] full experimentation all the time. Now I do it on someone else. My obsession is to always find the best materials. We've been having so much fun being able to bring these extremes of makeup into real life. Even though they are extreme, women still want to play with them.
What is the most challenging request that you've brought to the labs where they've said, "Oh, I don't know how we're going to make that" Coming SOON. [laughs] No. All of it is a challenge, of course.
Do you adhere to a launch calendar or do you just come out with it when it's ready? When it's ready, I come out with it.
If you had to choose one kit from this collection, which would it be? Oh my gosh. For me, a woman with 87 suitcases? Of course, I would go for the Everything Kit.
Preview Pat McGrath's new lip kits here:
Preview Pat McGrath's New Lip Kits
Preview Pat McGrath's New Lip Kits