Crash Director Paul Haggis Accused of Sexual Misconduct by Four Women, Including Two Allegations of Rape
"Crash" director Paul Haggis is the latest to face allegations.
---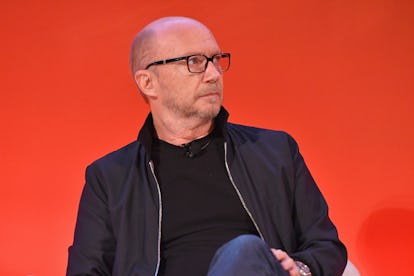 Slaven Vlasic
As we head into a weekend headlined by a Golden Globes ceremony in which Hollywood women are set to make sexual misconduct and gender inequality the talk of the red carpet (and likely of their acceptance speeches), another powerful man in Hollywood has been accused of serious sexual misconduct. Paul Haggis, who, as a producer, won back-to-back to Best Picture Oscars with 2004's Million Dollar Baby and 2005's Crash (which he also directed), has now been accused by four women of abuse. That includes allegations of rape by two of the women.
Charges against Haggis were originally brought to attention late in December when a woman, identified to be an industry publicist, filed a lawsuit claiming Haggis had raped her following a film premiere in 2013. Now three additional women have come forward to the original accuser's lawyer with similar stories that they detailed in separate interviews with the Associated Press.
The latest rape accusation comes from a different publicist who claims she was attacked by Haggis back in 1996, when she was 28 and working on a television program he was producing. The woman says Haggis told her to meet him in his office to discuss photos from a show that night, something she hadn't been asked to do before, but the situation didn't initially register as a red flag. "I thought it was odd, but I agreed. He was the ultimate boss. I didn't feel inclined to say no," she told the newswire.
Though, when she met Haggis she realized everyone else had gone home for the night. She claims he took her into a back office and then forced a kiss on her. He eventually forced her to perform oral sex, then held her down on the floor to continue the assault.
"I just pulled away. He was just glaring at me and came at me again. I was really resisting. He said to me, 'Do you really want to continue working?'" she said. "And then he really forced himself on me. I was just numb. I didn't know what to do."
A friend of the woman confirmed with the AP that the victim had previously spoken of the attack.
The other two women, who had met Haggis through professional means, claims that Haggis made lewd comments and forcibly kissed them, but they managed to get away.
An attorney for Haggis denied the charges, telling the AP, "He didn't rape anybody."
Haggis, who has also written two James Bond films, previously made headlines in 2009 after he quite publicly left the Church of Scientology, describing the organization he had been a 35-year member of as a "cult." At the time, he claimed the breaking point was when the church refused to shift its position against same-sex marriage.
According to a Fox News report, Million Dollar Baby star Hilary Swank was asked about the allegation at an FX event soon after the news broke, but had no comment besides, "I havn't heard that, no."
Related: Mariel Hemingway, Then 16, Was Terrified of Her Kissing Scene with Woody Allen in Manhattan