Meet Pauline Ducruet, Grace Kelly's Granddaughter and the Hottest New Royal On the Rise
The young royal breaks down her style, design aspirations, and favorite New York hotspots.
---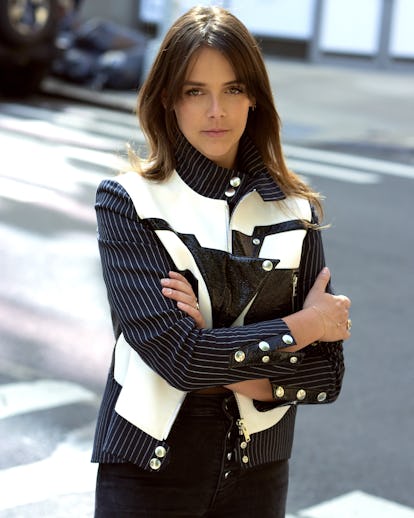 Pauline Ducruet was brought up on fashion. You would be too, if your grandmother was Grace Kelly. Luckily, fashion just so happens to be a passion of Ducruet's, who after growing up in Monaco, moved to New York to attend Parsons School of Design. And if you are one of the 27,000 people who follow the 23 year-old on Instagram, it's easy to see that style definitely is inherent, as Ducruet captures her American adventures, popping up everywhere from Coachella to Washington, D.C. Here, the young royal and aspiring designer breaks down her style, fashion goals, and favorite New York hotspots.
How would you describe your designs?
I would say that my designs are inspired by everything that surrounds me. Street styles and also the basics of a wardrobe. I love simple lines and edgy but comfortable styles. I grew up in South of France so the French-effortless style is one of my go-to styles. My typical outfit would be some jeans, white loose t-shirt/shirt nice sandals or boots and a jean jacket or perfecto.
I am starting small and by myself because I want to be able to offer quality pieces in limited quantity. This whole project is at the state of preparation still, and will be launched when everything is perfect cause I am a perfectionist
What are currently your main challenges as a designer?
The fact that I am designing everything and following the whole process is very fulfilling because I get to see the process from the sketch to the actual piece. It's just satisfying to see the final project and be able to wear it or see my friends wearing it.
The most difficult part of creating the pieces? Where do you produce?
The most difficult part I would say is the prototype because if it is not perfect then it cant be well produced. For now I am doing all the prototypes and I would love my pieces to be produced in France or Italy I really want the best quality.
If you could design for a brand, which brand it would be?
I've been in love with Raf Simons's designs forever, especially when he was the creative director of Dior. I love how Demna Gvasalia works with the upcycling spirit, even though I won't go that far with my designs—but I love the idea.
How does living in New York influence your approach to design ?
Living in New York opened up my mind even more. People here are not afraid to try new styles.
What is your favorite spot in New York?
The "French cafes," like Buvette and Cafe Select. I feel a little bit closer to home.
What are three words that describe your aesthetic?
Simple, edgy, and feminine.
Your personal daily uniform:
Black and white are my go to colors, but I can get crazy sometime and add a bold color to my looks.
Style icons:
Last purchase:
Alexander Wang sandals.
Travel essentials:
A good pair of sunglasses, and my favorite pair of Levi's jean shorts.
Something you would never wear:
Ruffles.
Most prized possession in your closet:
A Givenchy coat from my grandmother that is from the '60s.
Jared Leto Reveals His Crush on Grace Kelly:
The Best of Monaco Through the Eyes of the Jenners, Hadids and Other Jetsetters