Pearls Are Back, and Not Just for Ladies Who Lunch
A Chanel classic is reinvented for pops stars like Rihanna and the most recent Gucci runway.
---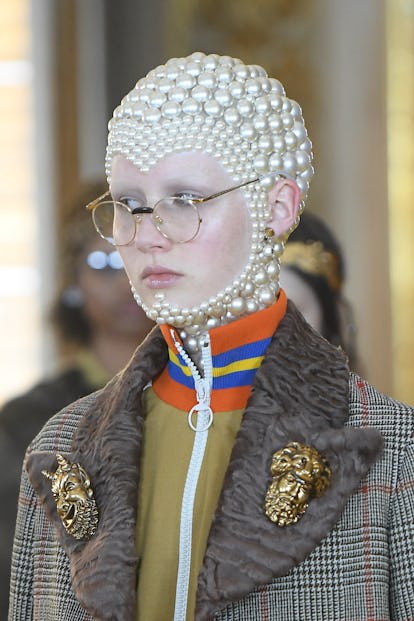 Photo by Getty Images
As the legendary Coco Chanel once said, "A woman needs ropes and ropes of pearls." She herself was almost always seen wearing just that, and pearls quickly became one of the brand's signature accessories as the Chanel name rose to prominence around the world.
Today, Chanel's current successor, Karl Lagerfeld is committed to reinventing the use of pearls in his collections each season. Not only does he play with their size and shape, but also their location. Why not in the heel of a shoe? As a handbag? Or in a woman's hair? With his spring 2017 show, Lagerfeld even made the case that robots will want to wear pearls in the future, and maybe even hang USB cords from them.
Unsurprisingly, other designers have also found inspiration in Chanel's original "ropes and ropes" of pearls. Miu Miu sent fuzzy pool slides covered in pearls down its Fall 2016 runway, and Rihanna's Fenty x Puma queens wore pearl chokers around their necks for her Spring 2017 show in Paris.
The designer giving both the late Chanel and Lagerfeld reason to clutch their pearls though is Gucci's Alessandro Michele, who, per usual, is taking the trend one step further than anyone else. For his Resort 2018 show, which took place on Monday at the Pitti Palace in Florence, Italy, and brought out a star-studded crowd that included everyone from Jared Leto to Dakota Johnson and her sisters, everything was covered in pearls, from clothes to accessories—to even being glued on models' eyebrows and scattered throughout their hair. Perhaps the most striking look was a pearl-covered head-cap, paired with round glasses a track suit and shimmering gold pants. Together, these pearl-slinging Gucci women looked like they'ed walked right out of Botticelli's Birth of Venus and into a bright future.
The Most Daring Way To Wear Pearls Is On Your Dress—Just Ask Emma Stone
Nyong'o poses during the 87th Annual Academy Awards at Loews Hollywood Hotel on February 22, 2015.

Getty
Reese Witherspoon arrives at the 26th Annual Palm Springs International Film Festival Awards Gala on January 3, 2015.

Getty
Emma Stone arrives at the Los Angeles Premiere Aloha at The London West Hollywood on May 27, 2015.

Getty
Jena Malone arrives at The Art Of Elysium 8th Annual Heaven Gala at Hangar 8 on January 10, 2015.

Getty
Jennifer Lopez attends the 87th Annual Academy Awards at Hollywood & Highland Center on February 22, 2015.

Getty
Lily James attends the premiere of Disney's Cinderella at the El Capitan Theatre on March 1, 2015.

Getty
Felicity Jones arrives at the 87th Annual Academy Awards at Hollywood & Highland Center on February 22, 2015.

Getty
Elizabeth Moss attends National Corporate Theatre Fund's 2015 Chairman's Awards Gala at The Pierre Hotel on April 13, 2015.

Getty
Anna Friel attends the House of Fraser British Academy Television Awards at Theatre Royal on May 10, 2015.

Getty
Jaime King attends the 2015 Baby2Baby Gala at 3LABS on November 14, 2015.

Getty
Vega attends the opening ceremony and premiere of Everest during the 72nd Venice Film Festival on September 2, 2015.

Getty
Elizabeth Debicki attends the "Manus x Machina: Fashion In An Age Of Technology" Costume Institute Gala at Metropolitan Museum of Art on May 2, 2016.

Getty
Lottie Moss attends Chopard Wild Party as part of The 69th Annual Cannes Film Festival at Port Canto on May 16, 2016.

Getty
Sarah Paulson arrives at The 22nd Annual Critics' Choice Awards at Barker Hangar on December 11, 2016.

Getty
Cynthia Erivo and Ben Platt attend the "Rei Kawakubo/Comme des Garcons: Art Of The In-Between" Costume Institute Gala at Metropolitan Museum of Art on May 1, 2017.

Getty
HOLLYWOOD, CA – APRIL 22: Actress Jaime King arrives at the Humane Society Of The United States' Annual To The Rescue! Los Angeles Benefit at Paramount Studios on April 22, 2017 in Hollywood, California. (Photo by Gregg DeGuire/WireImage)

Gregg DeGuire
ofia Boutella attends The Mummy premiere at the Callao cinema on May 29, 2017.

Getty
Stella Maxwell attends the "Rei Kawakubo/Comme des Garcons: Art Of The In-Between" Costume Institute Gala at the Metropolitan Museum of Art on May 1, 2017.

Getty
Watch Pharrell, Lily Collins and More Read Chanel's Seven Most Inspiring Quotes