Misadventures in the Fragrance Trade
What I learned from 12 days of intense smelling at New York's premier fragrance class.
---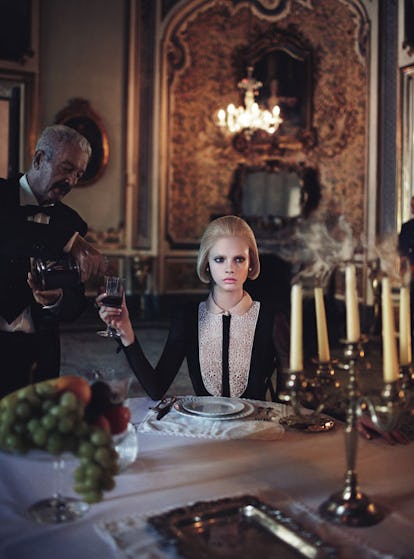 I have great taste. Call it a God given talent, call it an acquired skill — it is what it is. So when a friend playfully implied that the scent of my candle of choice might be disturbing the neighbors, I wondered: are my eyes deceiving my nose?
Luckily for me, Pratt Institute offers a crash-course for the olfactorily-impaired taught by the master fragrance designer Raymond Matts. Did you know that there is such a thing as "fragrance families"? Well, there are. That's one of the things that I learned in Matts's perfumery class.
My schooling began with hours and hours of smelling sessions, 36 to be exact. This sounds easier than it was. The first rule of fragrance club is: you have to smell a fragrance in the air so you can see the top, middle, and back working together.
But! If you do smell it on a blotter, remember that only when it's dry to touch does it smell like the fragrance does in the air. Oh, and clear your nose with your shirtsleeve in between — coffee beans don't work. #themoreyouknow
As for understanding what's in that juice — that's industry-speak for the liquid inside the perfume bottle, don't ya know — it should be noted that naturals aren't everything. Why? Because without synthetics, i.e. ingredients formulated in a lab, we might as well sign ourselves up for truly old school scents and kiss some of the classics goodbye for good.
As it happens, some of these naturals have been discovered to have carcinogenic properties, such as musk. So, a number of the oldies have been reformulated to replace those banned ingredients with their synthetic counterparts. The true value of synthetics, though, is something called headspace, a process that captures the smell of the ingredient in the air. Then again, there isn't a synthetic equivalent to every natural note, so you need both.
These days, scents fall under both gendered and non-gendered terms. Typically, women's fragrances are more expensive than men's as they use up to two times the oil. Floral notes are in almost everything on the market, even if they're woven in a way that you can't see them — including men's. Still, unisex scenes are all the rage right now. But, while they may be in vogue, I was surprised to learn that, years ago, the legendary Estée Lauder released a women's fragrance containing the same juice as her famed 1966 prestige men's fragrance Aramis, but at a higher concentration. So, we can now also add 'borrowed from the boys' to her laudable list of accomplishments.
Read into this what you will, but most days, I choose to smell like a man. It makes me feel stronger, what can I say? Women's fragrances tend to smell too boudoir. But, a word to the wise: be weary of musk. It's an extremely powerful and inexpensive note that's used to round out a fragrance and give it staying power. Worst of all, some women can't smell it!
Another trait that seems to be very on trend right now is branding. Back in the day, fragrance houses focused on the juice — there's that word again — using very old structures for their scents. Eventually, François Coty came along and began to put a premium on the value of advertising as well. The problem is that today too many indie fragrance houses forget that great branding doesn't necessarily equal innovation.
For a fragrance to smell new and simple, it's best if it's complex in structure, which takes experience for a perfumer to understand what is open — when you can sense its notes working together — versus what's closed, when the aroma is heavy and flat. Or, to put it more simply: that's the difference between dynamic and dull. Even worse, those nifty shops that mix your scent, bespoke or otherwise, on-scene are overlooking a key part of the perfumery process — maceration! Oh, I should explain — that's the aging process, you see. Imagine drinking wine without letting it age.
After 12 days of fragrance class, my head was spinning. So much information! I smelled things I didn't before, like how pungent the rose in that candle that bugged my friend was. Now, I can't stand vanilla – too sweet. And I'm finding that most things that come across my desk smell pretty boring. The clear takeaway was this: we smell with our brain, directly through our nose, and indirectly through taste.
Immediately, I resolved to clear out my bathroom shelf and start anew, rebuilding it with Matts's Tulile (a riff on a classic eau du cologne) and Dior's Diorissimo. In other words, new/non-gender, and old/feminine. The latter lily of the valley moment, I've stolen from my boss, who nabbed it from a former boss. At least, that's the equivalent to investing in a Tom Ford-era Gucci bag — I can already see (and smell) the difference.
The 10 Best Fragrances of All Time
Lauren by Ralph Lauren Affluence in a bottle. That's exactly what this green, jasmine and carnation scent evoked when my preppy (and affluent) friend Kim wore it in college. And getting my hands on a bottle was certainly more feasible than nabbing that Ralph Lauren cashmere sweater that Kim also wore.
Ralph Lauren in 1977, a year prior to Lauren by Ralph Lauren's release. Photo by Getty Images.
Diorissimo One of my first bosses wore this bergamot, lily of the valley and civet scent. It epitomizes sophistication to me, and I still wear it to black tie shindigs.
Diorissimo in Vogue, 1964. Photo by Getty Images.
L'eau D'Issey One of the pioneers of the 90s Ozonic fragrance explosion, this mix of lotus, freesia and melon is like wearing eau d'ocean. L'eau D'Issey by Issey Miyake. Photo courtesy of Issey Miyake.
Carolina Herrera by Carolina Herrera A diminutive fragrance, this is not. That said, orange blossom, honeysuckle and tuberose have never sparkled as beautifully together as they do here.
Carolina Herrera by Carolina Herrera. Photo courtesy of Carolina Herrera.
Chanel No. 19 I'm not really a No.5 type, but when I found this green, galbanum and vetiver mix, I knew I'd found my number, as it were.
Chanel No. 19 by Chanel. Photo courtesy of Chanel.
Calèche by Hermès To me, the blend of neroli, ylang-ylang and oakmoss is like a Birkin bag in a bottle.
Calèche by Hermès in Vogue, 1964. Photo by Getty Images.
Lys Mediterranée by Frederic Malle Thou might covet thy friends' fragrance, but it can be tricky to actually steal it and wear it yourself. When I smelled Lys Mediterranee on a friend, it really did smell as if it were made for her, so I found another Malle scent to wear. But this will always be my favorite of his.
Lys Mediterranée by Frederic Malle. Photo courtesy of Frederic Malle.
Privet Bloom The very cool thing about Privet Bloom is that it was born in a sunscreen, scenting Hampton Sun tanning products. The linden blossom, gardenia and lemon verbena fragrance was loved so much, customers begged for a stand-alone creation. Thank goodness for pushy consumers.
Privet Bloom by Hampton Sun. Photo courtesy of Hampton Sun.
Le Labo Here's another pushy customer story, this one from yours truly. When Le Labo first launched, I became so obsessed with their Santal 26 candle that I begged and begged for them to turn it into a fragrance. I remember the day they told me my wish had been granted. I'm sure I'm not the only one, but I do enjoy believing—and implying—that I am personally responsible for Santal 33's genesis.
Le Labo Santal 33. Photo courtesy of Le Labo.
Bois D'Encens by Armani Privé These days I'm all about fragrances that smell like fireplaces, old churches or libraries. This leathery mix of incense and woods evokes all three to me.
Bois D'Encens by Armani Privé. Photo courtesy of Armani.