Pete Davidson Is Unfazed That His First Tattoo Is of Ariana Grande's Ex Boyfriend
He got it when he was 17.
---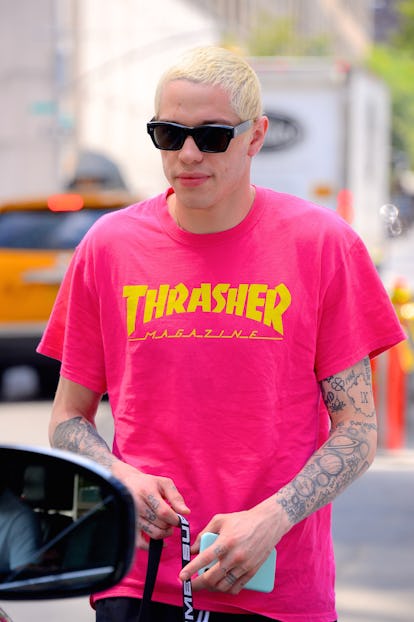 Photo courtesy of Getty Images.
Have you heard that Pete Davidson enjoys tattoos? He has multiple Harry Potter tattoos, some Brave Little Toaster ink, an esoteric Spongebob Squarepants tattoo, and even a portrait of Hillary Clinton, his "hero," permanently etched onto his body.
Naturally, Davidson's love for ink bleeds into his love for his fiancée Ariana Grande, to whom he had dedicated at least two tattoos very early on in their relationship (the classic bunny ears from her Dangerous Woman album cover, a tiny cloud, and Grande's initials, "A.G.," made the cut on his neck and hand, respectively). But his very first tattoo, which he got when he was 17 years old with a friend, has ties to one of his fiancée's enemies, Big Sean.
Well, maybe enemy is a strong word, but they are exes. Grande and Big Sean dated between 2014 and 2015 for nearly a year, and performed features on each other's albums released in those years. Davidson's first tattoo, which says "swerve life," is dedicated to the rapper's "swerve" catchphrase repeated in many of his songs during that era. "The Big Sean song that had that 'swerve' in it, we were like, that's gonna last forever," Davidson told Variety for his Young Hollywood cover shoot. "So, now that's on our legs," he continued.
Listen, we all make mistakes, especially when we're 17 years old and making the decision to place indelible ink on our skin forever, but even though Pete Davidson's first tattoo is dedicated to the ex-boyfriend of his wife-to-be, it still doesn't take the top spot as his favorite ink. Naturally, Davidson thinks the bunny ears he got in honor of Ariana Grande very early on in their relationship are "sick."
Related: Ariana Grande and Pete Davidson Are Living in a $16 Million Apartment Furnished With Lawn Chairs