Pete Davidson Made His Runway Debut At Alexander Wang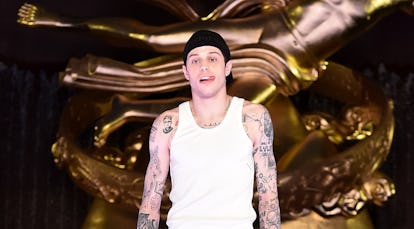 Steven Ferdman
Live from New York, Pete Davidson is a model now. The stand-up, actor and Saturday Night Live cast member walked in Friday's Alexander Wang "Collection1 2020" show, coincidentally held at the plaza at Rockefeller Center, just outside the building that houses the SNL offices and studios. And while it might have seemed like a random bit of stunt casting at first, once you think about it, it doesn't not make sense! Davidson is 25, tall, with pronounced cheekbones and an eclectic mix of tattoos; sounds like a model to us. In black sneakers, two-toned leather jeans, a white tank top and a backwards baseball cap, his look was somewhere between "leading man in the Sk8er boi remix video" and "guy your dad warned you about's funny best friend." And while he didn't crack a smile while on the runway (professional!), it's clear he had fun during rehearsals for the show.
The event was open to the public, with New Yorker's watching from the upper balcony while industry professionals sat front row on the lower level, leading to an instantly iconic image of Davidson and Vogue editor-in-chief Anna Wintour. People reports that Davidson's appearance was met by "cheers from the Crowd," and Vogue noted the "audience's surprise reaction," so it seems like the event went well. Also walking in the show, per Vogue, were modeling mainstays Kendall Jenner, Kaia Gerber and Binx Walton.
In addition to his work in comedy, Davidson is well-known for being the former fiancé of Ariana Grande and recent ex of Kate Beckinsale. He's also something of a style star in his own right, helping to pioneer the emergent Scumbro movement, an aesthetic that was mirrored on his well-gridded Instagram feed, which I can't show you because he just wiped it (again).
With SNL on hiatus through the summer, is modeling how Davidson will be filling his time? Truly, we can only hope. Now allow us to present your new phone background:
Related: Kate Beckinsale and Pete Davidson Have Apparently Broken Up After Three Months of PDA
All the Best Looks From the NYFW Fall 2019 Collections
Showing on the west coast only a handful of days before the Oscars, one can hardly blame the Mulleavy sisters for offering up '80s-tinged red carpet tulle confections. With so many bows, hearts, and tulle, it was nice to see this (almost paired-down in comparison) color-blocked look with flamenco ruffles and floral appliqué.
Don't forget that Alexander Wang actually presented his Fall collection back in December. It was a collection chock full of Wang-isms: leather, lace, sport, boxer shorts, prep. Topped off with just out of the shower towel wraps and luxe logo garment bags, it was a fun collection that Wang fans are sure to embrace.
While many will obsess over the colorful furry hats, there's something special about knowing the hoodies, leather jackets, and leather pants Tom Ford showed are probably some of the most luxurious staples one can get their hands on today—and with a front row packed full with athletes, socialites, and jetsetters, we wouldn't be surprised if those classic pieces are the ones the clients invest in.
The Rachel Comey show was a pure delight for the casting, and of course the clothes. With women of all ages, shapes, and backgrounds, one never felt that Comey was trying to check off boxes—all of the women walking today could have easily been her chic and artful customers, and we would have been none the wiser. This oversized orange-hued shearling drove the point home: it doesn't matter your age, it's about your attitude and perspective on getting dressed.
In what was arguably the chicest outing of New York Fashion Week (enchanting arrangements with autumnal branches, check; delicious martinis, check; gorgeous clothes, check), Catherine Holstein presented her first runway show for her burgeoning brand Khaite. The line is rooted in giving women elegant separates for day, and this look is perhaps the epitome of what they will want for fall. They'll also be after her brand-new collection of accessories, especially the oversized tote we spotted on the runway.
Nanushka, the influencer-beloved Instagram friendly label from Hungary, has been quietly making waves for a few seasons during New York Fashion Week. Many guests at the label's presentation sported Nanushka vegan leather tops, pants, or jackets. With the debut of men's this season, now more people can get in on the fun. Come next fall, we'll be sure to see devotees sporting this relaxed trench, mini bag, or even those keylime greed fluffy shoes.
The femininity found in the tiered skirts, flouncy Liberty-print dresses, and corsets created by the duo behind Brock Collection is infectious; so many show-goers were dressed head-to-toe in pretty tea dresses from previous seasons. Sometimes it's nice to see something that counters Brock's girly-ness, and this season, the equestrian-style jackets did just that.
Who is Tomo Koizumi? Good question. Koizumi is a Japanese designer who has only been in New York for the last week, at the invite of W's Contributing Fashion Creative Director, Katie Grand, who found him on Instagram and who helped him organize his debut show at New York Fashion Week. And what a debut it was. With Rowan Blanchard opening the show, Bella Hadid walking, and a creative team any emerging designer would die for (Pat McGrath, Guido Palau), Koizumi's beautifully constructed rainbow tulle concoctions were the belle of the ball.
While much of Brandon Maxwell's fall collection was his signature black and white, with silhouettes ranging from pencil skirts to a loose knit over a ball skirt, one couldn't help but feel joyful as Grace Elizabeth came down the runway in this fuchsia finale look.
There was a lot to love about Eckhaus Latta's fall outing. Nice tailoring, even in denim, cozy shearlings, as well as color blocked knits. This dress may be the more retail-friendly version of this concept, but the crop top with cut-outs and skirt version looked pretty cool on Paloma Elsesser.

Victor VIRGILE
If there's one thing you'd say about Area, it's that the label is certainly not boring. In a sea of clothing shown at New York Fashion Week, some of which you feel like you already own, and some of which you may not care to, it's nice to see a young label marching to their own, albeit very sparkly, drum. This tie-dye look felt fun and playful, as did an distressed cable knit sweater (with crystals) and the gingham separates. Much like the crystal earrings they're known for, these headpieces could easily become the next 'It' piece from the brand. in fact, one girl was already spotted wearing it to Alexander Wang's party on Saturday night.
For Michael Kors, the '70s are back in a big way – big like Studio 54, Patti Hansen big. Both made runway appearances, the former splashed across t-shirts and the latter closing out the show. Barry Manilow was there too for good measure, singing Copacobana. Among all of the decade's inspired shearings and faux furs, disco dresses, and Kors fall staples (like great wool coats, suiting, and knits) were a few quieter looks. These seemed to have been inspired by the ballet, which the nude and blush tones, and the shoes, pointed to. Never one to be a complete minimalist, an extra dash of feather's on Dilone's dress made sure she fit right in at an epic Studio 54 party, or simply a Michael Kors disco show at 10:30 in the morning.
Towards the end of fashion week, most editors are thinking about home – their beds more specifically – and it looks like the designers behind Vaquera are thinking the same thing. Much of the collection tied back to the home, and our favorites were the voluminous pillow case dresses, complete with ruffles.
Chris Peters, of CDLM and Creatures of the Wind, and Shane Gabier of Creatures of the Wind, joined forces to show both collections (yes, its very confusing) together in Brooklyn. At the end of the day, what walked the runway were cool easy separates, all in up-cycled and reusable fabrications, like this trench coat and white jean. Another surprise on the runway? Vogue's esteemed editor Tonne Goodman, making what is believed to be her runway debut.
While there were still fanciful gowns, like a head-to-toe white feather dress and Bella Hadid's closing look, that would have made Oscar himself very proud, the brand's younger clientele will be clamoring for the easy-to-wear carpet-inspired wrap dresses.
We've come to rely upon Coach 1941 for great shearling coats, faux furs, and sturdy yet chic weather-appropriate boots. However, it is hard to resist Stuart Vevers' flirty and happy floral cocktail dresses, as worn by Adesuwa Aighewi.
On a day when the weather was vacillating between snow and hail, it was so comforting to walk into Gabriela Hearst's show to find a smorgasbord of comfort foods and a heavenly array of woolen knitwear.
Sometimes, a slight twist on a classic is all you need to encourage women to buy something new. In this case, it's a classic trench with a color-blocking update. The split-leg pants and square-toe shoes offered up new suggestions for how to get dressed in the morning.

Victor VIRGILE
Many editors walked out of The Row show simply saying, "That was perfect." And indeed it was. The tailoring was on point, with slightly longer than necessary proportions reading as chic and elegant. There was also something enticing about the gauzy turtlenecks layered underneath—standing upright, they seemed to protect the wearer from the world.
While so much of Rosie Assoulin's fall collection was utterly wearable (a chunky knit, easy plaids and ginghams, suiting and shirtdresses) we still fall hard for her utterly romantic evening wear. We could see a super-cool bride opting to forgo traditional white to get married in this watercolor dream.
Tory Burch's floral dresses came in punched-up orange hues for fall. Over the frocks were practical and chic coats—shearlings, wool robe coats, you name it—leaving showgoers with many options for weather-appropriate dressing come fall.
The woman wearing Ryan Roche's laid-back luxe is self-assured and as comfortable in her own skin as she is Roche's minimalist, creamy cashmere clothing. For fall 2019, men can also now cash in on Roche's knit prowess, as quite a few full looks were created for and shown on men.
The swinging sixties silhouette on a handful of Wes Gordon's cocktail dresses were the winners of his brightly-hued collection for Carolina Herrera. Though the dresses may skew young, the appliqué work still shows the craftsmanship and beauty of the storied brand, whose founder sat front row.
Proving feathers are still a thing, this cocktail frock from Jason Wu Collection's presentation was charming and elegant, an essential for a special occasion.
To see Christy Turlington take to the runway again, especially at a Marc Jacobs show, is truly something special. For his fall 2019 collection, Jacobs was still interested in size and volume, but there was a delicate nature to his work, much of which included feathers.