Pharrell Williams's Chanel Sneakers Are the Logical Culmination of His Collaboration With Karl Lagerfeld
Pharrell, tweed and sneaker aficionado, is quietly molding Chanel in his own image.
---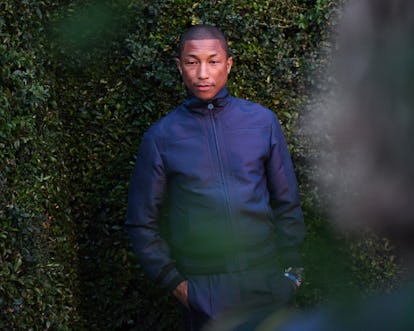 Billy Farrell/BFA.com
On December 20, Colette, the cult Parisian boutique, will shutter after two decades in business. Reports indicate Saint Laurent might take over its lease, but until then, at least, Karl Lagerfeld is giving the shop a grand send-off in the form of a Chanel pop-up that will take over its first floor for a month beginning October 30. As part of the "residency," model Caroline de Maigret is scheduled to give a talk on "style and allure," according to WWD, Lagerfeld has designed exclusive t-shirts, and the band Ibeyi will play a concert.
But perhaps most importantly, Chanel muse, sneaker aficionado, and number-one Carl Sagan fan Pharrell Williams has designed an exclusive sneaker in collaboration with Adidas that will be unveiled at the pop-up next month. Chanel rarely collaborates with other brands (Lagerfeld, on the other hand, licenses his name out right and left), but high fashion sneaker collaborations are almost expected at this point. Adidas has worked with designers like Stella McCartney, Alexander Wang, Y-3 by Yohji Yamamoto, and, of course, Kanye West. Williams, a longtime Adidas ambassador and a more recent Chanel model, customized one of his trademark Adidas Hu NMD shoes for Chanel, and while Chanel has yet to reveal images of the design, some unofficial photos had already begun to circulate earlier this month on Instagram. (Adidas declined to comment at the time.) Judging by the photos, we're looking at a pair of black-and-white trainers with "Pharrell" emblazoned along the front of one shoe, "Chanel" along the other, all in block capitals. (Conveniently, they rhyme.)
Williams is among the newer members of Lagerfeld's inner circle, but he has, apparently, taken to the role. He walked the runway at the Chanel Métiers d'Art show last December, wearing tweed and pearls and crisp ivory booties. Earlier this year, he also appeared in the campaign for the brand's Gabrielle bag, in which he can be seen spinning around on roadie cases in an empty warehouse, a beanie on his head and a Gabrielle bag slung across his torso. In that video, he again wears Chanel tweed and jewelry, albeit paired with black plimsolls.
So here's an existential question: What is a Pharrell without his sneakers? His upcoming Chanel collaboration is the logical culmination of their work together, an element we didn't realize was missing when he danced across the dining room of the Ritz Paris in boots instead of lace-ups. This winter, if the musician reprises his role in the Métiers d'Art show, he'll be equipped with the proper, and Chanel-endorsed, footwear.
Related: Pharrell Williams' Life Is Getting the Movie-Musical Treatment
See Pharrell Williams interviewed by a seven-year-old:
The Art of Being Pharrell
Urs Fischer
Williams photographed by Joshua White/JWPictures.com. Special thanks to Tara Subkoff. Hair by Edward Lampley for Bumble and bumble at D+V Management; Makeup by Anne Kohlhagen for Chanel. Models: Herieth Paul, Frida Aasen, Heather Marks all at Women Management; Tong Zhang at Next Model Management.
Urs Fischer
It's hard to ignore a work by Urs Fischer. Transforming humble materials into the boldest of sculptures, paintings, and objects, the Swiss artist revels in visual hijinks that destabilize the viewer. He's made an alpine chalet out of loaves of bread, cut an eight-foot-deep gaping hole in the floor of a gallery, constructed a 20-ton bronze teddy bear sculpture slumped against a desk lamp, and carved a mammoth wax candle replica of Giambologna's Rape of the Sabine Women, its wick lit so that it melted over the course of Fischer's 2013 retrospective at the Museum of Contemporary Art, Los Angeles. In June, Fischer plans to show new works at Sadie Coles Headquarters in London, and this summer, at Karma gallery's outpost in Amagansett, New York, he will unveil a giant candle sculpture of the painter Julian Schnabel sitting atop a pile of crates (his wick is likely to be ignited as well). With a nod to Dada, Pop, and surrealism, Fischer toys with shifts in scale and the colliding realities we experience daily in this era of visual overload. His cover for this issue, for example, references his 2012 Problem Painting series on aluminum panels, in which he obscured (or perhaps defaced?) publicity head shots of 1950s film stars with silk-screened images of assorted fruits, vegetables, and household items. Photographing Pharrell Williams in Los Angeles, Fischer initially thought he might show the star carrying a cutout of his own crafted image on the cover but then adapted the idea to feature women—the subject of Williams's new album, G I R L—toting around variously sized Williams cutouts near Fischer's studio in Red Hook, Brooklyn. Since Williams wore his signature hat in the photo Fischer ultimately shot for the cover ("It's like an Andy Warhol wig or something," says the artist. "It gives a clear identity"), Fischer decided to use an object large enough to conceal the face, while still revealing certain aspects of it. His idea all along, he says, was not to create a portrait so much as come up with a powerful image that would result from the clash between his photo of Williams and the bolt that playfully hides him. "Pharrell's world is a gentle, good world," Fischer, 41, says admiringly. "You think he will evoke something that's alive, like a flower, because of his public image. But I opted to do the opposite. There's a very masculine energy to the image. I thought, Why not take it there? After all, Pharrell ventured into my turf; I didn't venture onto his."
Williams photographed by Joshua White/JWPictures.com. Special thanks to Tara Subkoff. Hair by Edward Lampley for Bumble and bumble at D+V Management; Makeup by Anne Kohlhagen for Chanel. Models: Herieth Paul, Frida Aasen, Heather Marks all at Women Management; Tong Zhang at Next Model Management.
Mr.
A former protégé of art star Takashi Murakami, the Japanese artist Mr. is best known for his devotion to otaku, the Japanese subculture obsessed with manga, anime, video games, and fictionalized prepubescent girls. His drawings, paintings, and sculptures express an idealized view of childhood and his unending nostalgia for it. Based in Saitama, Japan, Mr. (whose moniker was inspired by the nickname of a Japanese baseball star) recently began incorporating posters, graffiti tags, and other elements of Western street art into his work. This collaboration with Williams, he says, allowed him to explore African-American culture, something completely outside his realm of experience. Though he and Williams are friends, the 44-year-old artist decided to work from an image of the singer he found on the Internet. "There's a style of drawing anime characters called mini kyara (mini characters)," explains Mr., whose first museum show opens in late fall at the Seattle Art Museum. "The style is pretty popular, and the rules are established to the point where you could write an instruction manual on how to do it. I followed the guidelines and applied them to Pharrell. He's someone who strikes a lot of symbolic poses, so I wanted to emphasize that idea."
©Mr./Kaikai Kiki Co., Ltd. All Rights Reserved. Courtesy the artist and Lehmann Maupin, New York and Hong Kong.
JR
The New York–based street artist known as JR started out as a graffiti writer, tagging his name all over his native Paris. One day he found a battered camera that someone had left on the subway and was soon snapping photos of his friends. When riots broke out in housing projects across France in 2005 to protest police harassment, JR went to photograph them and began covering walls and city blocks with giant portraits of the people in those marginalized neighborhoods. Usually it's their faces, sometimes just their eyes, that pop up in Brazilian favelas, Kenyan shantytowns, Shanghai's blighted areas—and last summer, Times Square. As JR, 31, has become more well-known, his kamikaze methods have given way to museum shows and sanctioned commissions, which recently included covering the floor and renovation scaffolding of the august Panthéon in Paris with the 4,000 faces of potential future greats. Traditionally, only the dead greats have been granted a spot inside.
JR's latest global project, Inside Out, which he undertook primarily with proceeds from sales of his works, invites participants to submit images of themselves; JR turns the pics into posters, which he returns to the senders so they can paste them up as public artworks. Sometimes he pastes them himself, as he did recently on the facade of a building in Los Angeles for the collaboration W organized between him and his friend Pharrell. Having noticed that the singer likes performing his hit song "Happy" with large choirs, JR, winner of the 2011 TED Prize, proposed that he and Williams invite female choristers from all over the world to submit portraits of themselves for a mural. After Williams posted a message to his 2.5 million followers on Instagram ("Women of the world, are you part of a choir? Are you happy?..Send your smiling face. You have 24 hours..go"), JR received more than 3,500 shots, some of which you see in this picture shot by JR. "I love the way these choirs gather around that song—all these faces are singing Pharrell's song even if he's never met them," says JR, who prefers not to reveal his real name and insists on wearing a hat and sunglasses whenever he's photographed. At the moment, he and Williams are at work on a short film about the riots in France, set to a score by Williams, that will feature members of the New York City Ballet dancing in the same streets where JR once stood inches away from burning cars. "Collaborating with another artist can be hard," JR admits. "Because it's two egos, two visions. You need someone with their ears open. And Pharrell is a master at that."
JR-ART.NET. Special thanks to Lucca Fletcher. Lighting assistant: Alex Jaras. Pasting Crew: Josh Cedicci, Alex Pierre.
Alex Katz
On the spring day when Williams arrived to sit for his portrait by Alex Katz, gray light was streaming through the skylights of the painter's top-floor loft in SoHo, New York, where he's worked and lived since 1968. Katz appraised the singer as he sat under a lamp next to the well-worn easel. A master of figurative painting, the Queens-raised artist turned to landscapes and portraiture at a time when Abstract Expression ruled the day; he has stayed the course, helping to put the pop in Pop art via his highly stylized pictures that often call to mind commercial and billboard art. "It was all instinctual," he told Williams of his beginnings. "I wanted a painting to look brand-new and terrific. And most realistic paintings don't look new." As Katz captured Williams in oil paint, he chatted him up. "It relaxes them," he confided to me later. "That way, you don't get a mirror face or a dead face." Katz had seen Williams on television but didn't know much about his music. Faces, however, are his stock-in-trade. Katz often rides the subway because "you get so much information from a face"; his subjects have run the gamut from poets and dancers to Kate Moss. To his eye, Williams was "a good-looking guy" in his green Vivienne Westwood hat, T-shirt, and knotted ropes of pearls. "Very sharp in his styling," Katz noted. "The pearls are really important—they're hot." The two talked about how their worlds overlap. "People think of painting as lasting forever," Katz said. "But it's like fashion or music: Every three years, there's another style and another audience." When Williams mentioned that his father restored cars when he was a kid, Katz sized him up. "I bet you didn't have the patience, did you?" "I hated it," Williams admitted, and they both laughed. As soon as Katz finished the painting, he decided he wanted to make a giant one from the one he'd just done. He would make a "cartoon," as he called it, that he would refine when Williams returned for a short second sitting, then expand that composition on another canvas he'd paint in a six-hour session. There's no doubt he has the stamina for it: Every day, Katz, 86, does 300 push-ups and 200 sit-ups, and runs three miles; in the summer, he also swims a mile and bikes six miles daily. Lately, he's been sprinting in the street. "Well," said Katz, whose landscape works currently fill an entire room of London's Tate Modern, "if you keep up your body, it just keeps going."
Photographed by Mark-Woods.com.
Rob Pruitt
Rob Pruitt is among the art world's canniest recyclers of pop culture, his resourcefulness no doubt honed while working at Martha Stewart Living in the days following his and Jack Early's roundly panned 1992 show at New York's Leo Castelli Gallery. Since his comeback in 1999 with "101 Art Ideas You Can Do Yourself," a paean to his DIY spirit of art-making, which included such installations as Customize Storage Boxes and Display as Sculpture and Sit on the Toilet Backwards, Pruitt has explored all facets of cultural excess. Best known for his glitter panda paintings, first shown in 2001, he has created a diaristic mural using Facebook pictures of his friends, transformed a Victorian house in upstate New York into a Goth art installation, and made hundreds of rainbow-colored panels of scribbled faces that express a spectrum of emotions. His Pharrell Williams room has its origins in two ongoing projects: his Studio Loveseat series, for which Pruitt and his assistants doodle endlessly on Ikea sofas; and his Ikea portraits, mass-produced printed canvases that become one-of-a-kind artworks once he paints over them. The idea for the sofas grew out of the plywood table where his studio assistants gather for lunch in his Brooklyn studio. They covered it in doodles as they ate, and their markings made Pruitt think of a message board where people could express themselves. Soon the doodling was taking place on the canvas couch that Pruitt had dragged into his studio. For his Studio Loveseat (Pharrell), Pruitt and his assistants not only "deep-Googled" images of Williams but also drew from Pruitt's well-known fascination with the star and his world. Pruitt has a long-standing obsession with "the notion of fatherhood," which has influenced many of his panda paintings, with their images of bears and cubs that reference Renaissance paintings of Madonna and Child. The media images of Williams that initially most appealed to him, Pruitt says, were "those of him giving his kid a piggyback ride or walking with him down the street. So that all ended up here on this love seat." Also on it are references to Williams's creative universe: his sneakers, clothing lines, song lyrics, and the Perspective chair he designed in 2008. Hanging just overhead are two Ikea prints of Marilyn Monroe—one painted over by Pruitt, the other by Williams. The project was inspired by Jasper Johns, who began painting targets and flags because, Pruitt says, by choosing recognizable imagery, he could free himself from the pressure of "What do I paint?" and focus on "How do I paint this?" Though Pruitt and Williams worked from identical Marilyns (Pruitt sent Williams both the portrait and a set of oil paints), they ended up with entirely different results. "I made it into a luscious kind of paint-strokey oil painting," says the artist, whose next show opens in September at Gavin Brown's Enterprise in New York. "But Pharrell did something more radical: He turned it into a text piece. He just superimposed a poetry fragment—actually one of his lyrics—which changes it all up. It's the best kind of collaboration, because neither of us is being something we're not."
Photographed by Mark-Woods.com.