What Pharrell Williams Learned About Love and Tennis from Stan Smith Himself
Musician and Adidas collaborator Pharrell Williams discusses his latest performance collection for the sportswear brand and what love and empathy have to do with tennis.
---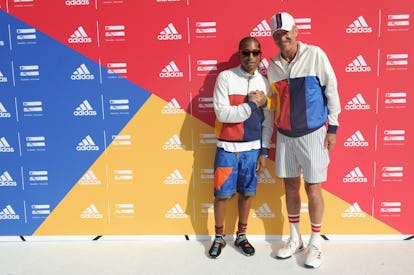 Craig Barritt/Getty Images
It was late morning at New York's Four Seasons hotel, and Pharrell Williams was drinking mint tea. Clad in an Adidas warmup jacket, track shorts, and a rare pair of NMD Hu sneakers in black, reading "Breathe" and "Walk" across their uppers in bold multicolor lettering, Williams peered out through Céline sunglasses as a publicist arrived with a tiny jar of honey for his tea. He leaned back in his armchair, the noon sun filtering in through the window behind him. Just across the hotel suite was a white garment rack of tennis attire, all color-blocked in marigold, bright red, and royal blue, all from Williams's newest collection with the sportswear giant—the very collection he was wearing, the one he was there to discuss, his first tennis apparel line for Adidas.
Williams began collaborating with Adidas in 2014, when he debuted a new line featuring reinvented Stan Smith sneakers and track jackets. The design partnership quickly expanded from there; when it came time for Williams to devise his latest Adidas collaboration, "the first thing that popped up was something I felt like was just perfect for all that's going on in the world right now, because tennis, the sport, has language in its scoring system that uses the word 'love.'"
This was something Williams learned from the famed tennis icon—and sneakerhead godfather—Stan Smith himself. Williams had a latent interest in the sport—after all, he had been designing shoes for the court for years—but the particulars of play still escaped him. "I wouldn't even call myself a novice so much as I would call myself an enthusiast for their clothes, their sneakers," he said. "I'm not good. I can bounce the tennis ball really well." (His own fitness routine is a simple one: jogging and crunches, he said.) Several months ago, Smith laid out the scoring system for Williams: "For that day, I understood it, but since then…" he said, trailing off. "I've always been in, it's just been very hard to get," he added, stirring honey into his tea.
The collection, which debuts August 31, seeks inspiration in the '70s, the gilded age of tennis, with its primary colors, knee-high socks, and performance knits. "Silhouette-wise, it kind of celebrated a different kind of sexuality, a sexiness," he said. "It's very interesting for us to get the opportunity to inject some of that mentality and some of that swagger the players had when they were wearing those clothes on the court." Plus, Williams himself was born in 1973; when he was young, his aunt watched tennis "all the time," an avid fan of the greats of the era like Billie Jean King, Arthur Ashe, John McEnroe, and Chris Evert Lloyd. Williams, for his part, is an admirer of the Adidas team: Angélique Kerber, Jo-Wilfried Tsonga, Dominic Thiem, Sascha Zverev, and Garbine Muguruza, who appear in the campaign for his new tennis collection and are slated to wear pieces on the court at the U.S. Open tournament. He also cited Roger Federer and Rafael Nadal—like Williams, an ambassador for the French-Swiss watchmaker Richard Mille—among his favorite players.
But Williams's new Adidas collection isn't just about functionality. "The idea that we can take advantage of our platform and our communication and our messaging to chip away at some of the things that are going on in this country and around the world is awesome," he said. "You saw what's going on in Charlottesville; you see what's going on with the attack on transgender individuals, what our Mexican brothers and sisters are going through, and my culture, African Americans, or what women are going through." Here, we come back to the scoring system: "We need more love; we need more empathy," he continued. "There's not a word in the tennis scoring vernacular or lexicon with the word 'empathy,' but empathy comes first." So, after he departed the Four Seasons, Williams made his way up to Harlem to announce the second element of his latest Adidas project: "Don't Be Quiet Please," a city-wide campaign encouraging New Yorkers to make socially conscious pledges. (As additional incentive, umpire chairs have been erected throughout the city to serve as platforms where individuals can announce their pledges.) At the same time, Williams announced a new children's tennis scholarship in partnership with the education nonprofit Horizons National as well as a donation to the New York City Parks Department to restore tennis courts around the city.
Williams's community-minded focus is not a new element of his partnership with Adidas; from the outset, the garments he has designed feature an equals-sign logo alongside the classic Adidas trefoil—a shorthand for "pushing equality, because it's a necessary message," he said. "We never put it in your face," he added. "I'm always just looking for the right vehicles to push these messages so you don't feel like I'm preaching to you."
Related: 15 Ways to Instagram Like Pharrell
Pharrell Williams, Lily Collins, Kiernan Shipka, and more read Gabrielle "Coco" Chanel's most inspiring quotes: