Pharrell's Son, Rocket Ayer Williams, Is Already the Coolest Kid In Hollywood and Beyond
Looks like Pharrell Williams has a clone.
---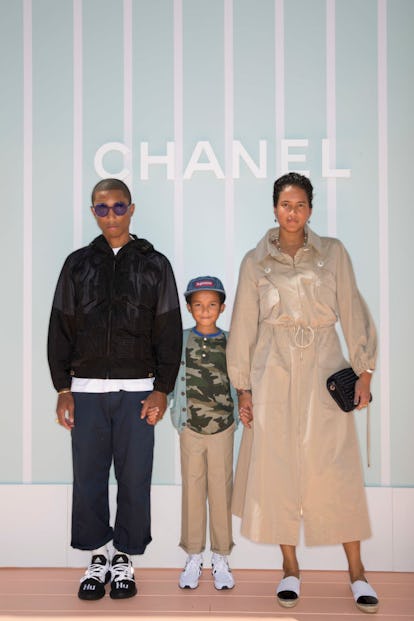 Brent Lewin/Getty Images
There are plenty of celebrities who have kids who look just like them—it is nearly impossible to tell Reese Witherspoon and Ava Phillippe apart, and John Legend basically has two little clones of himself running around his house.
And speaking of clones, it has become apparent that Pharrell Williams is practically twinning with his son Rocket Ayer Williams—the 9-year-old child he has with his wife Helen Lasichanh. The couple also welcomed triplets in January 2017, the names of whom remain secret for now. Not long ago, the little scion was just a curly-headed blond baby, but now, he's looking and dressing just like his very stylish and talented dad (and his mom, too), according to a rare photo shared by Pharrell via Instagram on Wednesday. His name, his style, and his cultural impact at just nine years old all explain why Rocket Ayer Williams is set to be one of the coolest kids in Hollywood and beyond.
First, no one can be cooler than someone with the name Rocket, an appellation that was reportedly given to him to honor four of his father's favorite musicians. In 2013, during Pharrell's extra-large hat phase, the musician opened up to Oprah Winfrey about his decision to give his son an intergalactic name. "In the same way that the Indians name their children behind a force or an animal, or an element, we named him after a manmade machine that was meant to go up, meant to ascend," he said. "And metaphorically it was because of Stevie Wonder's 'Rocket Love,' Elton John's 'Rocket Man,' and Herbie Hancock's 'Rocket.' All of my favorite musicians," he went on. "His middle name is not Man, it's Ayer, after Roy Ayers," the jazz-funk icon who rose to fame in the 1970s.
Being named after four critically acclaimed musicians, and being born from a ten-time Grammy winner would add a lot of pressure on anyone growing into their own, but Rocket already looks like he's going to be cool enough to handle it all. Ever since he was a tot, Rocket has been dressing like a fresh prince, and now he seems to be adopting some of his dad's eclectic style, as evidenced by the flat-brim hat, camouflage t-shirt, and bomber jacket combo he wore during a fashion show. Not only does Rocket look like a miniature clone of his father, but he recently held the distinct honor of sitting in the front row at the Chanel Cruise 2018/19 Replica Show in Bangkok, alongside A-list attendees such as Tilda Swinton and Lily-Rose Depp. On top of that, Rocket also had time for a chic outfit change before and after the show. He's not even ten years old and he's already a fixture of the front row.
In addition to achieving high praise for his intellect from his multi-hyphenate dad at the tender age of five, Rocket also inspired a Despicable Me track written by his dad, called "Rocket Theme," and how many kids can say that they have sparked a song that was featured in one of the most lucrative animated franchises at the box office? With a name like Rocket, there's no doubt that this child will soar.
Related: Pharrell Williams Says He Would Only Act In a Wes Anderson Film