Phoebe Waller-Bridge and Husband Conor Woodman Are Divorcing
Waller-Bridge an Conor Woodman are quietly splitting up.
---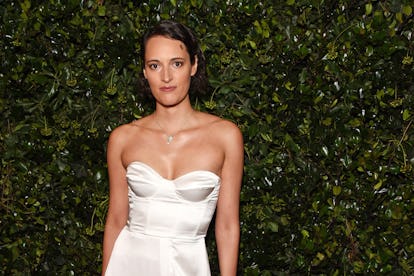 Photo by David M. Benett/Dave Benett/Getty Images
Phoebe Waller-Bridge, the British actress who created, wrote and starred in Amazon and the BBC's critically adored Fleabag as well as Crashing (not the Pete Holmes one on HBO; it's better and it's on Netflix if you want to check it out) and who will soon be a household name thanks to her part in the upcoming Solo: A Star Wars Story is getting divorced from her husband Conor Woodman. A source confirmed exclusively to People that the London-based couple "have separated and will be filing for divorce" and in fact have "been separated for a little while now." The actress' rep confirmed the split. The couple have no children.
Woodman is a writer and documentary filmmaker who has made feature films and worked with the BBC. Waller-Bridge, 32 and Woodman, 43, met when he saw her in a play in 2012.
In the Fall of 2016, when Fleabag had just been released to positive reviews, Waller-Bridge described herself as "just constantly on the verge of bursting into tears with joy." Fleabag follows the misadventures of a caustic, self-destructive young woman harboring a tragic guilt. In addition to her original projects, Waller-Bridge also played a significant role in September's Goodbye Christopher Robin as Mary Brown, the nanny for the Milne family who takes care of young Christopher when he's not out adventuring with Pooh, Tigger and the gang.
Solo hasn't been without its own rocky breakups. After a rumored clash with Lucasfilm head Kathleen Kennedy, co-directors Phil Lord and Chris Miller were taken off the project and replaced with Ron Howard, who did extensive reshoots. The film stars Alden Ehrenreich as a young Han Solo and Donald Glover as Lando Calrissian, alongside Waller-Bridge, Westworld's Thandie Newton and Game of Thrones' Emilia Clarke in unknown roles. Solo hits theaters on May 25.
Related: Emilia Clarke Shares Behind-the-Scenes Video of Kit Harington on the Set of Game of Thrones
Golden Globes 2017: Romantic Gowns Ruled the Red Carpet
Lily Collins wears a Zuhair Murad dress and Harry Winston jewels at the 74th Annual Golden Globe Awards at The Beverly Hilton Hotel on January 8, 2017 in Beverly Hills, California.

Getty Images/WireImage
Claire Foy wears a custom sequin Erdem gown at the 74th Annual Golden Globe Awards at The Beverly Hilton Hotel on January 8, 2017 in Beverly Hills, California.

Getty Images
Emma Stone in Valentino at the 74th Annual Golden Globe Awards at The Beverly Hilton Hotel on January 8, 2017 in Beverly Hills, California.

Getty Images
Felicity Jones wears Gucci at the 74th Annual Golden Globe Awards at The Beverly Hilton Hotel on January 8, 2017 in Beverly Hills, California.

Getty Images
Lola Kirke wearing Andrew Gn and Chopard jewels at the 74th Annual Golden Globe Awards at The Beverly Hilton Hotel on January 8, 2017 in Beverly Hills, California.

Getty Images
Zoe Saldana in Gucci at the 74th Annual Golden Globe Awards at The Beverly Hilton Hotel on January 8, 2017 in Beverly Hills, California.

Getty Images
Hailee Steinfeld in a lavender Vera Wang gown and Forevermark diamonds at the 74th Annual Golden Globe Awards at The Beverly Hilton Hotel on January 8, 2017 in Beverly Hills, California.

Getty Images
Chrissy Teigan in Marchesa at the 74th Annual Golden Globe Awards at The Beverly Hilton Hotel on January 8, 2017 in Beverly Hills, California.

Getty Images