Pippa Middleton Wore a Couture Giles Deacon Wedding Dress
Kate Middleton's sister Pippa walked down the aisle in a dress by the British fashion designer.
---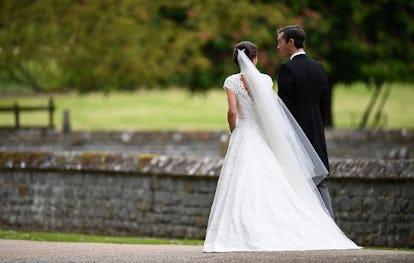 JUSTIN TALLIS
Pippa Middleton first came into the international spotlight thanks to the curve-hugging Alexander McQueen bridesmaid dress she wore to her sister Kate's wedding to Prince William. So, it's only fitting that six years later that the British socialite should have another marquee fashion moment–this one, at her own wedding to James Matthews.
On Saturday morning, Pippa Middleton walked down the aisle wearing a stunning couture wedding dress by the designer Giles Deacon. Completely covered in pearls and lace, the entirely hand-made dress comes with a pearl-embroidered veil by legendary milliner Stephen Jones. With short, capped sleeves, it's a distinctly more playful look than the one Kate Middleton wore to her wedding, but that's a perk of being merely royal adjacent, rather than officially a member of the royal family.
Choosing Deacon was an inspired choice, as the designer has long been known for his gothic, avant-garde aesthetic, much like McQueen, the label her sister chose six years ago.
Also, Deacon was available to focus on Pippa's dress, as he suspended his eponymous ready-to-wear label 18 months ago to focus on couture. In an exclusive interview with BoF, he explained, "I'd been doing it for 13 years and I was getting increasingly weary of how the ready-to-wear world was beginning to unravel. Times had changed. The homogeneity of it was so boring. I found myself thinking, 'Is this why I went to art school, to be working like this?' It wasn't what I was about. The thing I was enjoying was making extraordinary, original, different things. And I found that's what my clients wanted. They could get their Gucci-Prada-whatever anywhere."
Middleton's commission meant that he has put most of his couture production on hold, to focus on Pippa. "We were so busy with this [the Middleton commission] and couture orders that we didn't have the time or means to get a full collection together for January. And because it's occasion-led rather than season-led, we still had orders coming in from last July a month ago." Deacon said.
Of course, Pippa's look isn't the only one worth talking about. Her niece and nephew, Prince George and Princess Charlotte, were on duty as the page boy and flower girl, wearing coordinating ensembles.
See What Kate Middleton, Prince George and Princess Charlotte, and All the Guests Wore to Pippa Middleton's Wedding
Catherine, Duchess of Cambridge, and Princess Charlotte at the wedding of Pippa Middleton and James Matthews at St Mark's Church on May 20, 2017 in Englefield Green, England.

Samir Hussein
Pippa Middleton wearing a custom Giles Deacon couture wedding gown.

Samir Hussein
Pippa Middleton and James Matthews at their wedding on Saturday, May 20, 2017 in England.

WPA Pool/Getty Images
Prince George and Princess Charlotte at the wedding of Pippa Middleton and James Matthews at St Mark's Church on May 20, 2017 in Englefield Green, England.

WPA Pool
Kate Middleton and children at the wedding of Pippa Middleton and James Matthews at St Mark's Church on May 20, 2017 in Englefield Green, England.

Samir Hussein/Getty Images
Prince William and Prince Harry at the wedding of Pippa Middleton and James Matthews at St Mark's Church on May 20, 2017 in Englefield Green, England.

WPA Pool
Guests at the wedding of Pippa Middleton and James Matthews at St Mark's Church on May 20, 2017 in Englefield Green, England.

Neil P. Mockford
Guests at the wedding of Pippa Middleton and James Matthews at St Mark's Church on May 20, 2017 in Englefield Green, England.

Neil P. Mockford
Guests at the wedding of Pippa Middleton and James Matthews at St Mark's Church on May 20, 2017 in Englefield Green, England.

Neil P. Mockford
Guests at the wedding of Pippa Middleton and James Matthews at St Mark's Church on May 20, 2017 in Englefield Green, England.

Neil P. Mockford
Guests at the wedding of Pippa Middleton and James Matthews at St Mark's Church on May 20, 2017 in Englefield Green, England.

Neil P. Mockford
Guests at the wedding of Pippa Middleton and James Matthews at St Mark's Church on May 20, 2017 in Englefield Green, England.

Neil P. Mockford
Guests at the wedding of Pippa Middleton and James Matthews at St Mark's Church on May 20, 2017 in Englefield Green, England.

Neil P. Mockford
Guests at the wedding of Pippa Middleton and James Matthews at St Mark's Church on May 20, 2017 in Englefield Green, England.

Neil P. Mockford
Guests at the wedding of Pippa Middleton and James Matthews at St Mark's Church on May 20, 2017 in Englefield Green, England.

Neil P. Mockford
Guests at the wedding of Pippa Middleton and James Matthews at St Mark's Church on May 20, 2017 in Englefield Green, England.

Neil P. Mockford
Guests at the wedding of Pippa Middleton and James Matthews at St Mark's Church on May 20, 2017 in Englefield Green, England.

Neil P. Mockford
Guests at the wedding of Pippa Middleton and James Matthews at St Mark's Church on May 20, 2017 in Englefield Green, England.

Neil P. Mockford
Guests at the wedding of Pippa Middleton and James Matthews at St Mark's Church on May 20, 2017 in Englefield Green, England.

Neil P. Mockford
Guests at the wedding of Pippa Middleton and James Matthews at St Mark's Church on May 20, 2017 in Englefield Green, England.

Neil P. Mockford
Guests at the wedding of Pippa Middleton and James Matthews at St Mark's Church on May 20, 2017 in Englefield Green, England.

Neil P. Mockford
Guests at the wedding of Pippa Middleton and James Matthews at St Mark's Church on May 20, 2017 in Englefield Green, England.

Neil P. Mockford
Guests at the wedding of Pippa Middleton and James Matthews at St Mark's Church on May 20, 2017 in Englefield Green, England.

Neil P. Mockford
Guests at the wedding of Pippa Middleton and James Matthews at St Mark's Church on May 20, 2017 in Englefield Green, England.

Neil P. Mockford
Guests at the wedding of Pippa Middleton and James Matthews at St Mark's Church on May 20, 2017 in Englefield Green, England.

Neil P. Mockford
Guests at the wedding of Pippa Middleton and James Matthews at St Mark's Church on May 20, 2017 in Englefield Green, England.

Neil P. Mockford
Guests at the wedding of Pippa Middleton and James Matthews at St Mark's Church on May 20, 2017 in Englefield Green, England.

Neil P. Mockford
Guests at the wedding of Pippa Middleton and James Matthews at St Mark's Church on May 20, 2017 in Englefield Green, England.

Neil P. Mockford
Guests at the wedding of Pippa Middleton and James Matthews at St Mark's Church on May 20, 2017 in Englefield Green, England.

Neil P. Mockford
Guests at the wedding of Pippa Middleton and James Matthews at St Mark's Church on May 20, 2017 in Englefield Green, England.

Neil P. Mockford
Related: An Intimate Moment with Ciara, Before Her Wedding to Russell Wilson