RuPaul, Lupita Nyong'o, and Naomi Campbell Star in Pirelli's 2018 Calendar, Alice in Wonderland Reimagined with an All-Black Cast
With legendary photographer Tim Walker behind the camera and W's former fashion director Edward Enninful styling.
---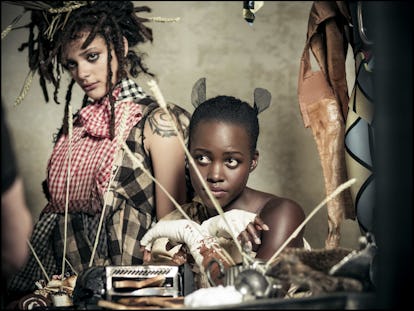 Alessandro Scotti
Alice of Alice in Wonderland has been reimagined many times over—actors like Natalie Gregory, Mia Wasikowska, and Tina Majorino have all taken a stab at the Lewis Carroll heroine—but rarely is she depicted as anything other than the pale, blonde English rose most famously depicted in the Disney animated film.
But that changes with the 2018 Pirelli Calendar, photographed by fashion photographer Tim Walker, styled by Edward Enninful, editor of British Vogue and the former fashion director of W, and cast by Piergiorgio Del Moro. For this year's calendar, a star-studded product once best-known for its highbrow pin-ups, Enninful and Walker recruited a cast of actors, musicians, and models of color to star in their reimagining of Alice's Adventures in Wonderland. Newcomer Duckie Thot plays the title role of Alice, swaddled in lace and silk in powdery colors. She's surrounded by Oscar winner Lupita Nyong'o as the Dormouse, model Slick Woods as the Mad Hatter, actress Sasha Lane as the Mad March Hare, RuPaul as the Queen of Hearts and Djimon Hounsou as her king, and model Adwoa Aboah as Tweedledee—and that's just the start. (Pause for a breath.) Model and artist Wilson Oryema, actor and comedian Whoopi Goldberg, rappers Lil Yachty and P. Diddy, lawyer and model Thando Hopa, and supermodel Naomi Campbell also feature in the images—a veritable cross-section of the gorgeous, groundbreaking artists of color, across generations and national borders, working today.
Go Behind the Scenes of Pirelli's Alice in Wonderland Fantasia with P. Diddy, Naomi Campbell, and RuPaul
P. Diddy and Naomi Campbell as the executioners behind the scenes of the 2018 Pirelli Calendar shoot with Tim Walker.

Alessandro Scotti
Djimon Hounsou as the King of Hearts behind the scenes of the 2018 Pirelli Calendar shoot with Tim Walker.

Alessandro Scotti
The cast of of the 2018 Pirelli Calendar during their shoot with Tim Walker.

Alessandro Scotti
Djimon Hounsou and RuPaul as the King and Queen of Hearts and Duckie Thot as Alice behind the scenes of the 2018 Pirelli Calendar shoot with Tim Walker.

Alessandro Scotti
Duckie Thot as Alice, Slick Woods as the Mad Hatter, and Sasha Lane as the Mad March Hare behind the scenes of the 2018 Pirelli Calendar shoot with Tim Walker.

Alessandro Scotti
Sasha Lane and Lupita Nyong'o as the Mad March Hare and the Dormouse behind the scenes of the 2018 Pirelli Calendar shoot with Tim Walker.

Alessandro Scotti
Adwoa Aboah as Tweedledee behind the scenes of the 2018 Pirelli Calendar shoot with Tim Walker.

Alessandro Scotti
RuPaul as the Queen of Hearts behind the scenes of the 2018 Pirelli Calendar shoot with Tim Walker.

Alessandro Scotti
RuPaul and Djimon Hounsou as the Queen and King of Hearts behind the scenes of the 2018 Pirelli Calendar shoot with Tim Walker.

Alessandro Scotti
Thando Hopa as the Princess of Hearts behind the scenes of the 2018 Pirelli Calendar shoot with Tim Walker.

Alessandro Scotti
Zoe Bedeaux as the Caterpillar behind the scenes of the 2018 Pirelli Calendar shoot with Tim Walker.

Alessandro Scotti
Slick Woods as the Mad Hatter behind the scenes of the 2018 Pirelli Calendar shoot with Tim Walker.

Alessandro Scotti
Backstage The Cal Shoot by Tim Walker

Alessandro Scotti
"The story of Alice has been told so many times and in so many ways, but always with a white cast," Walker told the New York Times. "There has never been a black Alice, so I wanted to push how fictional fantasy figures can be represented and explore evolving ideas of beauty."
As The Guardian points out, this season has been among the most progressive yet for diversity on and off the runway. The Fashion Spot reported earlier this year that every runway at New York Fashion Week, for the first time ever, featured at least one model of color, while Gucci featured an all-black cast in its Malick Sidibé-inspired Pre-Fall 2017 campaign. And Enninful, who was born in Ghana and raised in the United Kingdom, has championed diversity throughout his career: "If you put one [non-white] model in a show or in an ad campaign, that doesn't solve the problem," he told The Guardian earlier this year. "We need teachers in universities, we need internships, we need people of different ethnic backgrounds in all parts of the industry. That really is the solution."
While some aired concerns that Pirelli was simply paying lip service to diversity with its new calendar, it doesn't change the final product: that, as Hopa told the New York Times in the same story, "if Alice looks differently here, then Alice can be anybody. Your value comes from far more than the narrative that someone else gives you."
Watch: Lupita Nyong'o Confesses Her Girl Crush