Priyanka Chopra Says She Gets "A Lot of S–T" Over Age Gap With Nick Jonas
"I find it really amazing when you flip it and the guy is older, no one cares."
---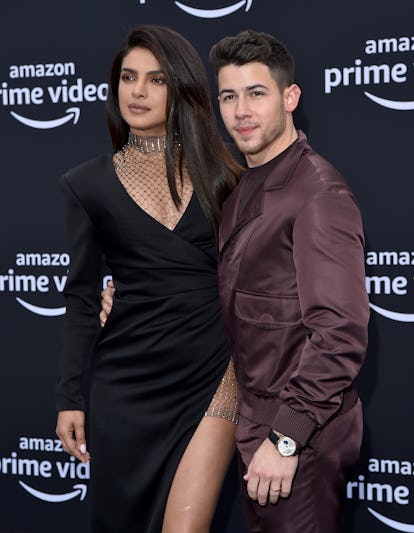 Photo by Axelle/Bauer-Griffin/FilmMagic
Priyanka Chopra is on the cover of this month's July issue of InStyle (she's credited with her new-ish full name, Priyanka Chopra Jonas), and the publication went in on her whirlwind relationship with husband Nick Jonas. At 37, Chopra is ten years older than Jonas, and she says she's gotten a number of critical comments regarding the couple's age gap.
"People gave us a lot of s–t about that and still do," she told the magazine. "I find it really amazing when you flip it and the guy is older, no one cares and actually people like it."
And it's not just about age. Fans have been cruel regarding Chopra and Jonas's somewhat surprising relationship. The negativity hit a fever pitch when The Cut published a widely-derided article titled "Is Priyanka Chopra and Nick Jonas's Love for Real?" The writer referred to Chopra as a "global scam artist," questioning the veracity of her relationship with Jonas. It was met with outrage, and Chopra's brother and sister-in-law Joe Jonas and Sophie Turner publicly criticized the piece (the article was later removed from The Cut's website).
"Nick, Joe, Sophie, my mom, his parents, everyone was there furiously typing on their phones," Chopra told InStyle. "They were so mad." But the actress didn't want to address the piece. "Commenting on some stupidity means it eventually becomes important because I gave it importance," she added. "A lot of people don't understand that way of thinking. It's not a myopic thought … it's a long-term plan."
Chopra also spoke about her future plans with Jonas, saying that she hopes to start a family with him. "I want my existence to have meant something," she said. "I want my kids to turn around and be like, 'Yeah, that was my mom.'"
In the meantime, she has a number of career milestones to focus on, including filming an upcoming comedy with Mindy Kaling. "I want to change the world a little bit," said Chopra. "My big endgame is creating a formidable career and legacy for myself, but at the same time I want to have moved something."
Priyanka Chopra's Best Red Carpet Looks, from Bollywood to J Sisterhood
Priyanka Chopra at the premiere of What's Your Raashee? during the Toronto International Film Festival, September 2009.

Getty Images
Priyanka Chopra at the 12th International Marrakech Film Festival, December 2012.

Getty Images
Priyanka Chopra at the premiere of Disney's Planes' in Hollywood, August 2013.

Getty Images
Priyanka Chopra at Paper Magazine's Party Celebrating Her Single "La Cenita" in New York, January 2014.

Getty Images
Priyanka Chopra at the 25th anniversary MusiCares Gala honoring Bob Dylan in Los Angeles, February 2015.

Getty Images
Priyanka Chopra at a press junket for Bajirao Mastani in New York, December 2015.

Getty Images
Priyanka Chopra in Vera Wang at the People's Choice Awards in Los Angeles, January 2016.

Getty Images
Priyanka Chopra at ELLE's 6th Annual Women in Television Dinner in West Hollywood, January 2016.

Getty Images
Priyanka Chopra in Monique Lhuillier at the 22nd Annual Screen Actors Guild Awards in Los Angeles, January 2016.

Getty Images
Priyanka Chopra in Zuhair Murad at the 88th Annual Academy Awards in Hollywood, February 2016.

Getty Images
Priyanka Chopra in Jenny Packham at the 2016 Vanity Fair Oscar Party in Beverly Hills, February 2016.

Getty Images
Priyanka Chopra in ST. studio by Olcay Gulsen at the 2016 Time 100 Gala in New York, April 2016.

Getty Images
Priyanka Chopra in Altuzarra at the Altuzarra spring 2017 show during New York Fashion Week, September 2016.

Getty Images
Priyanka Chopra in Jason Wu at the 68th Annual Primetime Emmy Awards in Los Angeles, September 2016.

Getty Images
Priyanka Chopra in Carolina Herrera at the designer's launch party for her book, Carolina Herrera: 35 Years of Fashion in New York, October 2016.

Getty Images
Priyanka Chopra at the Second Annual InStyle Awards in Los Angeles, October 2016.

Getty Images
Priyanka Chopra in Ralph Lauren at the 74th Annual Golden Globe Awards in Beverly Hills, January 2017.

Getty Images
Priyanka Chopra in Ralph and Russo at the 89th Annual Academy Awards in Hollywood, February 2017.

Getty Images
Priyanka Chopra in Ralph Lauren at the "Rei Kawakubo/Comme des Garçons: Art of the In-Between" Met Gala in New York, May 2017.

Getty Images
Priyanka Chopra promoting Baywatch on Despierta America in Miami, May 2017.

Getty Images
Priyanka Chopra in Armani at the Giorgio Armani Prive fall 2017 couture show during Haute Couture Paris Fashion Week, July 2017.

Getty Images
Priyanka Chopra attends the 'Pahuna: The Little Visitors' premiere during the 2017 Toronto International Film Festival at Scotiabank Theatre on September 7, 2017 in Toronto, Canada. Photo courtesy of Getty Images.

Getty Images
Priyanka Chopra attends the Heavenly Bodies: Fashion & The Catholic Imagination Costume Institute Gala at Metropolitan Museum of Art on May 7, 2018 in New York City. Photo courtesy of Getty Images.

Getty Images
Priyanka Chopra arrives to the premiere of Isn't It Romantic at the Ace Hotel on February 11, 2019 in Los Angeles, California. Photo courtesy of Getty Images.

Getty Images
Priyanka Chopra attends the 2019 Vanity Fair Oscar Party hosted by Radhika Jones at Wallis Annenberg Center for the Performing Arts on February 24, 2019 in Beverly Hills, California. Photo courtesy of Getty Images.

Getty Images
Priyanka Chopra attends the 2019 Met Gala Celebrating Camp: Notes on Fashion at Metropolitan Museum of Art on May 6, 2019 in New York City. Photo courtesy of Getty Images.

Getty Images
Priyanka Chopra and Nick Jonas attend the Chopard Party during the 72nd annual Cannes Film Festival on May 17, 2019 in Cannes, France. Photo courtesy of Getty Images.

Getty Images
Priyanka Chopra and Nick Jonas attend the screening of "Les Plus Belles Annees D'Une Vie" during the 72nd annual Cannes Film Festival on May 18, 2019 in Cannes, France. Photo courtesy of Getty Images.

Getty Images
Priyanka Chopra attends the screening of Rocketman during the 72nd annual Cannes Film Festival on May 16, 2019 in Cannes, France. Photo courtesy of Getty Images.

Getty Images
Priyanka Chopra attends the 2019 Billboard Music Awards at MGM Grand Garden Arena on May 1, 2019 in Las Vegas, Nevada. Photo courtesy of Getty Images.

Getty Images