Poppy Wore a Black Latex Mask to the 2018 American Music Awards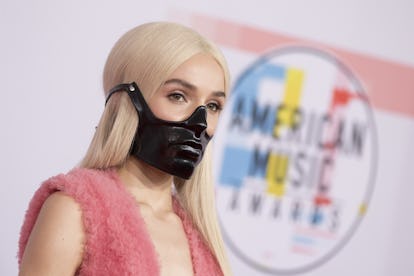 Image Group LA/Getty Images
And the award for "most unique red-carpet glam" at the 2018 American Music Awards goes to…Poppy, who turned up on the red carpet with half of her face covered by a black latex mask.
The 23-year-old singer and YouTube star accessorized her pink gown—which gave serious "Rihanna at the 2015 Grammys" vibes—with black tights, black shoes, and the surprising headgear. She kept the rest of her beauty (as in, her eyes, which were the only part of her face visible) simple and shimmery, with a light dusting of glitter. On her Instagram Story, she showed off a black manicure in the same shade as her mask.
"They're sending me to the #AMAs to talk to famous people," the star tweeted over the weekend. (But is she able to speak through the mask?) And on the night of the event, she shared a picture to Instagram of her look with the caption, "I like American Music #AMAs."
In the comments section of the photo, fans seem to be torn over what exactly to make of her mouth and nose covering. While some were very into the look ("I want the mask" was an echoing refrain), others were a bit confused as to why she chose to hide her face. Some also wondered whether the look was a sort of political statement. "Speak for the voiceless, sing for the universe," wrote one user. "POPPY KILLING US WITH THE SOCIAL COMMENTARY! YAAAAASSS!!!" reacted another.
Poppy herself has yet to speak out on the meaning behind the look, perhaps because, well, she couldn't. Heres hoping she unmasks and opens up soon.
Related: Poppy IRL: Meet the Internet's Most Mysterious It Girl as She Takes New York Fashion Week by Storm
Go Inside W's It Girl Lunch With Emily Ratajkowski, Katherine Langford, and Brooklynn Prince
Emily Ratajkowski at W magazine's It Girl Luncheon on Thursday, September 6, 2018, at the Mr. C Seaport Hotel, in New York City. Photo by Lea Winkler for W magazine.

LEA WINKLER
Katherine Langford at W magazine's It Girl Luncheon on Thursday, September 6, 2018, at the Mr. C Seaport Hotel, in New York City. Photo by Lea Winkler for W magazine.

LEA WINKLER
Elizabeth Debicki and Brooklynn Prince at W magazine's It Girl Luncheon on Thursday, September 6, 2018, at the Mr. C Seaport Hotel, in New York City. Photo by Lea Winkler for W magazine.

LEA WINKLER
Dree Hemingway at W magazine's It Girl Luncheon on Thursday, September 6, 2018, at the Mr. C Seaport Hotel, in New York City. Photo by Lea Winkler for W magazine.

LEA WINKLER
Debby Ryan at W magazine's It Girl Luncheon on Thursday, September 6, 2018, at the Mr. C Seaport Hotel, in New York City. Photo by Lea Winkler for W magazine.

LEA WINKLER
Condola Rashad at W magazine's It Girl Luncheon on Thursday, September 6, 2018, at the Mr. C Seaport Hotel, in New York City. Photo by Lea Winkler for W magazine.

LEA WINKLER
Olivia Palermo at W magazine's It Girl Luncheon on Thursday, September 6, 2018, at the Mr. C Seaport Hotel, in New York City. Photo by Lea Winkler for W magazine.

LEA WINKLER
Lori Harvey at W magazine's It Girl Luncheon on Thursday, September 6, 2018, at the Mr. C Seaport Hotel, in New York City. Photo by Lea Winkler for W magazine.

LEA WINKLER
Hayley Kiyoko at W magazine's It Girl Luncheon on Thursday, September 6, 2018, at the Mr. C Seaport Hotel, in New York City. Photo by Lea Winkler for W magazine.

LEA WINKLER
Delilah Belle Hamlin at W magazine's It Girl Luncheon on Thursday, September 6, 2018, at the Mr. C Seaport Hotel, in New York City. Photo by Lea Winkler for W magazine.

LEA WINKLER
Denée Benton at W magazine's It Girl Luncheon on Thursday, September 6, 2018, at the Mr. C Seaport Hotel, in New York City. Photo by Lea Winkler for W magazine.

LEA WINKLER
Luna Blaise at W magazine's It Girl Luncheon on Thursday, September 6, 2018, at the Mr. C Seaport Hotel, in New York City. Photo by Lea Winkler for W magazine.

LEA WINKLER
Lynn Hirschberg, editor at large of W magazine, welcomes guests to W magazine's It Girl Luncheon on Thursday, September 6, 2018, at the Mr. C Seaport Hotel, in New York City. Photo by Lea Winkler for W magazine.

LEA WINKLER
Leven Rambin at W magazine's It Girl Luncheon on Thursday, September 6, 2018, at the Mr. C Seaport Hotel, in New York City. Photo by Lea Winkler for W magazine.

LEA WINKLER
Bel Powley at W magazine's It Girl Luncheon on Thursday, September 6, 2018, at the Mr. C Seaport Hotel, in New York City. Photo by Lea Winkler for W magazine.

LEA WINKLER
Poppy at W magazine's It Girl Luncheon on Thursday, September 6, 2018, at the Mr. C Seaport Hotel, in New York City. Photo by Lea Winkler for W magazine.

LEA WINKLER
Nina Agdal at W magazine's It Girl Luncheon on Thursday, September 6, 2018, at the Mr. C Seaport Hotel, in New York City. Photo by Lea Winkler for W magazine.

LEA WINKLER
The table setting at W magazine's It Girl Luncheon on Thursday, September 6, 2018, at the Mr. C Seaport Hotel, in New York City. Photo by Lea Winkler for W magazine.

LEA WINKLER
Emily Ratajkowski at W magazine's It Girl Luncheon on Thursday, September 6, 2018, at the Mr. C Seaport Hotel, in New York City. Photo by Lea Winkler for W magazine.

LEA WINKLER
Condola Rashad and Kelsey Asbille at W magazine's It Girl Luncheon on Thursday, September 6, 2018, at the Mr. C Seaport Hotel, in New York City. Photo by Lea Winkler for W magazine.

LEA WINKLER
Whitney Port at W magazine's It Girl Luncheon on Thursday, September 6, 2018, at the Mr. C Seaport Hotel, in New York City. Photo by Lea Winkler for W magazine.

LEA WINKLER
Rainey Qualley at W magazine's It Girl Luncheon on Thursday, September 6, 2018, at the Mr. C Seaport Hotel, in New York City. Photo by Lea Winkler for W magazine.

LEA WINKLER
Manami Konishi at W magazine's It Girl Luncheon on Thursday, September 6, 2018, at the Mr. C Seaport Hotel, in New York City. Photo by Lea Winkler for W magazine.

LEA WINKLER
Nell Diamond at W magazine's It Girl Luncheon on Thursday, September 6, 2018, at the Mr. C Seaport Hotel, in New York City. Photo by Lea Winkler for W magazine.

LEA WINKLER
Kayli Carter at W magazine's It Girl Luncheon on Thursday, September 6, 2018, at the Mr. C Seaport Hotel, in New York City. Photo by Lea Winkler for W magazine.

LEA WINKLER
Sofia Achaval de Montaigu and Manami Konishi at W magazine's It Girl Luncheon on Thursday, September 6, 2018, at the Mr. C Seaport Hotel, in New York City. Photo by Lea Winkler for W magazine.

LEA WINKLER