Prince Charles Is "Completely Infatuated" With Squirrels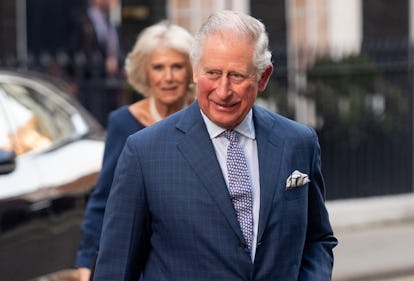 Mark Cuthbert/Getty Images
With each passing year comes greater wisdom, increased clarity, and deeper commitment to one's passions. The latter is certainly true for Prince Charles, who turned 70 on Wednesday: Though he'd previously pledged to help preserve the rare red squirrel, this week, just before his big day, he went all-out in professing his profound admiration for the critters.
In a new issue of British magazine Country Life guest-edited by Charles, he penned an article about red squirrels, the population of which has drastically decreased in recent years in the U.K. "They come into the house at Birkhall and we get them chasing each other round and round inside. If I sit there quietly, they will do so around me," the Prince of Wales wrote, per People, referring to the squirrels that live near his country home in Scotland. "Sometimes, when I leave my jackets on a chair with nuts in the pockets, I see them with their tails sticking out, as they hunt for nuts—they are incredibly special creatures."
Elsewhere in the issue, Charles's eldest son, Prince William, praised his father's conservation efforts and corroborated Charles's account of his love for squirrels. "He is completely infatuated by the red squirrels that live around the estate in Scotland—to the extent that he's given them names and is allowing them into the house!" William wrote, adding, "His passion for the environment and the natural world is something I want to repeat in the way I raise George, Charlotte, and Louis."
For even more proof of Charles's fascination with squirrels, look no further than this video Clarence House shared several years ago, in honor of Red Squirrel Week, which is likely Charles's favorite week of the year. In the clip, Charles silently observes a squirrel as it runs in and out of his Scottish home, occasionally adding quietly excited Animal Planet-style narration, as perfectly befits the decade-long patron of the Red Squirrel Survival Trust
In other charming Charles news, on Wednesday, on his way into a birthday celebration in his honor, the heir apparent cracked a few jokes about growing another year older, according to People. When asked by assembled reporters how he was feeling about the big 7-0, Charles quipped, "I'm not sure. It's rather like indigestion. 'Many Happy Returns' are not quite the same as you get older." After another reporter asked if entering his eighth decade would inspire Charles to slow down, he replied, "You may see it, slowly but surely," prompting wife Camilla, Duchess of Cornwall, to cut in with, "I doubt it." Especially if there are still squirrels to save!
Related: The Crown Very Flatteringly Casts Josh O'Connor as Prince Charles