Prince George and Princess Charlotte Have a "Close" Friendship but He's Mostly "Independent"
He's "close" with his sister, but "George likes to go off and do his own thing."
---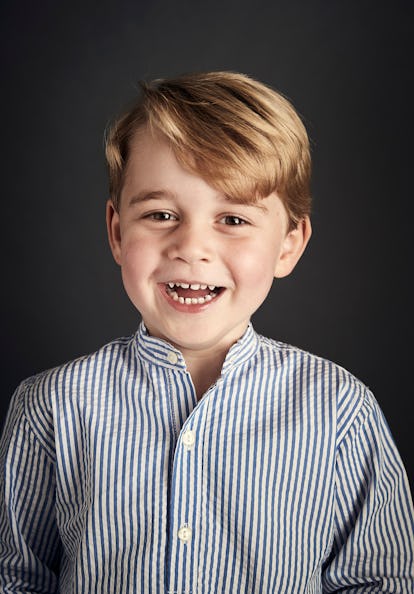 Photograph courtesy of Getty Images.
Sometimes you just need a little bit of alone time, and Prince George has already come to that realization at the tender age of five. This week, the heir third in line to the throne, after his father Prince William and his grandfather Prince Charles, celebrated his fifth birthday and, with it, came a new report about his relationship with his younger sister, Princess Charlotte.
Apparently, Prince George is shaping up to be quite the little loner. While he and Charlotte are "close," the oldest child of Prince William and Kate Middleton definitely values his independence. According to a source close to the royal family, Prince George is "very independent now and not as interested in playing with Charlotte all the time," as People notes. "They are close, but George likes to go off and do his own thing." The source also added that "George takes a little while to warm up, but once he's comfortable with you, he's very chatty and charming." No doubt that's true. Prince George could hardly contain his chit-chat while serving as a page boy for his uncle Prince Harry's recent wedding with Meghan Markle.
One reason Prince George may be keeping more to himself is that he appreciates spending his time exactly how he wants to, whereas when he's with Princess Charlotte, she's the one calling the shots, as Middleton recently revealed. "Charlotte is growing up really fast," the mom of three said. "She is the one in charge."
They may be royals but their sibling dynamic is no different from anyone else—and Middleton and Prince William are working hard to keep it that way. Middleton, who grew up outside of the spotlight, is apparently "adamant" about "keeping stuffy ­royal protocol far from their apartment at Kensington Palace," as a Palace source revealed to Radar last summer. "Kate has kept her babies out of the public eye as much as possible," the source said. "They have absolutely no idea that they're royals. They might look like perfect tots in photos, but at home they play in the mud, fall off their ponies, and have screaming tantrums!"
It helps, of course, that Prince George's parents, who are attempting to give him as much of a regular life as possible, have yet to reveal to him that he's in line for the throne. "There'll be a time and a place to bring George up and understand how he fits in, in the world," Prince William said, as The Sun reports. "We are very normal." Well, as normal as you can be when you're a royal.