Prince Harry and Prince William Finally Open Up About Princess Diana: 'We Feel We Owe It to Her'
"We couldn't protect her."
---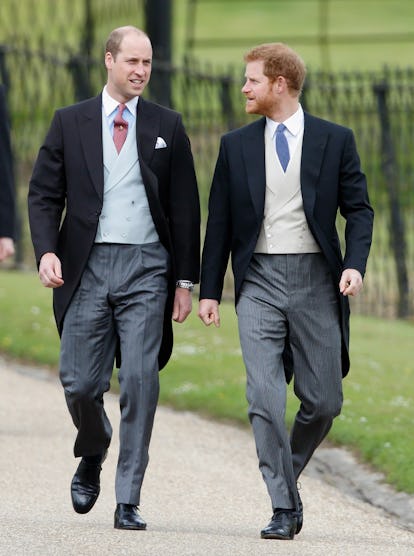 Max Mumby/Indigo
As the 20th anniversary of Princess Diana's death rapidly approaches, Prince Harry and Prince William are finally ready to talk about their mother's tragic passing. Not only have they recently opened up to reporters about the trying time, but they will also both be featured in an upcoming BBC documentary about the days surrounding Diana's death, aptly titled Diana.
"Part of the reason why Harry and I want to do this is because we feel we owe it to her," William, 34, says in the film, according to the BBC. "I think an element of it is feeling like we let her down when we were younger. We couldn't protect her." He adds, "We feel we at least owe her, 20 years on, to stand up for her name and remind everybody of the character and person that she was—do our duties as sons in protecting her."
Harry, 32, echoes his brother's sentiments, saying, "I think it's never going to be easy for the two of us to talk about our mother, but 20 years on seems like a good time to remind people of the difference that she made not just to the royal family but also to the world."
In the documentary, William and Harry will talk about the aftermath of the death of their mother, who was 36 when she was fatally injured in a car crash in Paris on Aug. 31, 1997. At the time of her death, William was 15, and Harry was 12.
According to the BBC, Harry reflects in the documentary about the "shocking" amount of emotion shown for Diana in the days following her death. "It was beautiful at the same time, and it was amazing, now looking back at it, it was amazing that our mother had such a huge effect on so many people," he says. "When you're that young and something like that happens to you, I think it's lodged in here, there, wherever—in your heart, in your head—and it stays there for a very, very long time."
Diana will also feature interviews with friends, political figures, and journalists. The 90-minute film will premiere ahead of the 20th anniversary of the accident this August.
Earlier this year, Harry opened up about the lasting impact of the tragedy on his own mental health, telling The Telegraph that immediately following his mother's death, he felt numb. He said, "I can safely say that losing my mum at the age of 12, and therefore shutting down all of my emotions for the last 20 years, has had a quite serious effect on not only my personal life but my work as well." Harry added, "I have probably been very close to a complete breakdown on numerous occasions when all sorts of grief and sort of lies and misconceptions and everything are coming to you from every angle."
Harry admitted that it was only recently that, at the urging of his older brother, he sought help from a therapist and learned to let his feelings out. "Because of the process I have been through over the past two-and-a-half years, I've now been able to take my work seriously, been able to take my private life seriously as well, and been able to put blood, sweat and tears into the things that really make a difference and things that I think will make a difference to everybody else," he said.
From Kate Middleton and Prince William to Charles and Diana (and Camilla), a Brief History of British Royal Weddings—And Their Attending Scandals
Original diva Queen Victoria might not have been the first bride to wear white, but she was the one who made a white gown something of a protocol. Victoria commissioned a white lace dress for her 1840 wedding to Prince Albert, intending to support the struggling lace-making industry and best showcase the textile. Further, she destroyed the pattern for her dress so it could not be replicated, and she decreed no one else could wear white to her wedding. After the ceremony, she and Albert—for whom London's Victoria and Albert museum is named—traveled to Windsor Castle for the night; though Albert had hoped to take a two-week honeymoon with his new wife, already the reigning queen, Victoria told him she could not take that much time off from work and they limited their vacation to just a few days.

Heritage Images/Getty Images
On April 26, 1923, Elizabeth Bowes Lyon married George VI, who would go on to become king—and she, the Queen Mother, giving birth to Elizabeth II in 1926. Queen Mary, George's mother, lent her daughter-in-law the lace veil she wore for the occasion. British designer Madame Handley Seymour made the dress—custom dictated it must be a British creation—but its silhouette was based on those of Jeanne Lanvin, then very much in vogue.

Universal History Archive/Getty Images
Between Victoria, which stars Jenna Coleman as the titular monarch, and The Crown, with Claire Foy as Elizabeth II, British royals' romances have been the subject of much pop culture fascination lately. Elizabeth, who was crowned queen in 1953, wore an elaborate dress by Norman Hartnell for her 1947 wedding to Phillip Mountbatten. If she resembles someone out of a Botticelli painting, that's precisely what the designer intended with the delicate floral embroidery and 10,000 seed pearls sewn into the design. It was just two years after the end of World War II, and austerity measures were still in place rationing fabric, buttons, and types of trim, so, reportedly, young women all over England sent their clothing coupons to Princess Elizabeth; with her own savings, plus a 200-coupon bonus from the government, she was able to afford the dress, which took six months to make. (The Crown's reproduction cost a reported $37,000 and took seven weeks.)

Universal History Archive/Getty Images
Elizabeth's younger sister Princess Margaret married the photographer Antony Armstrong-Jones, a contributor to Vogue and Vanity Fair, on May 6, 1960. It was a lavish affair, costing a reported $65,000—not to mention the additional $115,000 of her seagoing honeymoon—that didn't do much to improve her reputation among her subjects. Margaret had previously been embroiled in scandal, engaging in an affair in the early '50s with Captain Peter Townsend, a war hero 15 years her elder, who happened to already be married. Townsend later divorced his wife, but Margaret was nevertheless unable to marry him because her religion—and the royal family's adherence to Catholicism—prohibited her from wedding someone who had previously been married. Still, her subsequent marriage to Armstrong-Jones ended in divorce in 1978.

AFP/Getty Images
When Charles, Prince of Wales, was 24 years old, he met Camilla Parker Bowles. But, according to biographer Sally Bedell Smith, the prince was not yet ready to commit to marriage and gendered double standards of the mid-20th century meant Charles was expected to marry a woman who could plausibly present herself as a virgin. Cue Diana: Though Charles remained enamored of Bowles, he ended up marrying Diana Spencer, a woman 13 years younger whose grandmothers had been ladies-in-waiting to Charles's grandmother, Elizabeth, the queen mother, in 1976. They divorced in 1996, after both had engaged in affairs (Charles, picking up his relationship with Bowles again); Diana died in a car crash in 1997.

Ron Bull/Getty Images
Andrew, Duke of York, the third child of Queen Elizabeth II, and Sarah Ferguson began their relationship in 1985 and married in 1986. They were both 26 years old. Her gown, by the designer Lindka Cierach, featured detailed iconography embroidered throughout, representing Andrew's naval service (anchors, waves), romantic symbols, and images drawn from Ferguson's own family crest. They divorced 10 years later.

Tim Graham/Getty Images
Prince Charles, currently next in line for the throne after his mother, Queen Elizabeth II, married his longtime romantic partner Camilla Parker Bowles in a civil ceremony on April 9, 2005. Bowles, now Duchess of Cornwall, wore a dress by British designer L.K.Bennett with a Phillip Treacy hat for the wedding and a Robinson Valentine ensemble for the service afterwards. The couple opted for a civil service in lieu of a full church wedding, presumably to avoid the controversy that could attend a religious ceremony, given the crown's stance on divorce. (Both Charles and Camilla, at this point, had divorced previous partners.)

ALASTAIR GRANT/Getty Images
In 2011, Prince William, Duke of Cambridge, the eldest son of Charles and Diana and the current second in line for the throne after his father, married longtime girlfriend Kate Middleton, now Catherine, Duchess of Cambridge, on April 29, 2011. (The media circus that surrounded the event just evidences the continued adulation of the British public, though the royal family no longer has any legislative power in the United Kingdom.) Middleton's dress, custom-designed by Sarah Burton for Alexander McQueen with its deep-v neck, long sleeves, high collar, and lace overlay, has inspired countless replicas; among the frontrunners for designers to create the gown were Victoria Beckham and Stella McCartney. Designers Karl Lagerfeld, Oscar de la Renta, and Vera Wang all praised the design, comparing it to royal weddings past like Elizabeth II and Diana. Also at the wedding: Kate's sister Pippa Middleton, whose own wedding is slated for this weekend and who drew headlines of her own with her clingy white dress, also by Alexander McQueen.

Clive Rose/GP/Getty Images
UNITED KINGDOM – JULY 18: The Wedding Of Tim Taylor To Lady Helen Windsor At St Georges Chapel Windsor. Wedding Dress By Catherine Walker (Photo by Tim Graham/Getty Images)

Tim Graham
Related: Prince Harry and Meghan Markle Are Reportedly Moving Into Kensington Palace Together
See What's Trending in W Video:
Princess Diana, Style Icon: See 20 Photos of the Natural Beauty
A young Princess Diana let her hair down during a summer holiday in Itchenor, West Sussex in January, 1971.

Getty Images
The Prince and Princess of Wales return to Buckingham Palace by carriage after their wedding, 29th July 1981. She wears a wedding dress by David and Elizabeth Emmanuel and the Spencer family tiara. Photo courtesy of Getty Images.

Princess Diana Archive
Lady Diana Spencer, soon to be Diana, Princess of Wales (1961 – 1997), looking pensive at a polo match in Windsor after the Ascot races, 16th June 1981. Photo courtesy of Getty Images.

Tim Graham
Attending the premier of the Bond film 'For Your Eyes Only' at the Odeon Cinema in Leicester Square in June, 1981. All eyes were certainly on her with that sparkly red dress and gorgeous blush.

Tim Graham/Getty Images
For a visit to the Isles of Sicily in April 1982, Princess Diana kept her hair and makeup natural.

Getty Images
For a day watching a Polo Match in August, 1983, Princess Diana embraced her hair's curly texture.

Tim Graham/Getty Images
In November 1984, Princess Diana visited a Barnados Charity and wore her hair pulled back in a new ladylike style.

Getty Images
Attending a polo match at the Guard's Polo Club in Windsor in June 1985, Princess Diana was the picture of '80s fashion and beauty.

Getty Images
Princess Diana arriving at the Serpentine Gallery, London, in a gown by Christina Stambolian, June 1994. Photo courtesy of Getty Images.

Princess Diana Archive
Princess Diana (1961 – 1997) at a state dinner in Canberra, November 1985. Photo courtesy of Getty Images.

Princess Diana Archive
The princess positively glowed during a visit to Bahrain in November 1986.

WireImage
Princess Diana Carries Prince Henry (harry) On Her Shoulders At Highgrove on July 18th, 1986. Photo courtesy of Getty Images.

Tim Graham
Diana Princess of Wales at a desert picnic in Saudi Arabia in November 1986, during the Royal tour of Saudi Arabia. Diana wore an outfit by Catherine Walker. Photo courtesy of Getty Images.

David Levenson
Princess Of Wales In Hong Kong Wearing An Outfit Described As The Elvis Look Designed By Fashion Designer Catherine Walker. Tour Dates 7-10 November, 1989. Photo courtesy of Getty Images.

Tim Graham
Princess Diana wore a fashionable gown and loaded up on the jewelry when attending a gala at the Cannes film festival in May 1987. Photo by Getty Images.

Tim Graham/Getty Images
Princess Diana wore flowers in her hair for a dinner with the King of Thailand during her official visit to Bangkok in February 1988.

Getty Images
While attending the Federation Cup Tennis Ceremonies in July 1991, Orincess Diana wore her hair short so as not to compete with her then-fashionable shoulder pads.

WireImage
A voluminous blowout gave Princess Diana some extra lift in December 1995, at the a gala in New York.

NY Daily News via Getty Images
A soft purple ensemble and natural makeup made Princess Diana look fresh and modern when visiting the Royal Air Force in England, in September 1995.

Getty Images
A brighter shade of blonde and soft bangs was a chic—and so '90s—look for the princess in June 1997.

Tim Graham/Getty Images