Prince George Asks for Just One Thing for Christmas
Prince George's father, Prince William, hand delivered the toddler's handwritten Christmas wish list to Santa Claus this morning.
---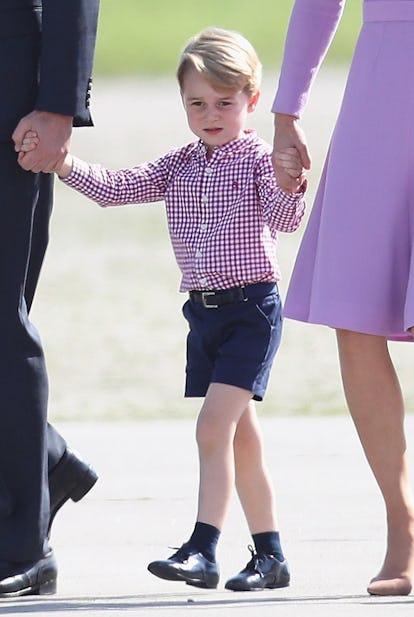 Chris Jackson
While Prince Harry gears up for his royal wedding to Meghan Markle, his nephew Prince George has been planning for the future as well. Little Prince George of Cambridge knows what he wants and he is absolutely not afraid to ask for it, especially when it comes to Christmas presents. People reports that while his father, Prince William, was on a business trip to Finland, he bumped into Santa Claus and handed him a handwritten Christmas wish list from George.
Not a toy helicopter, a train set, or other such toddler fare was asked for on the stylish Prince's wish list. Prince George, a law abiding pre-school citizen of the United Kingdom only scribbled one request in his handwritten letter to Father Christmas: a police car. Really, all the little prince wants for Christmas is a law enforcement vehicle.
The list was rather empty, with enough space for at least four more items, but really, what do you get for the kid who has everything? Everything except for a police car, which will be shimmering underneath George's Christmas tree this year, as long as he remains a good boy for the rest of the month. At the top of the wish list, George also circled that he had been "nice" this year rather than naughty, and his father reportedly reassured Santa that the young prince was not fibbing. George then signed off with love, and scrawled his name at the bottom of the paper that his dad pulled out of his pocket to hand to Santa. His younger sister, Charlotte, did not give a letter to her dad to be hand delivered to the North Pole.
If Prince Harry and Meghan Markle are aiming to have a low-key, small wedding, maybe they should put Prince George in charge of the invitations. He'd probably just scribble one name on the list of approved attendees—his own.
Related: Meghan Markle and Prince Harry Are Attempting the Impossible: Trying to Keep Their Wedding as Low-Key as Possible
The 15 Best-Dressed Royal Kids Around the World