Prince Harry Casually Mentions How Nobody in the Royal Family Wants to Be King or Queen
Well, if the job is up for grabs…
---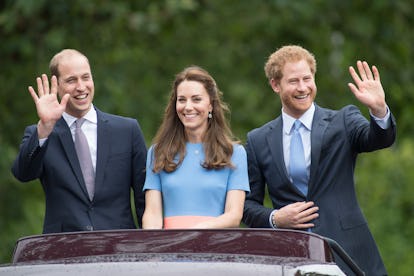 Jeff Spicer/Getty Images
Somebody give Queen Elizabeth access to a never-ending stream of young blood, because apparently — if you believe Prince Harry, that is — there is nobody in the royal family eagerly lining up to assume her duties when she passes away. God save the queen!
The dashing young prince admitted in a new profile with Newsweek that despite the seemingly appealing pomp and circumstance that comes from being the monarch of the United Kingdom and its associated territories, there isn't a single person in the Windsor family that actually wants to take over the throne.
"We are involved in modernizing the British monarchy. We are not doing this for ourselves but for the greater good of the people," he explained. "Is there any one of the royal family who wants to be king or queen? I don't think so, but we will carry out our duties at the right time." As a refresher: The person next in line to succeed the British throne is Charles, Prince of Wales, who is then followed by his son, Prince William, Duke of Cambridge. Harry (a.k.a. Prince Henry of Wales) is currently fifth in line, after William and Kate Middleton's two children.
In his interview, Harry also stressed numerous times about how he longs for an "ordinary" life — maybe one with Meghan Markle? — although he notes it's a "tricky balancing act" with what the public wants and expects from the royals. "My mother took a huge part in showing me an ordinary life, including taking me and my brother to see homeless people," he said. "Thank goodness I'm not completely cut off from reality. People would be amazed by the ordinary life William and I live. I do my own shopping. Sometimes, when I come away from the meat counter in my local supermarket, I worry someone will snap me with their phone. But I am determined to have a relatively normal life, and if I am lucky enough to have children, they can have one too. Even if I was king, I would do my own shopping."
For what its worth, Queen Elizabeth shows no signs of leaving the throne any time soon at age 91. Here's to many more years of her hat-filled rule.
Related: Prince Harry and Prince William Finally Open Up About Princess Diana: 'We Feel We Owe It to Her'
Princess Diana's 8 Most Iconic Looks: