Inside Prince Konstantin of Bavaria's Wedding to Deniz Kaya
Prince Konstantin of Bavaria tied the knot.
---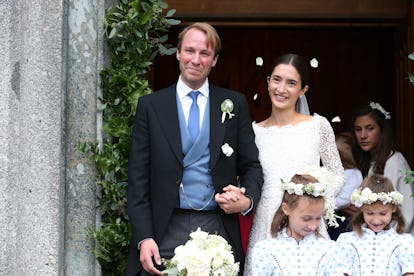 Gisela Schober/Getty Images
2018 is shaping up to be a year of royal weddings. While the English monarchy is most famously excelling in that category, Prince Konstantin of Bavaria quietly held the event of the summer: his wedding to Deniz Kaya.
The two tied the knot on Saturday in St. Moritz, Switzerland's Eglise au Bois church. They were joined by some fashionable guests for the occasion, such as Sweden's Princess Sofia and Prince Carl Philip. The couple showed up looking as polished as ever in their formal attire. Sofia, in loose waves, wore a light blue dress with a boatneck and a black jacket. Meanwhile, her husband wore a tuxedo and his signature slicked-back hairstyle. Other royals in attendance were Princess Astrid and Prince Josef of Liechtenstein.
While the groom, Prince Konstantin of Bavaria, holds a royal title—and his wife is now officially known as Princess of Bavaria with the blessing of her husband's family—the monarchy of Bavaria actually ended back in 1918. Konstantin is the son of Prince Leopold and Princess Ursula.
Prince Konstantin comes from a family of romantics too, as his mother, Ursula, met his father at a stoplight and fell for him without knowing his family's history. "Our cars stood side by side at a traffic light, and he shouted, 'Well, should I teach you how to drive?'," she revealed back in 2012. "Pretty cheeky, I thought. At the same time I liked his style. That he was the Prince of Bavaria, I did not know then."
As for Ursula and Prince Leopold's wedding, the pair kept it similarly low key. While Prince Konstantin's bride wore natural makeup with a center part and an elegant, minimal lace gown with a boatneck—it's earned a handful of comparisons to Meghan Markle's recent wedding dress—Ursula went in a similar direction. "I wore a long white dirndl, nothing fancy—that would not have suited me," she recalled. "We did not want a big party. We celebrated small, all family in Aufkirchen on Lake Starnberg, where we lived."
That's one thing that differed. Prince Konstantin and Princess Deniz didn't skimp on their party. They held a reportedly "lavish" reception after the ceremony. Still, royal weddings don't get much more low key than this one.