Princess Beatrice and Princess Eugenie Open Up About Backlash to Their Iconic Royal Wedding Hats
Seven years later it's still on their mind.
---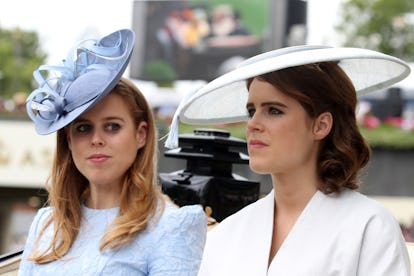 Chris Jackson/Getty Images
This year has been dominated by one royal wedding—the one of Meghan Markle and Prince Harry—but it is the previous one that is still fresh on the minds of Princess Beatrice and Princess Eugenie. Seven years ago, the royals eighth and ninth in line for the throne became household names when they arrived at their cousin Prince William's wedding to Kate Middleton. And, they haven't stopped thinking about it since.
While the viral moment is somewhat iconic, the princesses didn't see it that way after reading about the nasty reactions to their elaborate hats, designed by Philip Treacy. "There was a horrible article that had been written about Beatrice, and she got really upset," Eugenie told British Vogue, via Express. "We were just about to step out, and she had a bit of a wobble and cried. I was looking after her. And then about an hour later, I had a wobble and started crying, and Bea was there for me."
Ultimately, though, they're happy with their public images, which, they say, mirror who they really are. "We want to show people who we are as working, young, royal women, but also not to be afraid of putting ourselves out there," Beatrice said. "Nowadays it's so easy to recoil when you see a perfect image on Instagram—but it's important that it's real. We're real."
Being real means figuring it out as they go, which Princess Beatrice and Princess Eugenie say has been their approach. "It's hard to navigate situations like these because there is no precedent, there is no protocol," Beatrice said. "We are the first: We are young women trying to build careers and have personal lives, and we're also princesses and doing all of this in the public eye."
No doubt the public eye will be even more trained on them come October 12, when Princess Eugenie marries her longtime love, Jack Brooksbank, at the same wedding venue Prince Harry and Meghan Markle wedded, Windsor Castle. But they're not sweating it yet. "I'm not stressed at all," Princess Eugenie said. "It's very nerve-racking because you want it to be perfect, but then you realize that you're going to be with the person you love forever and nothing else really matters." For this royal wedding, the attention will be all on their union, rather than her hat.