Princess Caroline Says She Was Closer to Her Nanny Than to Her Mother, Grace Kelly
Even Monegasque royals can't have it all.
---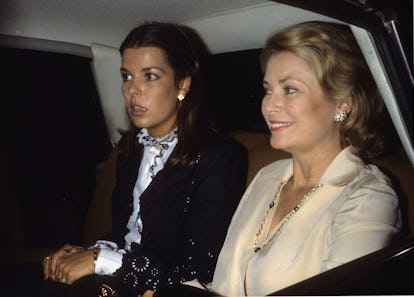 Photo by Michel Dufour/WireImage
It's no secret that the transition from movie star to Monaco royal to mother couldn't have been easy on Grace Kelly, but a new book reveals just how difficult it was for the whole family to stay close. Prince Albert and Princess Caroline, the son and daughter of Kelly and Prince Rainier, were interviewed for Albert II of Monaco, the Man and the Prince, published in honor of Prince Albert's 60th birthday on March 14. In it, Princess Caroline reveals: "For my brother and I, Maureen [Wood, their nanny] was the key figure in our life. When we were little, we were probably closer to our nanny than to our parents."
According to People, the young royals would cry and beg Wood not to leave every summer when she went on vacation. "We were sad for days," says Princess Caroline. "Most often than not, our mother would end up calling her to ask her to come home earlier than planned."
Perhaps part of the reason Wood was so beloved was her creativity; in the book, she reveals that one night, when Kelly and Prince Rainier were away at a wedding, she threw her own mini-gala for the kids. "I decided that we would have our own gala dinner at the Palace," Wood says. "The chef cooked a special menu, Caroline wore one of her mother's gown, Albert wore a uniform, and I wore a gown too. Then we put on music, and we danced." Um, can you be my nanny?
According to the Daily Mail, the parents and children didn't even have dinners together until the kids were 14.
Hopefully, the family is closer now than it was a generation or two ago. In happier news, Princess Caroline's daughter Charlotte Casiraghi just announced her engagement to Dimitri Rassam. Maybe this time the whole family, nannies included, can go to the wedding?
Related: Charlotte Casiraghi, Grace Kelly's Granddaughter and Karl Lagerfeld Favorite, Is Engaged
The 26 Best Oscar Beauty Moments of All Time, from Grace Kelly to Emma Stone
Grace Kelly celebrates her Oscar for her role in The Country Girl in a soft wavy up do with flowers and a pink lip at the 1955 Academy Awards.
At the 41st Annual Academy Awards, Barbra Streisand wore a voluminous bob with simple black eyeliner as she accepts her Oscar for her role in Funny Girl in 1969.

Photo by Getty.
In 1970, Elizabeth Taylor wore her soft curls swept back with a blue ribboned headband and a shimmery eye at the 42nd Annual Academy Awards.
Cher glowed at the 46th Annual Academy Awards in 1974 with full lashes, dewy skin and a sleek top bun with embellished flowers.
Audrey Hepburn wore a pixie cut with full bangs at the 47th Annual Academy Awards in 1975.
Lauren Hutton wore her shoulder-length locks in soft waves at the 47th Annual Academy Awards in 1975.
Farrah Fawcett rocked her iconic blonde waves with a grey smokey eye at the 50th Annual Academy Awards in 1978.
At the 51st Annual Academy Awards in 1979, Meryl Streep wore her long blonde hair swept over in tousled curls.
Nicole Kidman attended 69th Annual Academy Awards in 1997 with her hair in a simple up do with rosy cheeks and a berry lip.
Gywneth Paltrow looked simply chic with a sleek bun and luminous skin when she accepted her Oscar for her role Shakespeare in Love at the 71st Annual Academy Awards in 1999.
Accepting her Oscar for her role in Erin Brockovich at the 73rd Annual Academy Awards in 2001, Julia Roberts wore her hair in a sleek and twisted up do.
In 2002, Halle Berry celebrates her Monster's Ball Oscar win at the 74th Annual Academy Awards with her iconic pixie cut.
Charlize Theron glowed with sun-kissed luminous skin as she accepted her Oscar for Monster at the 76th Annual Academy Awards in 2004.
Natalie Portman looked soft and romantic with light pink lips and an embellished up do at the 77th Annual Academy Awards in 2005.
Cate Blanchett was radiant as she accepted her Oscar for The Aviator at the 77th Annual Academy Awards in 2005.
Wearing her hair in a wavy tousled up do and a glossy red lip, Michelle Williams attended the 78th Annual Academy Awards in 2006.
At the 80th Annual Academy Awards in 2008, French beauty Marion Cotillard wore a shimmery eye and swept over curls to accept her Oscar for La Vie En Rose.
Freida Pinto attended the 81st Annual Academy Awards in 2009 with her hair in a twisted up do, and bronze shadow on her eyes.
Radiating elegance at the 82nd Annual Academy Awards in 2010, Kate Winslet wore her hair in loose curls, with soft, shimmery makeup.
Penelope Cruz wore a glamorous, wavy up do at the 84th Annual Academy Awards in 2012.
Mara Rooney rocked sleek blunt bangs with porcelain skin and a red lip at the 84th Annual Academy Awards in 2012.
Anne Hathaway wore a tousled pixie cut and a matte pink lip at the 85th Annual Academy Awards to accept her Oscar for Les Miserables.
Jennifer Lawrence stunned at the 85th Annual Academy Awards in 2013–where she won an Oscar for Silver Linings Playbook–with a blonde tousled up-do.

Jason Merritt
At the 86th Annual Academy Awards in 2014, Lupita Nyong'O wore an embellished headband to accept her Oscar.

Steve Granitz
At the 2016 Academy Awards, actress Julianne Moore took a minimalist approach with subtle smokey eyes and relaxed waves.

Getty.
The La La Land actress Emma Stone radiated with her auburn red locks in polished curls with a crimson red berry lip.

Getty.