Queen Elizabeth II Was the Target of an Assassination Attempt in New Zealand in 1981
She was shot at in 1981 while visiting New Zealand.
---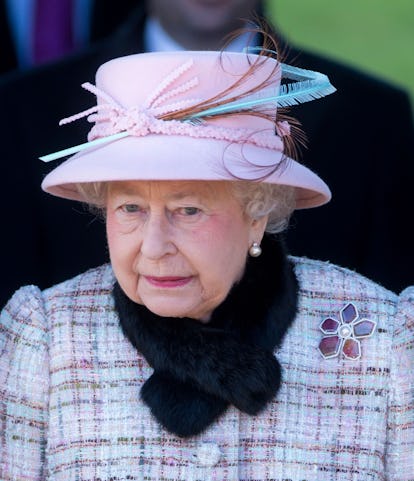 In a story that's fit for a dramatic reenactment on The Crown, Queen Elizabeth II experienced a brush with death back in 1981. Only, it wasn't until now that the details have emerged. Back in 1981, when the Queen was greeting fans in Dunedin, New Zealand on a week-long tour, a gun was fired with the intention of assassinating her, The Washington Post reports. The New Zealand Security Intelligence Service, however, acted quickly to diffuse the situation and cover it up.
It was a 17-year-old behind the gun, named Christopher Lewis, who was described as "severely disturbed" in subsequent memos, as TWP notes. "Lewis did indeed originally intend to assassinate the Queen, however did not have a suitable vantage point from which to fire, nor a sufficiently high-powered rifle for the range from the target," states a 1997 SIS memo.
How exactly was an assassination attempt at such a well-attended gathering kept a secret for three decades? The coverup apparently began immediately after when police officers dispelled the idea of a gun being fired by telling the crowd, and especially journalists, that the noise was due to a falling sign. "Current police investigations into the shots have been conducted discreetly and most media representatives probably have the impression that the noise was caused by a firework of some description," a 1981 memo reads, per TWP.
As for Lewis, he eventually went to prison for the murder of someone else — a mother in Auckland whose baby he abducted — and committed suicide by electrocution in prison at 33 while awaiting his trial.
It's possible that Netflix's The Crown will draw from this incident for a future storyline, as the show has famously devoured and retold bits of information about the monarch as it's come to light. Although, it's unlikely that it would appear in the next season, which picks up with a new cast, including Olivia Colman as Queen Elizabeth, in the 1970s. There's also the fact that, like season two, the third will continue to focus on Princess Margaret's marriage to Antony Armstrong-Jones. "We're now writing Season 3. And in Season 3, without giving anything away—it's on the record, it's history—we'll see the breakup of this extraordinary marriage between Margaret and Snowdon," Robert Lacey, history consultant for The Crown told Town & Country. "This season, you see how it starts, and what a strange character, a brilliant character Snowdon was."
Related: Queen Elizabeth Sits Front Row at London Fashion Week