Meghan Markle Can't Compete With Queen Elizabeth's Style, According to Dennis Basso
"The queen—that is a double snap."
---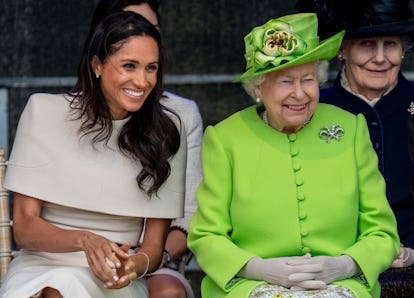 Mark Cuthbert/UK Press via Getty Images
These days when royals and fashion meet in a headline, more than not Meghan Markle is involved. Since her engagement to Prince Harry last November, Markle's every move and outfit have been well documented. But one thing Queen Elizabeth has over Markle? Literal decades of style. According to designer Dennis Basso, that's enough reason why the queen is the biggest style icon of the English monarchy.
Basso praised the 92-year-old's elegance when asked who his dream front row would be at one of his New York Fashion Week shows. After name-dropping Madonna and Cher, two other queens (albeit without the official titles to show for it), Basso mentioned Queen Elizabeth. He told Page Six that while Markle "is a girl who is showing up style," "the queen—that is a double snap," said Basso (while snapping his finger twice enthusiastically). In case that snap didn't come across, Basso reportedly snapped his fingers twice to emphasize it.
No doubt Queen Elizabeth's style has transcended eras and even different millennia. At just eight years shy of 100, Queen Elizabeth managed to make an impact this New York Fashion Week without even attending. Earlier this week, Rodarte handed out transparent, birdcage-shaped umbrellas identical to the ones Queen Elizabeth has been toting around for years. Plus, some influencers carried other clear umbrellas that even had the same styling trick as the queen: matching the trim to their outfits.
Last Fashion Week cycle, when brands were presenting their Fall 2018 collections, the queen reigned over it as well. Back in February, she attended what many speculated to be her first ever fashion show, belonging to Richard Quinn. Queen Elizabeth sat front row, naturally, in between Chief Executive of the British Fashion Council Caroline Rush and American Vogue editor Anna Wintour.
Her cameo came on the heels of Gucci's Alessandro Michele proclaiming her stylistic relevance. "The queen is one of the most quirky people in the world," he told The New Yorker at the time. "She is very inspiring. It is clear that she loves color." Plus, who can forget Rihanna's shout-out to her?
Markle may be the most talked about royal of the year, but the queen's held down that honor for almost a century.