Queen Elizabeth And Meghan Markle Are Best Friends Forever
The monarch won't let her granddaughter-in-law feel left out the way Princess Diana did.
---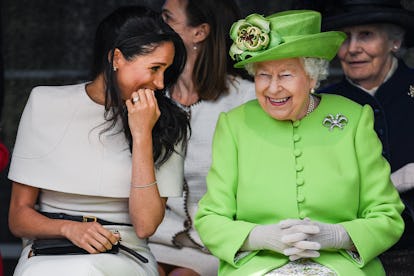 Jeff J Mitchell/Getty Images
Queen Elizabeth II and Duchess of Sussex Meghan Markle are best friends, text constantly, share secrets, speak their own made-up language, and have a bunch of inside jokes that you will never understand. Well, by royal standards. Marrying into England's royal family, especially for an American, is a daunting task (remember Wallis Simpson?), but the Queen is reportedly making "a particular effort" to include Markle in the family.
Royal expert Duncan Larcombe said that "Meghan seems to have forged a particularly close relationship with the queen if you compare that to when other people have married into the royal family," according to Fox News, and that other in-laws haven't been so lucky. Prince William's bride, Duchess Kate Middleton, didn't get any special effort from the Queen, and the princes' late mother Princess Diana reportedly felt left out of the royal family, though that may have been less about Queen Elizabeth and more about Princes Charles' extramarital inclinations.
Markle, on the other hand, has been "fast-tracked" into the royal family, included in many public events and traditions. "The queen, last year in the first few months of Meghan's entry into the royal family, made a particular and slightly unusual effort to welcome her in," Larcombe said. There are also reports that Her Majesty invited the duchess to celebrate her recent thirty-eighth birthday at Balmoral Castle in Scotland; Balmoral is one of the queen's favorite locations, and her vacation home every summer.
Another royal expert, Katie Nicholl, previously noted how quickly the two women bonded, and pointed out that Harry got both his father's and his grandmother's "seal of approval" to marry Markle. "I have been pleasantly surprised by how readily the queen, particularly, has welcomed Meghan into the royal family," Nicholl told Fox earlier this year, adding, "I've been quite impressed by how much responsibility the queen has given Meghan." Like we said, they're the British version of besties.
Related: Meghan Markle Interviewed Michelle Obama About Motherhood for Her Issue of British Vogue
Revisit Princess Diana's Best Style Moments on What Would Have Been Her 58th Birthday
Princess Diana outside her flat in Coleherne Court, London, December 1980. Photo by Jayne Fincher/Princess Diana Archive/Getty Images.

Princess Diana Archive
Princess Diana in a dress by Cojana with Prince Charles in the gardens of Buckingham Palace on the day they announced their engagement, February 1981. Photo by Tim Graham/Getty Images.

Tim Graham
Princess Diana with Prince Charles at Craigowan Lodge on the Balmoral Estate, May 1981. Photo by Tim Graham/Getty Images.

Tim Graham
Princess Diana at a polo match in Windsor after the Ascot races, June 1981. Photo by Tim Graham/Getty Images.

Tim Graham
A pregnant Princess Diana during a trip to the Isles of Scilly, April 1982. Photo by Kypros/Getty Images.

Kypros
Princess Diana wearing the colors of Canada during a state visit to Edmonton, Alberta, June 1983. Photo by Bettmann/Getty Images.

Bettmann
Princess Diana in a Smith's Lawn sweater with Prince Charles at a polo meeting at Windsor, June 1983. Photo by Jayne Fincher/Princess Diana Archive/Getty Images.

Princess Diana Archive
Princess Diana at the Melbourne airport, October 1985. Photo by Jayne Fincher/Getty Images.

Princess Diana Archive
Princess Diana on holiday in the south of France, 1985. Photo by Anwar Hussein/WireImage.

Anwar Hussein
Princess Diana in a Bruce Oldfield dress during a visit to Venice, May 1985. Photo by Tim Graham/Getty Images.

Tim Graham
Princess Diana outside Highgrove with her son Harry, July 1986. Photo by Tim Graham/Getty Images.

Tim Graham
Princess Diana on holiday in Majorca, Spain, August 1987. Photo by Georges De Keerle/Getty Images.

Georges De Keerle
Princess Diana at a Berlin Opera House gala performance in a gown by Catherine Walker, November 1987. Photo by Tim Graham/Getty Images.

Tim Graham
Princess Diana and Prince Charles at the Munich Opera House, November 1987. Photo by Tim Graham/Getty Images.

Tim Graham
Princess Diana at a state reception in Melbourne, October 1988. Photo by Jayne Fincher/Princess Diana Archive/Getty Images.

Princess Diana Archive
Princess Diana in a Catherine Walker gown at a dinner at the British Embassy in Paris during her official visit to France, November 1988. Photo by Georges De Keerle/Getty Images.

Georges De Keerle
Princess Diana in a Catherine Walker suit and a Philip Somerville hat in Kuwait City, United Arab Emirates during her official tour of the Gulf States, March 1989. Photo by Georges De Keerle/Getty Images.

Georges De Keerle
Princess Diana at St. Mary's Hospital in Paddington, London, March 1989. Photo by Georges De Keerle/Getty Images.

Georges De Keerle
Princess Diana in a dress by Catherine Walker at the London Coliseum for a performance of Swan Lake by the Bolshoi Ballet, July 1989. Photo by Tim Graham/Getty Images.

Tim Graham
Princess Diana at Claridges for a state banquet, July 1989. Photo by Julian Parker/UK Press via Getty Images.

Julian Parker
Princess Diana with her sons William and Harry at Wetherby School on Harry's first day, September 1989. Photo by Tim Graham/Getty Images.

Tim Graham
Princess Diana in Budapest during her official visit to Hungary, May 1990. Photo by Georges De Keerle/Getty Images.

Georges De Keerle
Princess Diana and her son Harry at Windsor Chapel for the wedding of Lady Helen Windsor and art dealer Tim Taylor, July 1992. Photo by Jayne Fincher/Getty Images.

Princess Diana Archive
Princess Diana in a gown by Christina Stambolian at the Serpentine Gallery in London, June 1994. Photo by Jayne Fincher/Getty Images.

Princess Diana Archive
Princess Diana with her sons William and Harry on the day Harry joined Eton, September 1995. Photo by Anwar Hussein/WireImage.

Anwar Hussein
Princess Diana in a Virgin Atlantic sweatshirt at the Chelsea Harbour Club in London, November 1995. Photo by Anwar Hussein/WireImage.

Anwar Hussein
Princess Diana at the Victor Chang Cardiac Research Institute dinner dance in Sydney, October 1996. Photo by Tim Graham/Getty Images.

Tim Graham
Princess Diana at the Chelsea Harbour Health Club in London, May 1997. Photo by Antony Jones/UK Press via Getty Images.

Antony Jones
Princess Diana in a Jacques Azagury dress at the English National Ballet performance of Swan Lake at the Royal Albert Hall in London, June 1997. Photo by Anwar Hussein/Getty Images.

Anwar Hussein