The Colette-Approved Designer to Know: Rahul Mishra
From science major to rising design star, India's Rahul Mishra is an underdog to watch at Paris Fashion Week.
---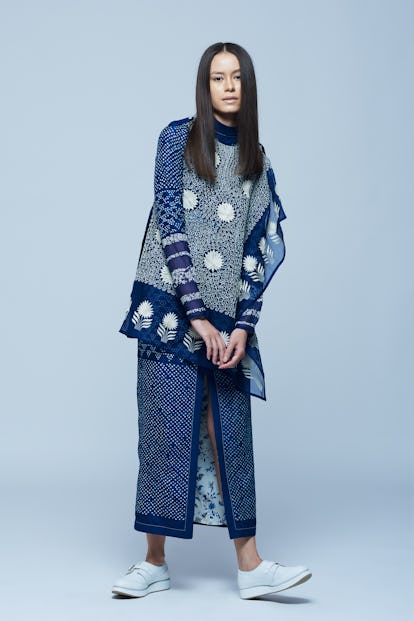 In 2014, New Delhi-based designer Rahul Mishra won over the judges of the International Woolmark Prize with his handwoven wool eveningwear, earning him one of fashion's most esteemed awards and a permanent spot for his designs at London's Victoria & Albert Museum. Mishra, 36, is originally from the small village of Malhausi and has made his use of traditional Indian craftsmanship a hallmark of designs, drawing top retailers like Colette and Harvey Nichols to house his threads (with prices ranging from $600 to $3,000). Colette's Sarah Andelman even told W his was one of the shows to watch in Paris this season. Today, the designer unveils his fall women's ready-to-wear collection at Palais de Tokyo (now his fourth season showing in Paris). Here, Mishra tells us his backstory ("I came from a family of doctors and did my graduation in science"), the inspiration for the newest collection.
How does your upbringing and native India inform your work? The entire approach we follow is craft-based, village-based and sustainable, which can be credited to my humble upbringing. I really feel this was one of the favorable conditions which made me excel in my life, whether it was winning the International Woolmark Prize or the various other awards. I come from a family of doctors and earned my degree in science and decided to get into the design field. I did my post-graduation from the National Institute of Design, followed by a scholarship to study in Istituto Marangoni. From the day I started learning design, my entire upbringing came in very handy and helped me in realizing my design philosophy and now with the privilege of being on the calendar of Paris Fashion Week I really feel it is just the beginning for us to reach our bigger objectives,
Who is the Rahul Mishra woman? I am very inspired by women who multitask, who have great deal of strength and courage, and they are soft and fragile at the same time. This duality is a gift, which the new age woman carries with grace as she happens to be well traveled and informed. She loves to flaunt her personality and she doesn't try to be anybody else. With her great sense of style she mixes and styles her look in an effective and easy way. She is strong but she loves her femininity.
Tell me about the techniques, colors, and silhouettes you love to work with most often. Our aesthetics are all about detailed simplicity. We use old hand techniques and create a very modern look, which is functional, and fuss-free. Our approach to design is to create timeless fashion with newness attached to it. There is great deal of duality, which comes across when opposite things like opaque and sheer geometry, and floral, shiny and matte are combined in harmony.
What is this latest collection inspired by? My work is transient and reflects the times we live and is constantly inspired by everything that surrounds us – pain and joy, sorrow and happiness, or seeing art and craft in a new way. Ideas for this collection came to me during an emotional time and space in my life. The joy of my newborn and witnessing the beauty around her was my initiation to find newer meanings of love. What was happening in the world around me, including the tragedies in Paris constantly pained and questioned me from within to find answers. In this fall line you can find predominant blue that comes from the porcelain ancestry that also symbolizes the spirit of Paris; which emerged back with its strong resilience and indomitable spirit. You could find a tablecloth; you could spot plates or elements of intricate porcelain designs in various forms. Natural fibers, like merino and silk fuses, with traditional techniques like Bandhini, and signature hand imprint embroideries that are integral to the brand and the collection.
Photos: The Colette-Approved Designer to Know: Rahul Mishra