Rami Malek's Bohemian Rhapsody Performance Is Already Getting Raves
Finally, an answer to the question: Was it worth the wait?
---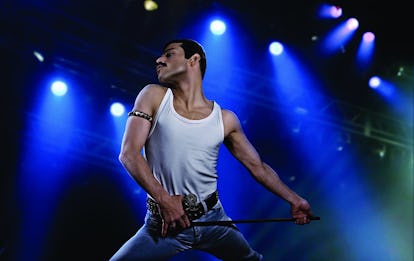 Courtesy 20th Century Fox
It's been nearly a decade since the Freddie Mercury biopic, Bohemian Rhapsody—a title that lends itself equally well to music and film—was first announced. The dust has settled at last around the movie; after the X-Men director Bryan Singer departed the project under murky circumstances, the director Dexter Fletcher stepped in to finish the movie. This followed Sacha Baron Cohen and Ben Whishaw having vacated the lead role before Rami Malek arrived to play Mercury. So, in the wake of turnover in cast, crew, and direction, five months after the first trailer was released, the film is finally going to make its entrée at the end of the month. Here's the question: Was it worth the wait?
There's good news, and then there's just-fine news. Rami Malek, according to many who saw early screening, is superb as Mercury. After press screenings over the weekend, his performance was singled out for particular praise amid a film that The New York Times's Kyle Buchanan called "a glorified Wikipedia entry." (That's the just-fine news. Biopics, in general, are not good, so this is not surprising.) Mike Ryan, of Uproxx, described him as "outstanding"; Anne Thompson, of IndieWire, "strong." Us Weekly's Mara Reinstein wrote, "How do you turn an ok movie into a good one? Five words: Rami Malek as Freddie Mercury."
Deadline's Pete Hammond came through with perhaps the strongest words in support of Malek as Mercury: "If the idea was to firmly plant Rami Malek among top contenders for the Best Actor Oscar, then it was mission accomplished," the critic wrote of an early screening, proceeding to compare Malek's performance to Jamie Foxx's virtuoso turn as Ray Charles in 2004's Ray. (Foxx did go on to win the Academy Award the following year.)
Others, while positive, focused more on Malek's physicality than his overall performance: David Ehrlich, also of IndieWire, wrote that Malek "nails that imitation"—which is not necessarily the unequivocal praise it first appears. What actor wants to be praised for "imitation"? Ditto Buchanan, who said Malek "plays Freddie Mercury (and wears his wonderful costumes) with incredible gusto."
So there you have it: Rami Malek, pretty good and maybe great Freddie Mercury.
Photos: Rami Malek, First-Time Golden Globe Nominee, Plays it Cool
Rami Malek in Mr. Robot. Photo by Peter Kramer/USA Network
Rami Malek in Mr. Robot. Photo by Peter Kramer/USA Network
Rami Malek in Mr. Robot. Photo by Peter Kramer/USA Network