Reese Witherspoon Is Not Selling Her House
The mogul already has enough on her plate.
---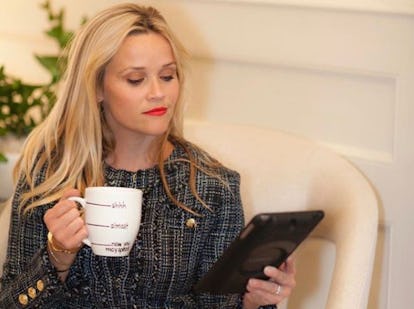 Reese Witherspoon is a true Hollywood mogul. Between her Oscar, her Big Little Lies Emmys, her book club, her upcoming memoir, the numerous television and film projects in development, raising her three kids, and just being one of the most beloved fixtures of the A-list, the actor and producer has her hands full these days. Still, she's not too busy to add the occasional real estate deal into the mix.
In 2014, Reese Witherspoon purchased a $3.3 million, 1.75-acre home in Nashville, and four years later she is now placing the estate back on the market for $4.4 million. The main residence of the estate is an expansive 11,000-square-foot brick building complete with seven bedrooms, eight full bathrooms, and two half bathrooms, and the typical southern columns supporting the front porch. The pool house—which functions as a totally self-contained separate home on the property—contains two bedrooms, three bathrooms, a living and dining room, and a kitchen.
Of course Witherspoon's Southern estate is not just any regular old Tennessee mansion—there is a reason she is selling the property for slightly over one million more than her buying price. The interiors include an extremely large foyer, living and dining rooms, and, according to Variety, "a cavernous combination eat-in kitchen and family room with a stacked-stone fireplace under a vaulted and beamed ceiling." The home's gym, master suite with huge closets and dressing rooms, private terrace, outdoor kitchen, semicircular spa, and outdoor fireplace make the estate truly luxe.
But Witherspoon doesn't spend most of her time at the mansion she's currently selling, nor do she and her husband, Jim Toth, spend a significant portion of time at any of their three other Nashville homes. Instead, the family stays in a 10,000-square-foot home in the Pacific Palisades of Los Angeles that cost them $12.7 million to purchase in 2014, well hidden behind tall walls and trees. With all of those projects Witherspoon is currently producing, it wouldn't be surprising if she takes this latest house-flipping treaty to heart and makes an appearance on HGTV in the near future.
Update on 5/30/2018 at 3:30 P.M.: Witherspoon's publicity team contacted W to assert "the story regarding Reese Witherspoon selling her Nashville home is false…This is completely inaccurate." The actress also took to Instagram Stories to point out, "This house is so pretty but it's not mine!!!"
Related: Reese Witherspoon, Emma Watson, Frances Bean Cobain, and More Share Vintage Photos for Old Head Shot Day