Reese Witherspoon Told Her Daughter Ava Phillippe That She's "Bad at Basketball" Because Her Parenting Is All About Honesty
But not because she has any cruel intentions.
---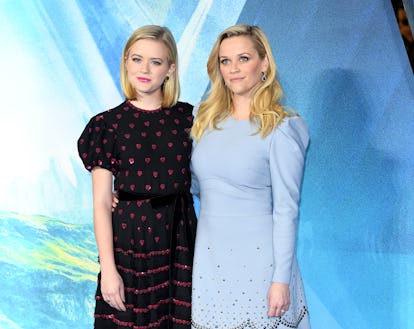 Karwai Tang/WireImage
Humans have been on this planet for 300,000 years but they still haven't managed to come to a consensus on the best parenting. Reese Witherspoon served as a reminder of that while discussing the difficulties of raising kids. Her strategy? Honesty is the best policy.
And that's the case even when it might hurt feelings, according to Witherspoon. "I feel like I'm constantly counteracting pressure from the parents who want to make the lives of their kids golden and magical at all moments! Guess what, kids? You're going to be disappointed and uncomfortable once in a while," she said in a recent interview with Fast Company, before giving an example. "I remember Ava crying in bed in third grade — she was on JV basketball and she was the only kid on the team who didn't score. I said, 'Aves, maybe you're bad at basketball.' She thought that was mean. I said, 'Mean or true? 'Cause, guess what? Your mom's bad at basketball, too.'"
While that might seem tough, it's a parenting technique that many swear by—including the former first lady Michelle Obama. Last November, she opened up about how she raised Sasha and Malia amid the chaos and scrutiny of White House life, saying, "Sometimes we treat our children too preciously because of the issues they've dealt with…. I can't cherish you to death. We have to raise our children to be the adults that we want them to be, and that starts young. You can't be so afraid that life will break them that you don't prepare them for life. Sometimes our fear keeps us from pushing our kids out into the cold cruel world. And then they're not ready and we wonder why."
That kind of brutal honesty seems to work for Witherspoon's marriage as well, as it also led her to give up her own weakness: driving. "I quit driving a year ago," she recalled. "My husband [Jim Toth] said, 'Babe, you're a terrible driver. Get someone to do that for you.' And it's great because that's the time I now spend catching up on phone calls or texts."
At the same time, though, Witherspoon is quick to offer praise to her kids. While basketball might not be for Ava, who's now 19 years old, music may be. "She plays a lot of different instruments and has been to lots of different music training camps," Witherspoon said of Ava last year, per E! News. "She can write a song, she can play any song on the guitar or piano or ukulele." It's only a matter of time before they share a mother-daughter duet.
The Most Stunning Mother-Daughter Duos, from Madonna and Lourdes to Cindy and Kaia
Actress Reese Witherspoon and daughter Ava Elizabeth Phillippe looked like twins with their tousled blonde waves at the Home Again Los Angeles premiere.

Getty.
At the 2015 InStyle Awards mother and daughter Lisa Bonet and Zoë Kravitz looked radiant with dewy, luminous skin, dark eyeshadow, and long messy hair.

Getty.
Cindy Crawford and Kaia Gerber have been the most dynamic mother-daughter duo at Fashion Week, proving that good genes run the family,

Getty.
At the 2011 Vanity Fair Oscar Party, Madonna and daughter Lourdes Leon wore their hair in sleek, straight styles.

Getty.
Actress Melanie Griffith and daughter Dakota Johnson attended the 87th Annual Academy Awards wearing similar up dos with messy bangs.

Getty.
French actress Vanessa Paradis and daughter Lily-Rose Depp arrived at a Chanel fashion show during Paris Fashion Week with their hair in effortless waves.

Getty.
Andie MacDowell and daughter Rainey Qualley prove that loose curls and luminous skin go hand in hand on the red carpet.

Getty.
Actress Demi Moore and daughters Tallulah, Rumer and Scout Willis all pose in backstage in support of Rumer's broadway debut in Chicago.

Getty.
At the Chanel Collection des Metiers d'Art in Paris, actress Jada Pinkett Smith and daughter Willow Smith both wore a playful pink lip.

Getty.
Actresses Goldie Hawn and Kate Hudson pose together on the red carpet at the 2014 Baby2Baby Gala.

Getty.
Meryl Streep's three daughters, Mamie, Grace and Louisa Gummer, all take after their mother when it comes to red carpet beauty.

Getty.
Actresses Blythe Danner and Gwyneth Paltrow were the ultimate mother-daughter duo at the 25th annual EMA Awards, both sporting radiant, sun-kissed skin.

Getty.