Rihanna Blessed Anne Hathaway With a Compliment About Her Butt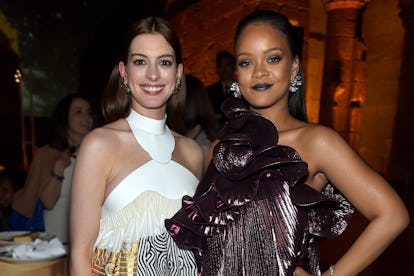 Jamie McCarthy/Getty Images
As the feminist extravaganza of the Ocean's 8 press tour continues, we'd like to temporarily divert your attention to Rihanna and Anne Hathaway, who, despite not sharing many scenes in the film, seemed to have formed a pretty special bond throughout the filming process.
While appearing on The Ellen DeGeneres Show on Thursday, Hathaway admitted she was initially feeling insecure about her body image when Ocean's 8 began filming, as she had recently given birth to her first child. (Hathaway also revealed this week how she's been body-shamed throughout her life.) "One of the lucky things about being in this business for so long is that I've really kind of come to terms with the pressure that you get to look a certain way as an actress and I don't beat myself up about any of that stuff anymore," Hathaway explained. "But after I had my son, the weight was really slow to come off and so I was a different size than I normally am."
Enter Rihanna on stage left and the remaining Ocean's 8 cast on stage right, all of whom were ready to sing the praises of Hathaway's new-mama figure. RiRi, in particular, had some zesty words about Hathaway's butt. Hathaway recalled, "I walked on the set, and, you know, my weight's a little up and I'm just aware of it. And I walk on the set and I'm my jeans, and I've done my best and I'm going to love myself no matter what. And Sandy Bullock looks up and goes, 'Looking good, mama!' And it made me feel amazing!" She added, "Cate Blanchett's like, 'Nice jeans, Hathaway!' And then Rihanna looks up and goes, 'Damn girl, you got an ass!' And I of course freaked out and loved it so much. I was like, 'Really?!' And she goes, 'You got an ass like me!'"
And that is how Rihanna and Anne Hathaway formed their butt bond.
Related: How Anne Hathaway Heisted Ocean's 8 From the Movie's Other Stars
A Pretty Comprehensive Guide to All the Celebrity Cameos in Ocean's 8
Kim Kardashian at Metropolitan Museum of Art on May 7, 2018 in New York City.

Jackson Lee
Jaime King at the Metropolitan Museum of Art on May 4, 2015 in New York City.

Dimitrios Kambouris
Common at the Metropolitan Museum on May 02, 2016 in New York City.

Venturelli
Heidi Klum at the Metropolitan Museum of Art on May 6, 2013 in New York City.

Rabbani and Solimene Photography
Maria Sharapova at the Metropolitan Museum of Art on May 2, 2016 in New York City.

George Pimentel
Sofia Richie at the Metropolitan Museum of Art on May 1, 2017 in New York City.

Venturelli
Leon Bridges at the Metropolitan Museum of Art on May 1, 2017 in New York City.

John Shearer
Katie Holmes and Zac Posen at the Metropolitan Museum of Art on May 1, 2017 in New York City.

Karwai Tang
Waris Ahluwalia at The Halcyon Gallery on October 11, 2017 in London, England.

David M. Benett
Serena Williams at the Metropolitan Museum of Art on May 1, 2017 in New York City.

John Shearer
Adriana Lima at the Metropolitan Museum on May 1, 2017 in New York City.

Sean Zanni
Tommy Hilfiger at the Beverly Hills Hotel on April 8, 2018 in Beverly Hills, California.

Stefanie Keenan
Kelly Rohrbach at the 2018 Vanity Fair Oscar Party on March 4, 2018 in Beverly Hills, California.

George Pimentel
Lauren Santo Domingo at the Metropolitan Museum of Art on May 7, 2018 in New York City.

Taylor Hill
Lily Aldridge at the Metropolitan Museum of Art on May 7, 2018 in New York City.

George Pimentel
Gigi Hadid at the Metropolitan Museum of Art on May 7, 2018 in New York City.

Jackson Lee
Kendall Jenner at the Metropolitan Museum of Art on May 7, 2018 in New York City.

Jackson Lee
Hailey Baldwin at the Metropolitan Museum of Art on May 7, 2018 in New York City.

Neilson Barnard
Kylie Jenner at the Metropolitan Museum of Art on May 7, 2018 in New York City.

Jackson Lee
Olivia Munn at the Metropolitan Museum of Art on May 7, 2018 in New York City.

Neilson Barnard
Alexander Wang at the 71st annual Cannes Film Festival on May 10, 2018 in Cannes, France.

John Phillips