Anne Hathaway Speaks Out About Being Fat-Shamed
Both the general public and industry players have weighed in on her weight, says Hathaway.
---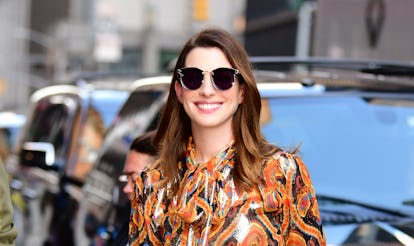 Photo by James Devaney/GC Images
Anne Hathaway likes her body just the way it is, thank you very much. The Ocean's 8 star revealed in an interview with Hoda Kotb on Today that despite scrutiny, she's enjoying her life.
"It sounds kinda sad to say, I just wanted to be able to enjoy my summer and let everybody know that I'm living in my body and I'm happy with my body…. And if my body is different than what you're used to, or what you think it should be, that's yours. And my experience is mine and I'm loving it," she told Kotb of the decision to get out in front of the weight-gaining story, per Page Six.
Hathaway is no stranger to the less than generous side of the spotlight. She dropped 25 pounds to play the sickly Fantine in the film of Les Misérables, a performance that won her both an Oscar and a slew of haters. But less than thoughtful comments from the industry weren't new to her then, either. "One of my favorite things that's happening in this moment is that a lot of us are looking at the language that we choose and we're becoming more conscious about it," she told Kotb, "So, maybe someone thought that it wasn't a big deal to say to a 16-year-old … 'Congratulations, you got the part. You can't gain any more weight.'"
In April, she posted a time-lapse video of an intense workout to Instagram and explained in the caption that she was gaining weight for an upcoming role and if anyone had a problem with that, well, that was their problem.
Nowadays, Hathaway is happy to be gaining weight for a role (in this Didion adaptation, perhaps?); happy to be promoting Ocean's 8, a film filled with gorgeous women of many sizes; and most of all, happy that the industry culture actually shows signs of change and progress. "A lot of us are taking up this opportunity to become more conscious and more loving in the way that we communicate with each other," she said, "More compassionate, I guess."
Related: Mindy Kaling and Anne Hathaway Renounce Tiny Sunglasses Trend